10 Unique Ways to Use Wicker in your Home Design
Written by Ryan Castillo

With its centuries-old weaving technique and organic textures, wicker offers a delightful way to infuse warmth and character into the living spaces of your home. From a coastal-inspired oasis to a bohemian retreat to a classic and inviting atmosphere, wicker seamlessly adapts to a diverse range of interior styles. In this Redfin article, we will explore the versatility and allure of wicker furniture, decor accents, and even textured wallpapers that can breathe new life into your home. So whether you're looking to rent an apartment in Indianapolis or purchase a home in Charleston, discover the beauty of this age-old craftsmanship and uncover how wicker can elevate your home's design.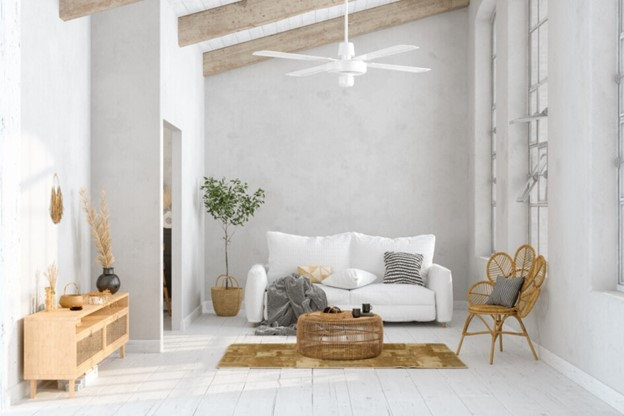 What is wicker and how to apply it to your home
Wicker is a versatile and time-honored material used to craft furniture, baskets, and various decorative items. "Wicker furniture and accessories are made from natural materials such as rattan, bamboo, or reed. It brings an organic and earthy vibe to your living space, creating a warm and welcoming atmosphere," says Santa Barbara Interiors.
Creating wicker involves intertwining these flexible materials into intricate patterns, often forming a strong and lightweight structure. Wicker's history can be traced back to ancient Egypt, and its popularity has endured through the ages due to its durability and aesthetic appeal.
"Wicker and rattan are popular choices for interior design as these materials are lightweight, durable, and add natural texture to the home," shares Morgan Desquenne of 3DVIA. "Wicker and rattan can be used in various ways, from side chairs to coffee tables to poofs, stools, and even bed frames."
CASS Design Co. notes, "Our best tip to use wicker in a way that elevates your space versus making it feel dated is to use it sparingly. Think accent pieces like lighting, side tables, side chairs or benches, or even vases. When you add these pieces here and there, it adds an element of warmth and interest. If it's overdone, like an entire matching set, there isn't as much visual interest."
Here are 10 more ways to easily include wicker design in your home.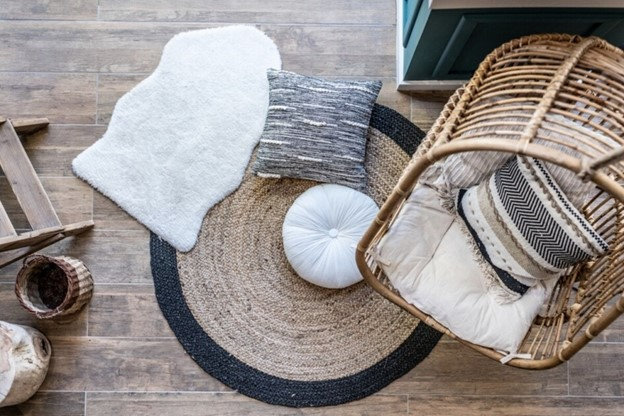 1. Wicker Planters
Wicker planters are stylish and functional containers specifically designed for holding and showcasing plants, flowers, and herbs. 
"Bring a touch of nature indoors by using wicker planters to display your favorite houseplants. These planters can be placed on window sills, shelves, or even hung from the ceiling to create an eye-catching display. The combination of green foliage and the earthy tones of wicker creates a soothing and inviting atmosphere in your home," notes Wicker Guides.
2. Wicker Lighting
Wicker lighting fixtures bring nature-inspired aesthetics and warm illumination to any living space. Whether in pendant lights, chandeliers, or table lamps, these fixtures cast beautiful patterns of light and shadows that infuse the room with a cozy and inviting ambiance.
"Wicker lighting is a great way to create ambiance," notes Cottage Culture. "The natural fibers of the lamp soften and warm the space while the soft cascading pattern of light that falls from a chandelier truly sets a mood. Don't have space for a chandelier? Try a wicker floor lamp to add interest to your space."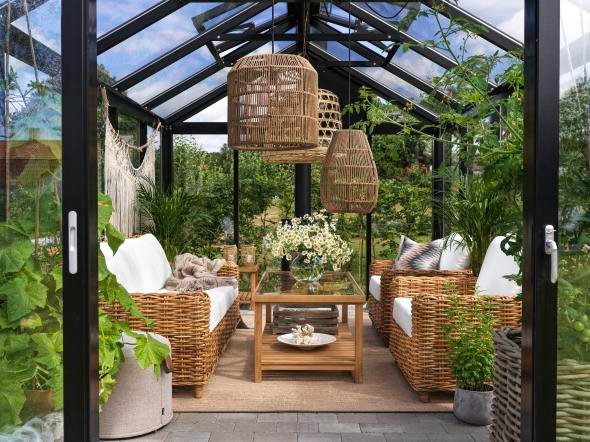 3. Wicker Headboards
Wicker headboards offer rustic charm to bedroom decor, adding texture and warmth to the overall ambiance. Their woven design, typically crafted from materials like rattan or willow, provides a lightweight and airy feel while still serving as a sturdy and supportive backdrop for the bed.
Bree Kotwitz of Wicker Baskt says to, "Give your bedroom a touch of bohemian charm by incorporating a wicker headboard. The natural texture of wicker adds a cozy and inviting feel to the room, especially when paired with soft bedding and neutral tones to create a serene and stylish haven."
4. Wicker Coffee Tables
Wicker coffee tables are eye-catching pieces of furniture. "An easy way to add wicker into your home is through a coffee table tray. Add a cute book and plant, and you've got a beautiful vignette," says NB Design Group.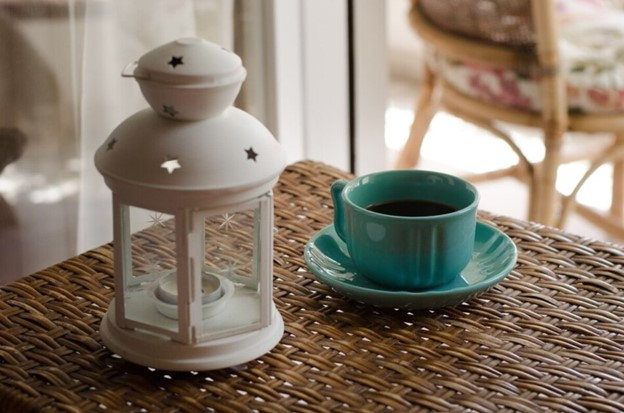 5. Wicker Trunks
Wicker trunks come in various sizes, from small decorative pieces to larger storage containers, making them suitable for use in bedrooms, living rooms, or even outdoor spaces.
Kim Turner, Principal and Designer at Kim Turner Design, and Advancement Director at Dwell with Dignity notes, "A wicker trunk placed at the foot of a bed serves as an excellent storage solution for extra bedding. In a guest room, it provides a convenient space to stash additional blankets for those who might feel chilly during the night. It also allows you to include extra pillows with varying firmness levels, offering guests a personalized and comfortable sleeping experience."
6. Wicker Chairs
Wicker chairs are classic seating options that combine comfort, style, and natural elegance. With their lightweight yet durable construction, wicker chairs are suitable for both indoor and outdoor use.
"Place wicker chairs in your living room, paired with plush cushions to create a cozy reading corner," recommends Zen Candles Design. "Opt for neutral colors like cream, beige, or pastel hues to create a cohesive look that is both serene and sophisticated."
7. Wicker Panels and Wallpaper
Wicker panels and wallpaper are innovative and stylish ways to incorporate the natural appeal of wicker into interior design without the need for actual woven materials. 
"Make a striking first impression by covering an accent wall with woven wicker panels or textured wicker wallpaper," says Lori of Our Repurposed Home. " Wrap some old books with wicker wallpaper sheets and place them on a shelf and a few plants in wicker baskets. It will give your arrangement some texture and interest. Cover your traditional painted stair risers with wicker panels or wallpaper, adding a unique and unexpected twist to your staircase."
8. Wicker Baskets
Wicker baskets come in a wide range of sizes, shapes, and designs. "They are the perfect solution for storing items around the house while presenting an aesthetically pleasing decor element. Store blankets, toys, and more in any room while hiding out of view in decorative wicker baskets," notes Lauren Tieru of Paige & Rye.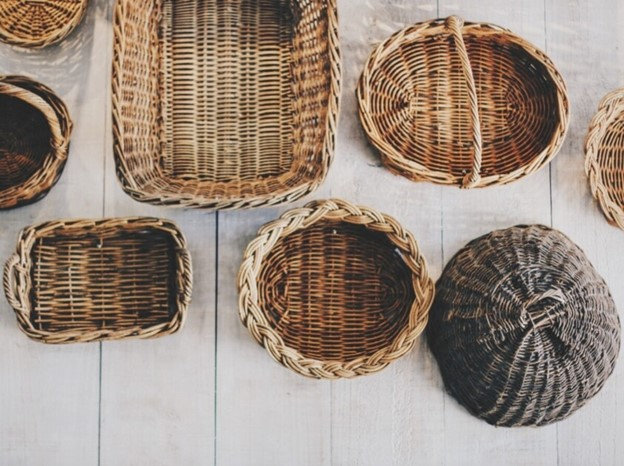 9. Outdoor Wicker Furniture
Wicker outdoor furniture comes in various forms, including chairs, sofas, dining sets, loungers, and more, catering to different seating and entertainment needs. Its timeless and versatile design allows it to blend seamlessly with various outdoor settings, from garden patios and balconies to poolside areas and porches. 
"Wicker is a great option for outdoor furniture," notes Tara Rydl, Mom Can Do Anything. "I love my outdoor living space with a wicker couch and wicker swivel chairs. As long as I keep it covered during the winter months, it wears well and holds up nicely."  
10. Indoor Wicker Furniture
Wicker indoor furniture brings a charming and natural touch to interior spaces, infusing them with warmth and texture. Due to its lightweight and versatile nature, wicker furniture can easily move around to suit various arrangements and decor styles. Wicker chairs and sofas are often paired with cushions and upholstery for enhanced comfort and a personalized touch. 
"Most think of coastal design or outdoor design when they think of using wicker or rattan, but like wood, wicker can warm up any interior space and add some needed texture so a space doesn't feel cold," explains ReAbode. "Don't be afraid to use wicker or rattan furniture indoors mixed with other contemporary furniture, especially with a cool color scheme of blues and greens – a chair or coffee table can add some much-needed warmth and texture." 
Blog