Planning for the 1st Long Weekend - Let the Summer Begin!!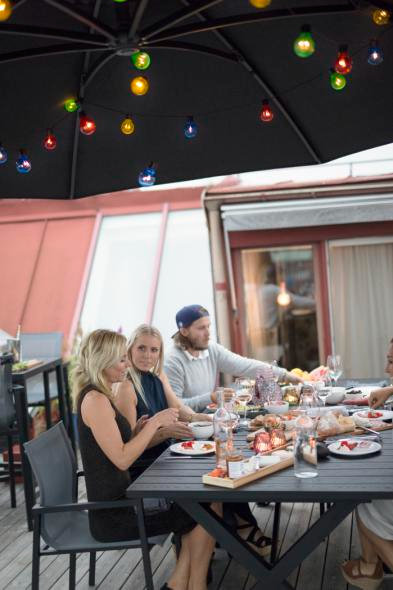 I spent that one lovely warm week in April getting my deck ready for the season, removing winter covers from the metal furniture, washing away all the dregs of the winter, and touching up the stain on the deck where it had gotten worn. And now, if you, like I, have been closely following the Weather Channel meteorologists for their projections of warmer weather, the good news is they are advising that once we are past this unseasonably cool and wet weather, we are moving straight to very warm summer weather! Hooray!
And now, if you are already planning your entertaining for the Victoria Day weekend - our first long weekend which marks the beginning of the summer season  - we are with you !! And to help you get started and take some stress out of both the planning and preparations, we have some recipes to share, including salads, a vegetable dish, cookies and a dessert, much of which can be made ahead. That leaves you only to choose your meats! And that choice is easily accomplished with a visit to our neighbouring Hensall facility, Metzger Meats, whether you fancy gourmet hamburgers, footlong hotdogs (a summer tradition!), smoked pork loin chops, or one of their other specialties, such as skewered pork tenderloin medallions, or a selection of their dry aged beef products. Alternatively, you may wish lighter fare than these meats, however delicious, and so we are including a favourite recipe of ours - grilled mango scallop skewers with a spinach toss.
These recipes are easy to make, and a number may be made ahead, to save you precious time when friends and family assemble on your patio or deck to share with you the first warm weather of the season! These tried and tested recipes, listed here, and detailed further below, will serve you well throughout all the summer months, and be a hit with your guests, so don't think of them as 'once-and-done' recipes!
Mango Scallop Skewers with spinach toss – so easy to make

Mediterranean Potato Salad - which uses oil, so make-ahead, and longer lasting

Lesley's Bok Choy Salad, a treat which provides vegetable goodness and sweet, tangy crunch

Green Beans Gremolata – another easy, make ahead dish to just assemble last minute

Sandra's Secret Recipe for Dessert – your secret weapon !

Doubletree's signature chocolate chip cookies – which Doubletree graciously shared publicly during the pandemic – and allows for freezing the dough and baking from frozen
Mango Scallop Skewers with Spinach Toss
Hands on time: 15 minutes
Total time: 15 minutes
Makes: 4 servings
The combination of sweet mango and buttery scallops makes this dish an easy dinnertime option.
Ingredients:
24 frozen jumbo scallops, thawed
1 mango peeled, pitted and cut in sixteen (16) ¾ inch (2 cm) cubes
2 tbsp butter
2 tsp mustard
Spinach Toss:
6 cups baby spinach
1 sweet red pepper, julienned
1/3 cup peeled julienned mango
¼ cup thinly sliced red onion
2 tbsp olive oil
2 tsp lemon juice
1tsp Dijon mustard
Pinch each salt and pepper
Alternately thread 3 scallops and 2 mango cubes onto each of 8 metal or soaked wooden skewers.
In a small bowl, gradually whisk butter into mustard; brush half over 1 side of the skewers. Place, buttered side down, on greased grill over medium-high heat. Close lid and grill for 2 minutes. Brush with remaining butter mixture; turn and grill until scallops are opaque, about 2 minutes.
Spinach Toss: Meanwhile, combine spinach, red pepper, mango and red onion; arrange on a platter. Whisk together oil, lemon juice Dijon mustard, salt and pepper; drizzle over salad. Top with skewers.
Baked alternative: On greased, foil-lined baking sheet in 400-degree F (200 C) oven, bake skewers, turning once, until scallops are opaque, about 4 minutes.
About 249 calories per serving.
Mediterranean Potato Salad
Preparation time: 20 minutes
Total time: 30 minutes (plus chilling time)
Serves: 8
Ingredients:
2 pounds redskin potatoes, cooked, cooled and cut into cubes
¼ cup fresh lemon juice
2 tablespoons olive oil
1 clove garlic, peeled and minced
½ teaspoon dried oregano
¼ teaspoon salt
¼ teaspoon ground black pepper
¼ cup sun-dried tomatoes, thinly sliced
1/3 cup crumbled feta cheese
¼ cup pitted kalamata olives, quartered
3 green onions, washed, thinly sliced
Instructions:
Place the cooked, cubed potatoes in a large bowl.
In a measuring cup, whisk together the lemon juice, olive oil, garlic, oregano, salt and pepper. Pour the dressing mixture over the potatoes and stir gently. Add the sun-dried tomatoes, feta cheese, olives and green onions and gently stir to combine. Cover and refrigerate at least 4 hours to allow flavours to blend.
Note: if you'd like to soften the ready-to-eat sun-dried tomatoes in this recipe, place them in the bottom of a colander and drain the cooled potatoes over them.
About 137 calories per serving
Lesley's Bok Choy Salad
Cooking time: 15 minutes
Preparation time: 1 hour
Cuisine: Asian/Chinese
Ingredients:
1/3 cup butter
1 tbsp sesame (or poppy) seeds
1/3 cup sliced almonds
1 head Bok Choy lettuce
3 tbsp soy sauce
1/3 cup vinegar
2/3 cup oil
2/3 cup sugar
1 pkg ramen noodles
Instructions:
Put sliced almonds and sesame (or poppy) seeds into a baking dish along with one package of broken up ramen noodles. (Do not add the space package from the noodles!) Melt the butter and add to the noodle/almond mixture and stir. Brown the mixture in the oven. Allow to cool before serving, and add as a garnish to the salad.
At least two hours before serving, mix the dressing: combine sugar, oil, vinegar and soy sauce in a sauce pan. Bring to a boil and melt the sugar, stirring regularly. Pour mixture into a dish to cool. Refrigerate before serving.
Wash one head of Bok Choy lettuce. Chop the leaves into bite-size pieces. Wrap in a tea towel to dry the leaves.
Combine the lettuce, dressing and garnish at the time you are serving the salad. (Dressing and garnish may be made ahead and stored.)
Green Beans Gremolata
You can blanch the green beans and make the gremolata in advance, storing them separately in the refrigerator. Then just before dinner, you can reheat the beans and toss on the gremolata. What could be easier!
Ingredients:
1-pound French green beans (haricots vert), trimmed
2 tbsp pine nuts
2 tsp minced garlic (2 cloves)
1 tsp grated lemon zest (from 2 lemons)
3 tbsp minced fresh flat-leaf parsley
3 tbsp freshly grated Parmesan cheese
2 ½ tbsp good olive oil
Kosher salt
Freshly ground black pepper
Instructions:
Bring a large pot of water to a boil. Add green beans and blanch 2 to 3 minutes, until tender but still crisp. Drain beans in a colander and immediately put them in a bowl of ice water to stop the cooking and preserve their bright green colour.
Place pine nuts in a dry sauté pan over low heat and cook 5 to 10 minutes, stirring often, until lightly browned. Set aside.
Gremolata: toss garlic, lemon zest, parsley, Parmesan and pine nuts together in a small bowl and set aside.
When ready to serve, heat olive oil in a large sauté pan or skillet, over medium-high heat. Drain beans and pat dry. Add beans to skillet and sauté, turning frequently, 2 minutes, until coated with olive oil and heated through. Remove from heat, add gremolata, and toss well. Sprinkle with ¾ tsp salt and ¼ tsp pepper to taste and serve hot.
Note: A charming Italian friend uses any Gremolata which may be left over, on fresh pasta.
Sandra's Secret Recipe for Dessert
Preparation time: all of 10 minutes or less!
Total time: overnight chilling after assembly
Serves: can be sized according to your number of guests
Your secret weapon! A very flexible, quick and easy dessert recipe, which can be sized according to your number of guests.
Ingredients:
Equal proportions of whipped cream and plain yoghurt
A selection of tangy fruit, such as:
Blackberries
Blueberries
Raspberries
Black Currants
Instructions:
Put your choice of berries - something with a bit of tang! -  in the bottom of your serving bowl
Whisk the whipping cream to the same consistency as the yoghurt. Gently blend the yoghurt and whisked whipping cream together and pour over the berries.
Put a good layer of brown sugar (to your taste!) on top and then place in the refrigerator overnight.
Presto – delicious!
DoubleTree Signature Cookie Recipe
Makes 26 cookies
½ pound butter, softened (2 sticks)
¾ cup + 1 tablespoon granulated sugar
¾ cup packed light brown sugar
2 large eggs
1 ¼ teaspoons vanilla extract
¼ teaspoon freshly squeezed lemon juice
2 ¼ cups flour
1/2 cup rolled oats
1 teaspoon baking soda
1 teaspoon salt
Pinch cinnamon
2 2/3 cups Nestle Tollhouse semi-sweet chocolate chips
1 3/4 cups chopped walnuts 
Cream butter, sugar and brown sugar in the bowl of a stand mixer on medium speed for about 2 minutes. 
Add eggs, vanilla and lemon juice, blending with mixer on low speed for 30 seconds, then medium speed for about 2 minutes, or until light and fluffy, scraping down bowl. 
With mixer on low speed, add flour, oats, baking soda, salt and cinnamon, blending for about 45 seconds. Don't overmix. 
Remove bowl from mixer and stir in chocolate chips and walnuts.
Portion dough with a scoop (about 3 tablespoons) onto a baking sheet lined with parchment paper about 2 inches apart. 
Preheat oven to 300°F. Bake for 20 to 23 minutes, or until edges are golden brown and center is still soft. 
Remove from oven and cool on baking sheet for about 1 hour.
Cook's note: You can freeze the unbaked cookies, and there's no need to thaw. Preheat oven to 300°F and place frozen cookies on parchment paper-lined baking sheet about 2 inches apart. Bake until edges are golden brown and center is still soft.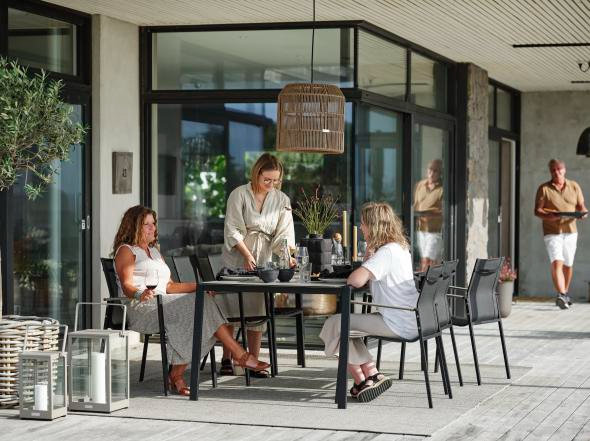 These delicious recipies are best served alfreso! Cottage Culture has a variety of outdoor dining tables, outdoor dining chairs, outdoor lounge options and many more items to help you entertain outdoors this patio season. Need help finding the perfect outdoor patio table and outdoor dining chairs for your space? Visit our blogs How to choose the perfect outdoor patio table.  and How to choose the perfect chair for helpful information and tips.
Reach out to us or pop by our showroom! Looking for patio inspiration? Follow us on Facebook, Instagram, or Pinterest!