Scandinavian Furniture Canada: Elevate Your Cottage Retreat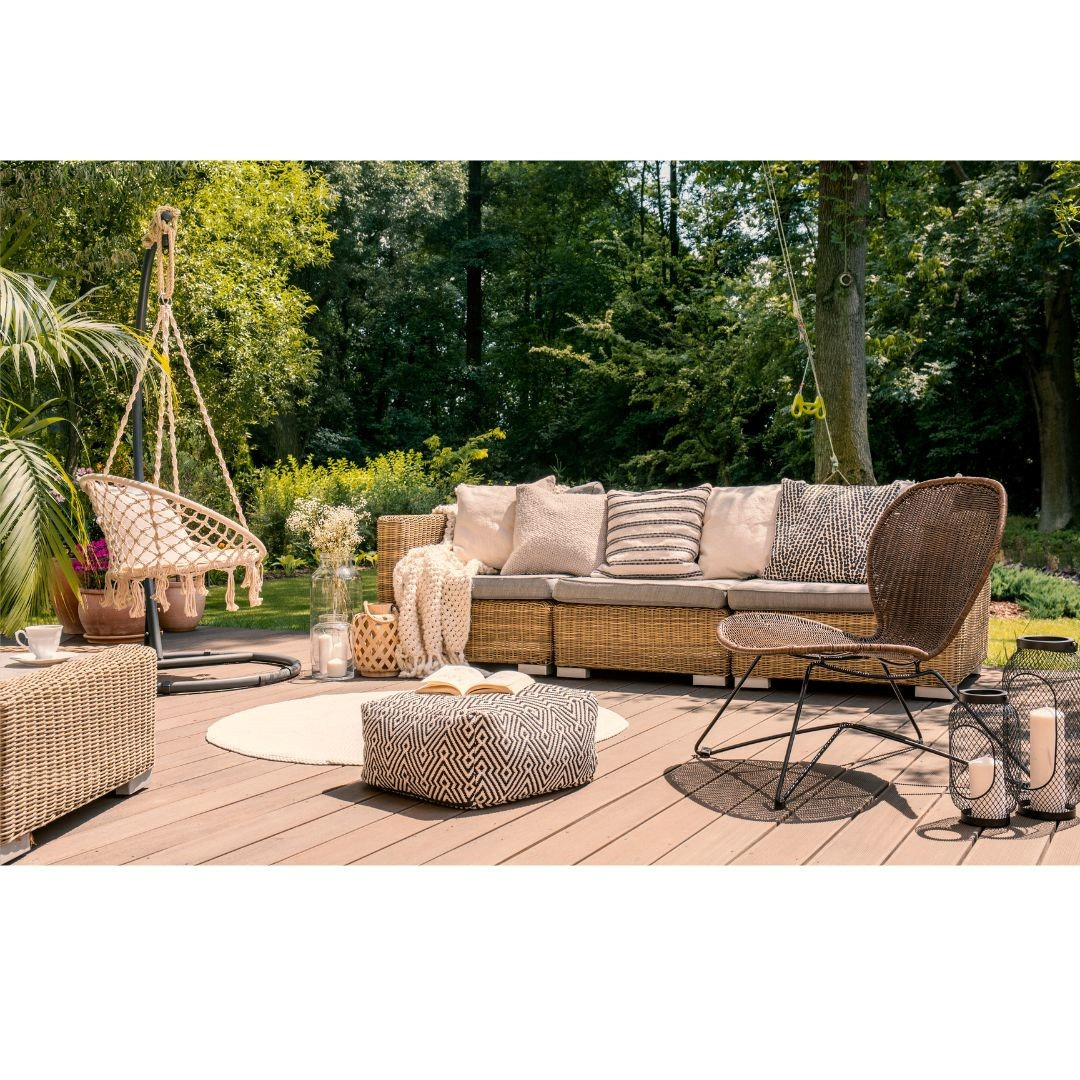 Cottage Culture, located in Hensall Ontario is a unique outdoor furniture store – it's focus is Scandinavian design and style. Dedicated to providing high-quality outdoor furniture, each outdoor collection that Cottage Culture offers has been selected for its character, versatility and quality. Whether a cottage retreat, country farmhouse or your living space in the city, Scandinavian design is used to create an inviting space with its unique blend of serene charm, comfort, and functionality. In our love for all things Scandinavian design we have come up with a list highlighting the charm and appeal of the use of  Scandinavian outdoor furniture in creating an inviting Canadian cottage retreat.
The traditional cottage-style ambiance evokes a cozy and rustic atmosphere and Scandinavian design compliments this aesthetic effortlessly.   Here's why Scandinavian furniture is appealing when creating that cottage-style ambiance:
Simplicity:
Scandinavian minimalist design is known for its balance of form and function.  Simple lines and materials align with the inviting and unpretentious vibe of cottage interiors.  Cottage Culture extends this look to the out of doors offering continuity from indoors to out. The same clean lines and uncluttered designs create a sense of calm and tranquility, making it easy to unwind and relax in a cottage setting.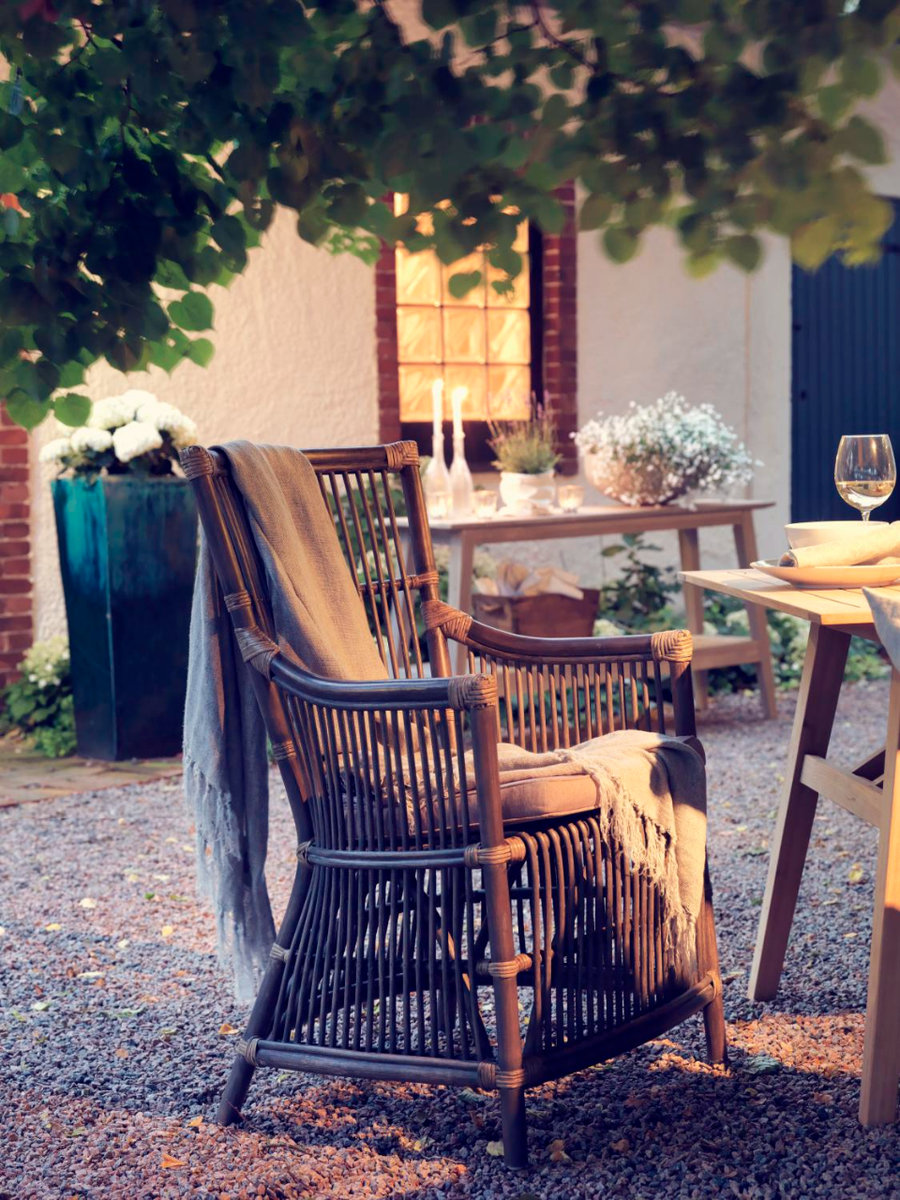 Coziness:
Whether you intend your space to have a rustic aesthetics or a modern edge, coziness is one check box that everyone wants to achieve in this special space.  Carrying coziness to the out of doors makes great sense, especially in the shoulder seasons of spring and fall.  Of course, the use of natural materials lends to this feel but the use of a variety of furniture materials paired together will help in creating that feeling of coziness.  The collections that Cottage Culture has curated can be paired so that materials can be mixed.  Good design doesn't have to require a matching set – in fact it begs it to be more interesting than that.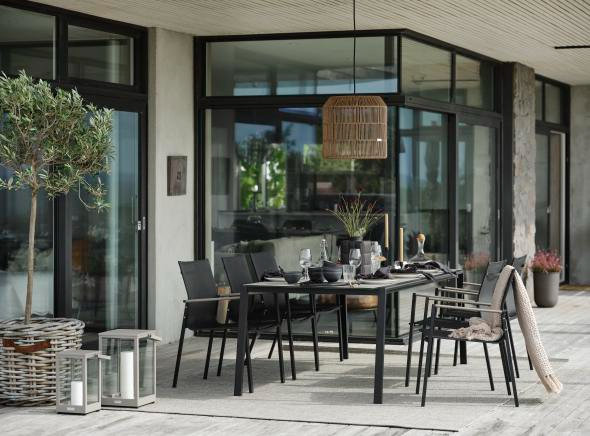 Natural Materials:
Scandinavian design embraces natural elements to create a layered look that adds great depth.  Longevity necessitates the use of aluminum and steel but by combining this with natural elements such as wood, wool, wicker (synthetic or real depending on the placement), and stone, adds great appeal whether the overall design is modern, transitional or traditional.  Natural elements add depth - the warmth of wooden furniture and the softness of woolen textiles and the strength of stone – all which contribute to a comfortable and inviting atmosphere.
Light and Brightness:
Scandinavian design prioritizes natural light, which is also important in a cottage setting. The light color palettes and reflective surfaces used in Scandinavian furniture can enhance the perception of space and make a cottage interior feel more open and airier.  The natural hues combine in a variety of shades and are often used to add depth and comfort.  As are multiple outdoor light sources.
Functionality:
Cottages are sometimes small or need to host larger numbers of extended family and perhaps have limited storage space. Scandinavian furniture is renowned for its functionality and smart storage solutions, making it ideal for optimizing space in a cottage retreat without sacrificing style.  And the beauty and versatility of this design allow you to easily move outdoor pieces inside for use in the off-season giving you year-round use of your investment.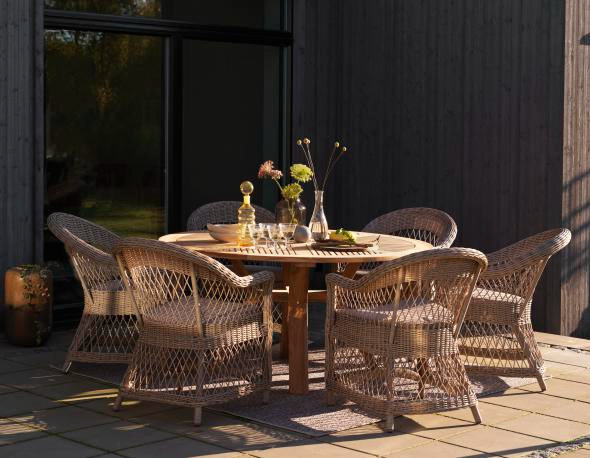 Timelessness:
Scandinavian furniture design maximizes a timeless quality, meaning that it isn't based on trends that go out of style.  It is also usually subtle and even elegant, making it an ideal base for personalization - ensuring that your cottage retreat remains inviting and relevant for years to come. You won't need to update your furnishings frequently, making it a practical choice for a getaway home.
Hygge Elements:
The Scandinavian concept of "hygge" is all about creating a sense of coziness and well-being. Scandinavian furniture's focus on comfort, soft textures, and plush seating aligns perfectly with the desire to create a warm and inviting ambiance in a cottage. It is proven that our environment has a direct reflection on our emotions and mental health. A hygge home reflects nature, is free from clutter and is rooted as much in feeling as it is in material objects.
Versatility:
Scandinavian furniture's versatility allows it to work in various cottage design themes, whether you prefer a traditional, modern, or eclectic cottage style. It can easily adapt to your personal taste and the existing decor.  A large number of the collections work well indoors as well which means maximizing your furniture all year round.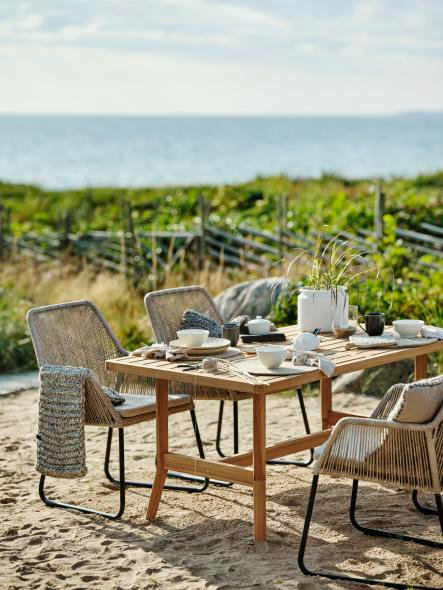 Integration with Nature:
Scandinavian design is often inspired by the natural world, mirroring the surroundings of many cottage retreats. Wooden furniture and natural color palettes can create a seamless connection between the indoor and outdoor spaces, fostering a sense of unity with nature.  Sand, graphite, stone are solid bases of the Scandinavian colour palette but this extends to muted salmons, endless greens and soft muddy blues to accent nature.
Quality Craftsmanship:
Scandinavian furniture is known for its high-quality craftsmanship and attention to detail. This ensures that your cottage retreat is furnished with durable and well-made pieces that can withstand the wear and tear of frequent use.
Environmental Sustainability:
Many Scandinavian furniture manufacturers prioritize eco-friendly and sustainable materials and production methods.  Appreciating the environment of your cottage is why you are there - this aligning with the eco-consciousness seen from Scandinavian designers.
Incorporating Scandinavian furniture into your cottage retreat can help you create an inviting and harmonious space that combines the best of both worlds: the charm of cottage living and the comfort and style of Scandinavian design. It's a winning combination that appeals to those seeking a cozy and timeless escape from the hustle and bustle of everyday life.
And if investing in new outdoor furniture is not in the cards, consider these tips:
Cost effective ways of adding a Scandi Vibe to your cottage retreat.
Use textiles in neutral shades in multiple areas.  Consider pillows in several textures – linen, large knit wool, cotton, flannel. 

Neutrals – play with the colour palette – you don't have to pick set colours or even a set shade.  Layers of the same hue in different shades will add great depth.

. Warmth – Hygge is about creating intrinsic warmth between people or in your own space.  Have throws at the ready that accent the neutral colour palette – folded under a coffee table, a basket of rolled up soft Turkish towels to use as an impromptu shawl or wraps at the ready. A set of hooks displaying a collection of wraps and cardigans for snuggling is another way to layer in a feeling of warmth in your space.

Connection - Add a carpet that connects all your furniture pieces and gives your feet a welcome warmth and conscious change of space.

Add lighting elements – consider an outdoor mirror, or a synthetic wicker light that sits on the ground to illuminate footpaths as the sun sets earlier.  Also adding simple candle light in stone candle holders is a great way to accentuate this look.

Consider the furniture that you have.  If you have invested in a dark sectional, consider pairing it with an occasional chair in a lighter material such as teak or synthetic wicker with an airy design, rather than investing in new furniture. Sometimes the addition of a new piece is all you need to make your existing furniturelook brand new again!

A nesting coffee table that creates a collection of hues within the natural colour palette can bring a fresh new look and some great serving space.

Change up your outdoor dining chairs -  or add to the ones that you have.  Mixing up the chairs at your table gives an inviting and interesting welcoming vibe as though guests have spontaneously joined together.  A wooden bench is a wonder for providing extra places at the table while also being a cost-conscious way of adding in more natural elements.

Ottomans, ottomans, ottomans – in a variety of shapes and heights, in a few different textures and colours will add that same cozy feel at a reasonable price.  It can help tie in different furniture elements and adds texture.  Ideally, consider an ottoman that can slide under part of your coffee table and double as a side table with a tray.

Use unique side tables that maximize the natural materials prevalent in Scandinavian design – concrete, stone, wood all offer an interesting look, a good weight to battle windy shores and will help turn your existing look more Scandi.

Make colour choices that are traditionally connected to Scandinavian design - Forest green, burnt orange, dusty pink and pastel blue are all seen in a lot of Nordic furniture and design. You'll also see a lot of grey and white, though browns, beiges and sand are becoming more prevalent. These are often used as background or base colours or used for larger pieces of furniture like sofas and chairs creating a canvas for your own personality.
Ultimately remember the mantras of Scandiavian design –
Minimalism is key. "less is more"
You are there to enjoy nature so give nature space to join you.
Streamlined furniture, clutter-free surfaces, and open spaces create an environment that's both calming and aesthetically pleasing.
And if all else fails, add wood, wool, warmth and plants!