Choosing Teak Patio Furniture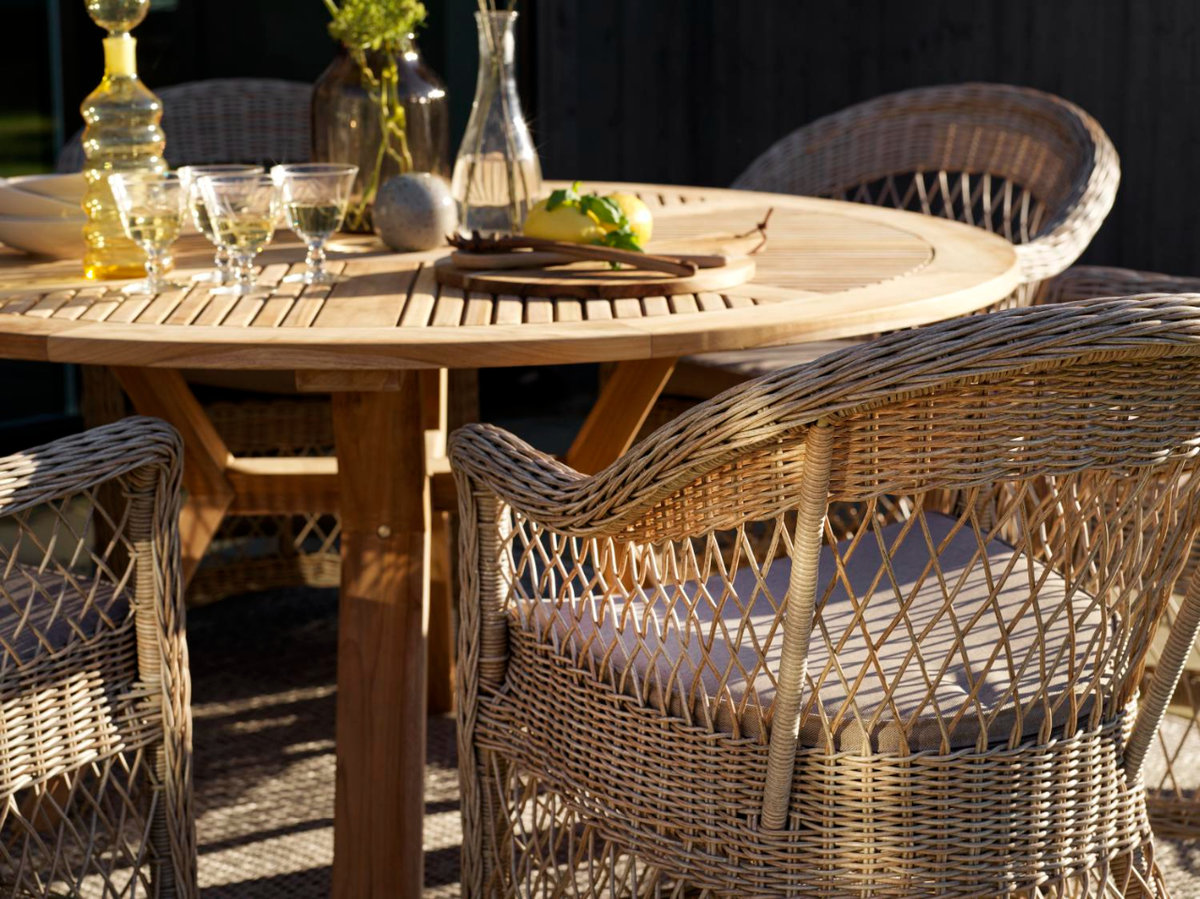 With interior and exterior design trends incorporating more natural colours and materials, teak patio furniture is a hot item for summer 2023. Historically used to build ships and yachts, teak wood is a highly sought-after, high-quality material that stands the test of time. Teak's natural characteristics also make it an ideal choice for outdoor furniture.
Are you shopping for patio furniture and considering teak dining sets, chairs, benches, storage boxes, or other teak outdoor furnishings? Then you have come to the perfect place! Below, we answer common questions and provide details on key things you need to know before you purchase teak patio furniture near you. Read on to learn more!
What is Teak Wood? 
Teak wood is a type of tropical hardwood harvested from Tectona Grandis trees. Tectona Grandis trees are very fast-growing and native to South and Southeast Asia, South America, the Caribbean, and Africa.
When milled and dried, teak wood is close-grained, dense, strong, high in natural oils, durable, and very resistant to pests and rot. These qualities make teak a top choice for building wooden items that need to last – including outdoor furniture!
Different Types of Teak Wood 
While there are over a dozen kinds of teak wood available from various regions worldwide, there are typically only three grades or classifications for the material. These classifications/types of teak indicate the quality, colour, durability, and resistance of lumber. Each grade is derived from different parts of Tectona Grandis trees, which impacts wood density and oil content.
The three types/grades of teak wood are:
"Grade A"
"Grade B"
"Grade C"
We explain each in greater detail below, as it is important to understand how the overall quality, durability, and appearance of teak vary across each grade.  
"Grade A" teak
Grade A teak is the highest quality teak available on the market. This grade of teak is extracted from the heartwood (also known as the centre) of mature trees. In its natural form, it is the highly desirable honey-brown colour that is characteristic of teak wood. Grade A is also rich in natural oils, making products crafted from teak exceptionally durable and resistant to pests and severe weather. The superior quality of this type of teak is reflected in the price, but it is worth the investment!
"Grade B" teak
Grade B teak is mid-grade quality wood, but it is still suitable for a variety of wooden products. This grade is extracted from the outer heartwood of trees. While not as strong as Grade A, Grade B still has sufficient strength, durability, and resistance to pests and harsh weather conditions.
The price of Grade B teak is lower than Grade A. Grade B teak also tends to be lighter in colour than higher quality alternatives.
"Grade C" teak
Grade C teak is the lowest quality compared to Grade A and B teak. It is extracted from the exterior wood (sapwood) of trees, which is less dense than heartwood and outer heartwood. Sapwood does not have sufficient strength or durability and is lacking in natural oils, making it unsuitable for patio furniture.
In addition, the colour of Grade C teak wood tends to be lighter and less vibrant in colour, usually appearing more white or cream than higher grade teak. Low-grade teak is also often uneven in colour and more prone to damage.
The Benefits of Teak Patio Furniture 
As indicated above, there are many benefits of teak outdoor furniture, including:
Durability and longevity

Rot and pest resistance

Natural beauty

Low maintenance requirements

Versatility with style options
All of these qualities make teak outdoor patio furniture a worthwhile investment.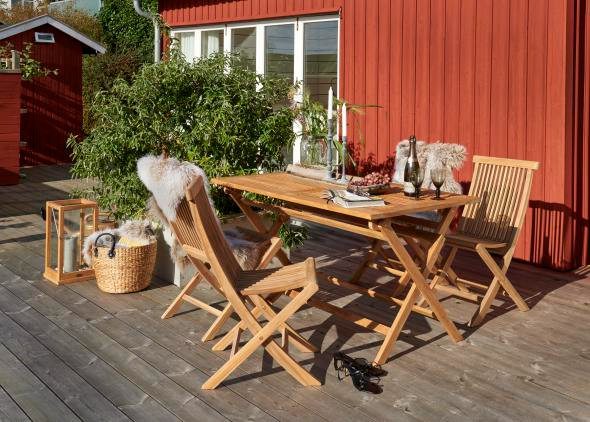 How Long Does Teak Outdoor Furniture Last? 
With proper care, teak furniture can last an impressive 50-75+ years! The natural oils in teak wood make it naturally resistant to intense conditions, including exposure to rain, snow, and even salty ocean air. Teak oils also make the wood resistant to rot and pests.
The best part about teak is that even if you neglect i
t or leave it sitting out, it will still hold up longer than other types of wood without warping, cracking, bending, or looking rundown.
 How Often Does Teak Need to Be Cleaned or Maintained?
Teak is low maintenance and only requires a thorough cleaning with a soft brush and soap/water (or a teak-specific cleaner) once per season. After that, you can keep your teak clean by wiping up spills or accumulations of dust and dirt as they happen.
Over time, teak outdoor furniture will weather and develop a silvery-grey patina which helps protect the wood. Many people like this weathered look, while others prefer to maintain the honey-brown colour. If you wish to avoid patina development on teak, simply apply teak protector products once or twice per year.
To help your teak last longer, you can opt to bring it indoors or use a cover when you are done with your set for the season.
What Should I Look for When Buying Teak Patio Furniture? 
Not all teak is created equal. Before you make a purchase, ensure you understand the differences in all three grades of teak. Opt for grade A to ensure maximum strength, durability, and natural beauty. High-quality teak will be a rich honey-brown, indicating a high oil content. The colouring will also be even throughout.
In addition, pay attention to the craftsmanship of the teak pieces you are considering. The manufacturing is poor if you see visible nails, knots, cracks, or separation around joints. Look for mortise and tenon joinery, which is one of the strongest joint types used in furniture construction.
For the reasons above, it is recommended that you only order from a retailer with a respected reputation, positive reviews, excellent customer service, and product warranties.
If a retailer is advertising genuine teak furniture at a very low price, that is another red flag that you will not want to ignore. Teak furniture is an investment that lasts decades, which is reflected in the retail price.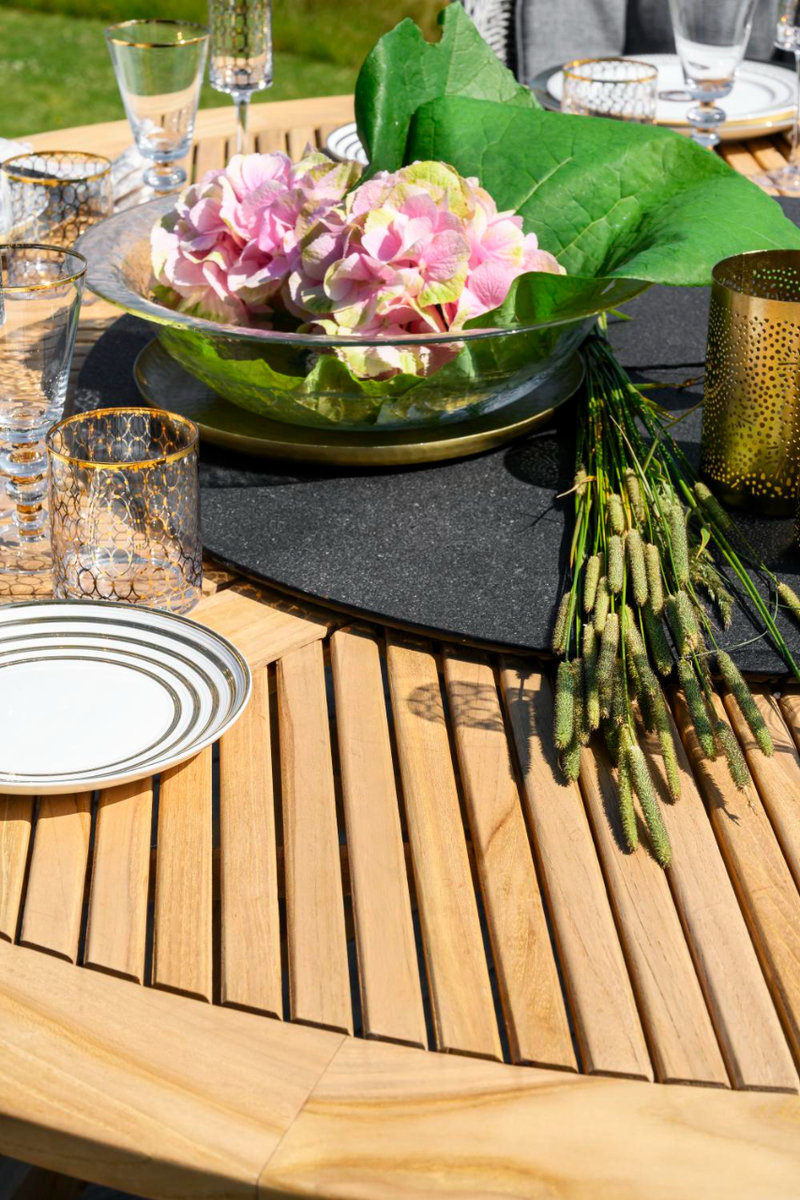 On-Trend Teak Patio Furniture 
Teak is an incredibly versatile material which is why it has been one of the most popular types of outdoor furniture for countless decades. Teak's natural appeal and adaptability also make the material suitable for a variety of décor items in your backyard oasis.
Some patio sets, loungers, benches, and storage boxes are fully constructed with teak wood, which enhances an airy, natural, and casual aesthetic. Pair these items with beiges, browns, and greens to create a relaxing and inviting outdoor living space. For this aesthetic, consider the Circus Dining Table made of cultivated and certified teak. 
The Circus Dining Table is a large table in teak's signature honey-brown colour. You'll love the 70-inch Lazy Susan made of durable and attractive superstone. This table looks fabulous surrounded by rattan chairs, but it also lends itself well to black and slate chair frames if you prefer a more modern look.
Opt to apply teak protectant to the Circus Dining Table to preserve its stunning colour, or allow it to form a patina over time.
Whether you want a fully teak patio set or prefer to pair teak with other materials, there is sure to be a teak outdoor furniture option that suits your unique style! 
Conclusion
In conclusion, teak patio furniture is the perfect option for anyone who values making investments in high-quality items that will last for decades with minimal care and maintenance.
Teak offers many benefits in terms of strength, durability, versatility, sustainability, and resistance to pests and rot. It is also naturally beautiful when sealed to preserve the prized honey-brown colour. It is equally attractive when left to weather and develop a silvery-grey patina.
When shopping for teak patio furniture, always ask about which type/grade of teak was used. Teak grades (A,B, and C) vary significantly in terms of quality, strength, durability, weather resistance, and colour. Therefore, it is important to ensure you purchase furniture pieces or sets that will stand the test of time.
In addition to asking about teak grade, pay attention to the quality of the craftsmanship and only purchase outdoor teak patio furniture from a reputable retailer. Remember that teak furniture is an investment; inexpensive sets are likely poor quality or made with imitation teak that will quickly disappoint you.
Due to teak's versatility and ability to pair well with a variety of other materials like aluminum and rattan, there is a teak patio set available on the market for everyone's unique styles and tastes. Opt for a fully teak set, pair teak with matte black accents, or incorporate teak accents into your outdoor décor for an upscale aesthetic that is very on-trend this summer.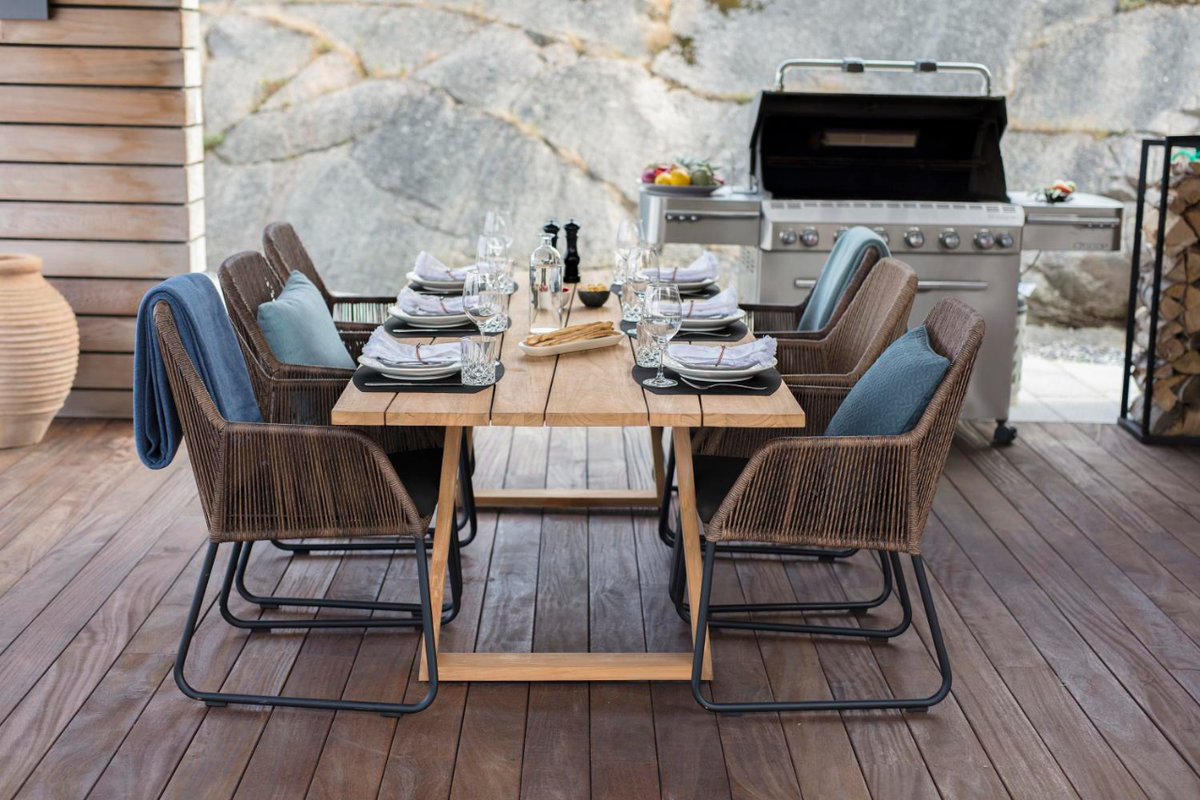 Shop with Cottage Culture 
Are you ready to start shopping for high-quality teak patio furniture that will last the test of time? Do you also want to find a comfortable patio set that exudes elegance and matches your style? Then consider shopping with Cottage Culture! 
We are proud to be a family-owned and operated patio-furniture retailer in Canada. We are committed to offering only superior customer service, warranties, and support to every client who walks through our doors.   
We invite you to browse our online patio furniture collection or visit our showroom in beautiful Hensall, Ontario.
Looking for inspiration? Follow us on Facebook, Instagram, and Pinterest!