Setting up your patio in the spring is always something to look forward to because it signifies that longer days and warmer weather are coming soon. After being cooped up for the winter, many people cannot wait to pull everything out of storage and start hosting BBQs, lounging with friends, and relaxing by the pool. However, there are some important steps to take to ensure you are ready to enjoy your patio furniture, accessories, and décor to the fullest. These to-dos include cleaning your patio furniture and getting your other décor prepared for a fun-filled summer.
Below, we provide tips on cleaning your outdoor cushions, umbrellas, rugs, fire pits, and BBQs. Cleaning is all part of regular maintenance and will keep your backyard or patio looking neat and tidy while also prolonging the life of your outdoor décor.
How to Clean Outdoor Cushions 
Outdoor cushions often take the brunt of wet bathing suits, grass-stained feet, bug spray, sunscreen, sweat, and other spills, making them difficult to keep clean throughout the season. Luckily, most outdoor cushions are designed to withstand heavy use and exposure to the elements better than indoor fabrics. For that reason, they can be cleaned many times before it is time to replace them.  
Depending on the state of your cushions, there are many methods for cleaning outdoor fabric - some of which use cleaning supplies you likely already have at home! For lightly soiled cushions, a quick vacuum and some spot cleaning may do that trick, while stains and stinky smells will require a more thorough wash.
For a natural cleaning solution that kills bacteria and helps remove unpleasant smells, combine ¼ cup distilled white vinegar with 4 cups of warm water. Spray the cleaning solution on your cushions and pillows and let it stand for 15 mins. Next, scrub with a soft brush, rinse them off with your hose or pressure washer, and place them upright in the sun until fully dry.
For oily stains from food, sunscreen, and bug spray, grease-cutting cleaning supplies like dish soap or laundry detergent mixed with water can help. Other tricks include placing baking soda on an oily spot to draw out greasy residue. A mixture of borax, dish soap, and water has also been known to help remove tougher stains.       

How to Clean Patio Umbrellas 
Outdoor umbrellas are appreciated in the peak heat of summer and when the rain starts to drizzle at dinner, but many people often forget to clean this patio staple regularly. While "out of sight, out of mind" may apply when the umbrella is raised, dust, dirt, debris, sap, and bird droppings are undoubtedly accumulating. For this reason, regular cleaning is part of keeping your outdoor umbrella (and your dining table) looking fresh.
To clean an outdoor fabric umbrella, lay it flat on your deck or driveway. Rinse all sides with a hose or power washer to remove dirt and dust. Next, lightly scrub your umbrella with a mixture of water and liquid laundry detergent. Once you have cleaned all sections, rinse it off again and allow it to dry.
In addition to cleaning umbrella fabric, be sure to wipe down the frame. This part of your umbrella is most likely to collect germs and show fingerprints and watermarks. A simple mixture of dish soap and water will work wonders to remove grime from aluminum frames. Just be sure to use a non-abrasive cloth or sponge that will not cause scratches. For wooden frames, use only a soft, damp cloth dipped into a dish soap and water mixture. Be careful not to over saturate your frame.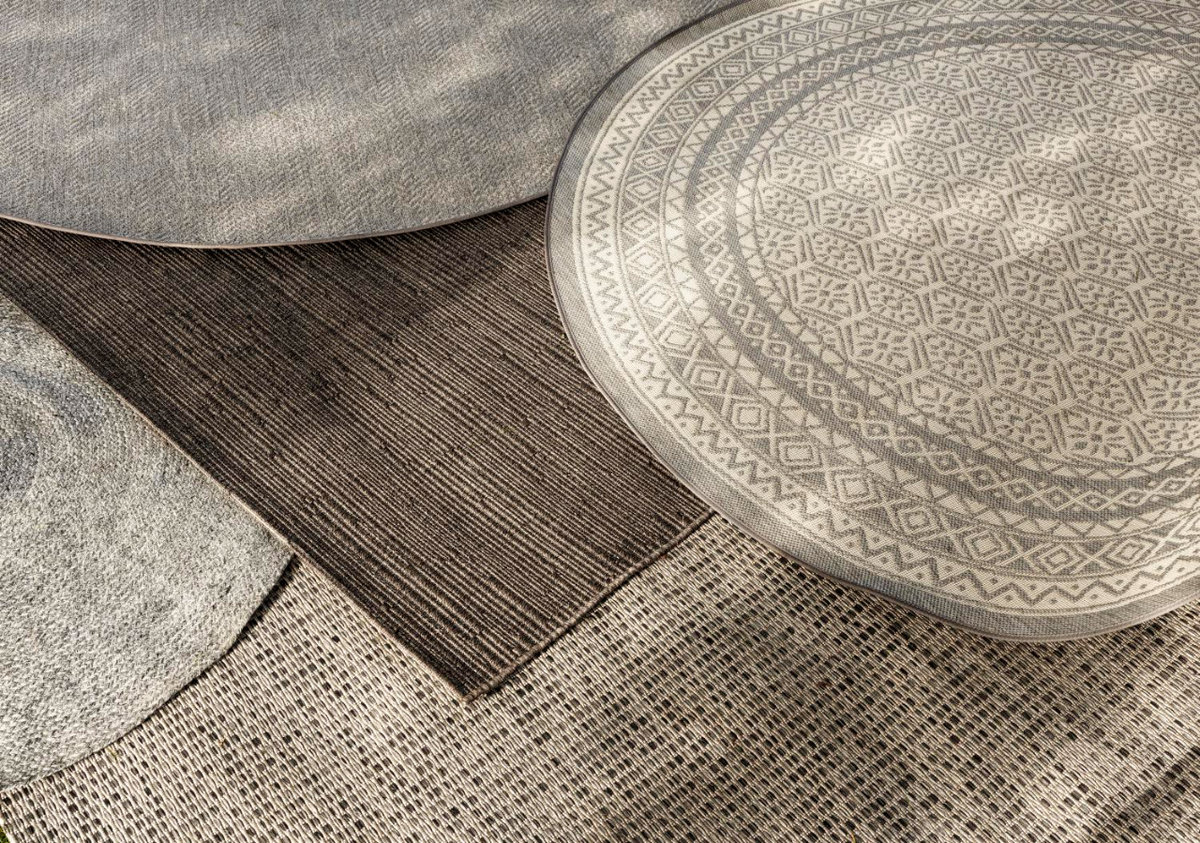 How to Clean an Outdoor Rug 
Outdoor rugs are another patio accessory that can get dirty and stained quickly. Spilled wine, food crumbs, and dirt from messy paws and shoes are common, but cleaning can be pretty easy – especially if you purchased a high-quality outdoor rug built to last for many seasons.
To clean your outdoor rug, start by blotting up any wet spills with a paper towel or absorbent cleaning cloth. Next, vacuum or sweep your carpet to remove loose debris and dirt. If you are able, lift your rug, shake it out, and move it to another area so you can vacuum or sweep underneath it.
To deep clean your outdoor rug, mix a bucket of water with mild dish soap. Be sure to test your cleaning solution on a corner of your carpet or mat before applying it to the entire surface. If you do not see any discolouration after a few minutes, you should be safe to proceed. Use your hose or pressure washer to wet your rug. Next, apply a mixture of water and dish soap. Then use a soft-bristled brush or lint-free cloth to scrub.
Once your scrubbing is complete, rinse your rug with clean water until all the cleaning solution has been removed. Next, lift an end of your rug to help some of the water drain off, and then lay it out or hang it in the sun to dry.

How to Clean Firepits 
Whether you have a masonry or metal wood-fired pit, regular cleaning can help keep it looking tidy. While you may be on top of removing wood ash after every few uses, you may not think to scrub soot and grime as often. However, doing so can improve the overall appearance of your firepit area.   
To clean your firepit, remove all wood ash and dispose of it safely per your city's waste management rules. Ensure that you do not remove the ash until it is fully cooled. Place it in a metal container to ensure you do not accidentally cause a fire. Wait to dispose of it until you are absolutely sure that there are no embers sneakily burning slowly.
Once the ash is removed, spray your firepit with your hose or pressure washer. If you have a metal firepit, dump out the water. Continue this process until most of the debris has been rinsed away. Next, use a dish soap and water mixture and a soft-bristled scrub brush or cloth to scrub away stuck-on stains. Rinse again until all soapy residue is cleared away.
If you have a masonry fire pit and have trouble removing soot stains, a natural solution is to make a paste with a 1:1 baking soda and water ratio. Prepare your paste and spread it on the problem areas. Let it sit for ten minutes. Next, take a stiff-bristled brush and scrub the area. Rinse away the residue with your hose or pressure washer when you are done. 
How to Clean Your BBQ 
A highlight of every summer is BBQing in the backyard for friends and family, but grills are notorious for collecting gunk. To avoid BBQ grease fires and ensure you are cooking on a clean surface, regularly cleaning your grill is necessary. In addition to scraping your grilling grates before each use, plan to do a deeper dive in the spring, at least once or twice during peak grilling season, and before you tuck it away for the winter. 
First and foremost, always ensure you keep an eye on your grease trap. This trap can become full quickly if you like to entertain or cook outside often in the warmer months. Neglecting to empty your grease trap will leave a nasty mess on your deck or patio if it overflows. To avoid this, remove and dump it often, and give it a quick wash with soap and water to keep it clean.
To clean all other parts of your BBQ, you will need a vacuum or shop vac, hot soapy water, a scouring brush or pad, and a cloth or rag. Start by scraping off as much of the burnt-on residue inside your grill as possible. Next, vacuum up any loose particles on the grill and within the firebox. As you remove your grill and burner hoods to gain access to the firebox, place them in a container of hot soapy water. Letting them soak can make the later steps easier.
While the grill and burner hoods soak, move on to scrubbing the BBQ lid with your dish soap and water mixture. Working from the top-down helps make the process more efficient. Next, wipe the exposed burners and scrub the firebox with your soap mixture and a scouring pad. Rinse until all debris has been washed away. Dry with a clean cloth.
Once the inside of your grill is clean, remove your burner hoods from their soak and scrub them thoroughly with a scouring pad. Rinse, dry, and place them back inside your firebox.
Now move on to scrubbing your grill with your scouring pad or wire brush. When satisfied with your work, rinse, dry, and place back inside your BBQ. After giving the outside of your BBQ a quick wipe, you'll be ready to invite some friends over and enjoy a fantastic day of great food and fun!

Get Ready for Summer With Cottage
Culture 
If you've cleaned your older outdoor décor and they are still looking like they are past their prime, it could be time to start shopping for an upgrade. Cottage Culture is here to help you pick out new accessories that will match your vision and style! We offer a wide variety of high-quality patio furniture and decor that will exude comfort, quality, and character.
Browse our patio furniture and decor online or visit our showroom in beautiful Hensall, Ontario to see our extensive collection of outdoor furniture, patio umbrellas, outdoor rugs, firepits, and so much more! You'll love dreaming up your perfect backyard while you browse all that we have to offer through our family-owned local business!