Is Your Cottage Ready for that Cozy Cottage Style?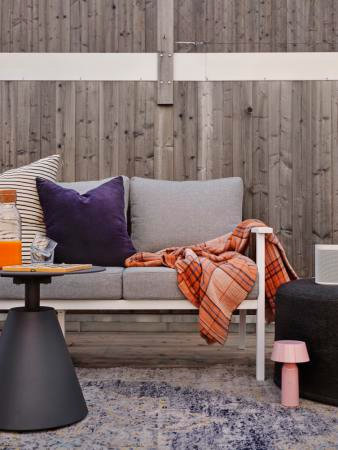 If you love the feeling of being up north at the cottage during the summer, then why not recreate that same vibe in your own backyard? Imagine being able to enjoy that calming getaway without having to pack all your gear and sit in traffic.
A cozy cottage style fits in with almost any outdoor lifestyle. Whether you use your yard for entertaining or just cuddling up with a good book, the comfortable vibe created by a cottage style lends itself to any activity.
Decorating your backyard oasis using the cottage style is easy with Cottage Culture. We carry an assortment of timeless patio pieces and accessories to help bring your cottage vibe together.
Before you get started though, let's discuss what design elements are used to create a cozy cottage style; every backyard makeover needs a good foundation in design.
What is cozy cottage style?
Cottage style layers vintage character with bright, light spaces to create a relaxed feeling like being at your cottage retreat. The design should feel comfortable and inviting and look put-together but with a no-fuss vibe.
The hardest thing to capture is a feeling of genuine charm and that air of serenity, but our team at Cottage Culture is here to help. Look for these design elements when shopping for patio furniture or accessories to create a cozy cottage atmosphere:
Vintage character – repurpose pieces into new uses, such as using wooden crates as storage or the base for a coffee table. The more ornate and distressed the item the better.
Play with patterns and print in your accessories – mix it up and using a variety of checks, florals, and stripes to create an exciting but coordinated look.  When placed with clean elegant cottage furniture, you instantly up the cozy effect.
A light and airy colour palette – cottage design uses a lot of eclectic pieces brought together with a unifying colour palette. Try to use light sandy tones, warm whites, and soft blue pastels to bring the space together.
Start by choosing reused or sustainable landscaping materials
Part of the cottage style look comes from the fact that the materials used around the property are usually hand-me-down, so they are weathered and worn. To recreate this look you can start by using reclaimed landscaping materials.
For example, source your patio stones from reclaimed or local sources. The more weathered and 'vintage' looking, the better they are to recreate your cottage style.
Now continue that reclaimed look into some décor pieces
Finding fun and interesting reclaimed pieces can really bring together the look of your backyard oasis. We recommend picking-up décor pieces from local salvage yards or community groups.
Re-using rusted metal pieces, like old dairy urns or chimineas and repurposing them into planters or bird feeders is very trendy in 2022. Just be careful that you are not overpaying for trendy items, sometimes it's better to find something that others no longer want.
Your guests will also love hearing the history behind the pieces or the story of how you acquired these unique works of art during your journey.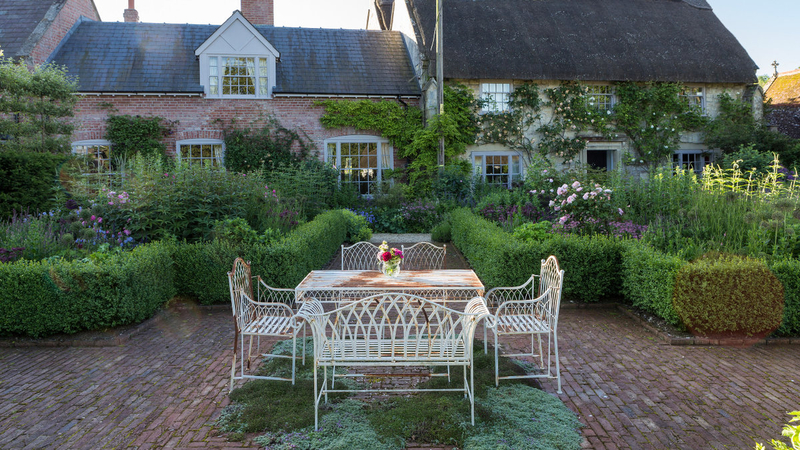 Soften paving and stones with plants
Plant flowers, mosses, and grasses in between your paving stones and around any hard structures to soften the look. Planting amongst your paving is not only aesthetically pleasing, but also a perfect way to create that natural cottage vibe.
Some plants you could try are thyme, chamomile, erigeron, aubretia, dianthus, saxifrage, Alchemilla mollis, succulents and Mondo grass. And many of these have an added bonus of deterring mosquitos!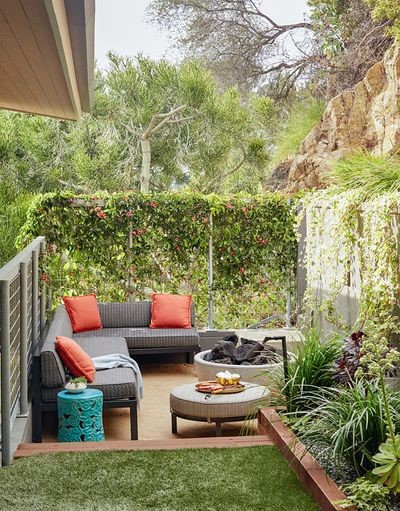 Lower the seating area to create defined
comfortable areas
A sunken patio lined by low walls allows you to view your yard, but also protects you from the wind. Adding different elevations to your backyard design will add character but also help define spaces.
Find a way to incorporate the seating into the walls, making sure you have enough room to comfortably seat your guests. Remember that we're trying to achieve a comfortable and inviting feel, so add lots of pillows and cushy seating.
If a full landscape isn't in the cards then consider defining your seating areas by use – lower seating for lounging areas and more upright seatbacks in dining areas.  A coffee nook is another fabulous way of adding purposeful charm to your backyard space.
Make sure you make your seats the best
seats in the house
You should place your seating in the garden so that it offers the best views of your yard or other features. Sit on each chair and look around to really see what your guests will see when they sit there.
You don't want to spend all this time and money and then have the best seats facing your air conditioning unit or natural gas lines. The type of furniture also makes a big difference in achieving the transformation into a cottage look and feel.
For example, an airy synthetic wicker seat such as the Kamomill, low back sofa or wrought iron patio furniture will be less clunky and it won't obscure your design. Don't be afraid to add some colour by choosing patio furniture in funky colours to accent the base design; a favourite metal chair painted in red, for example. You can also opt for cushions and throws that bring a pop of colour to your neutral pieces. The Dehila lounge chair is a great option to add a pop of colour to any outdoor space.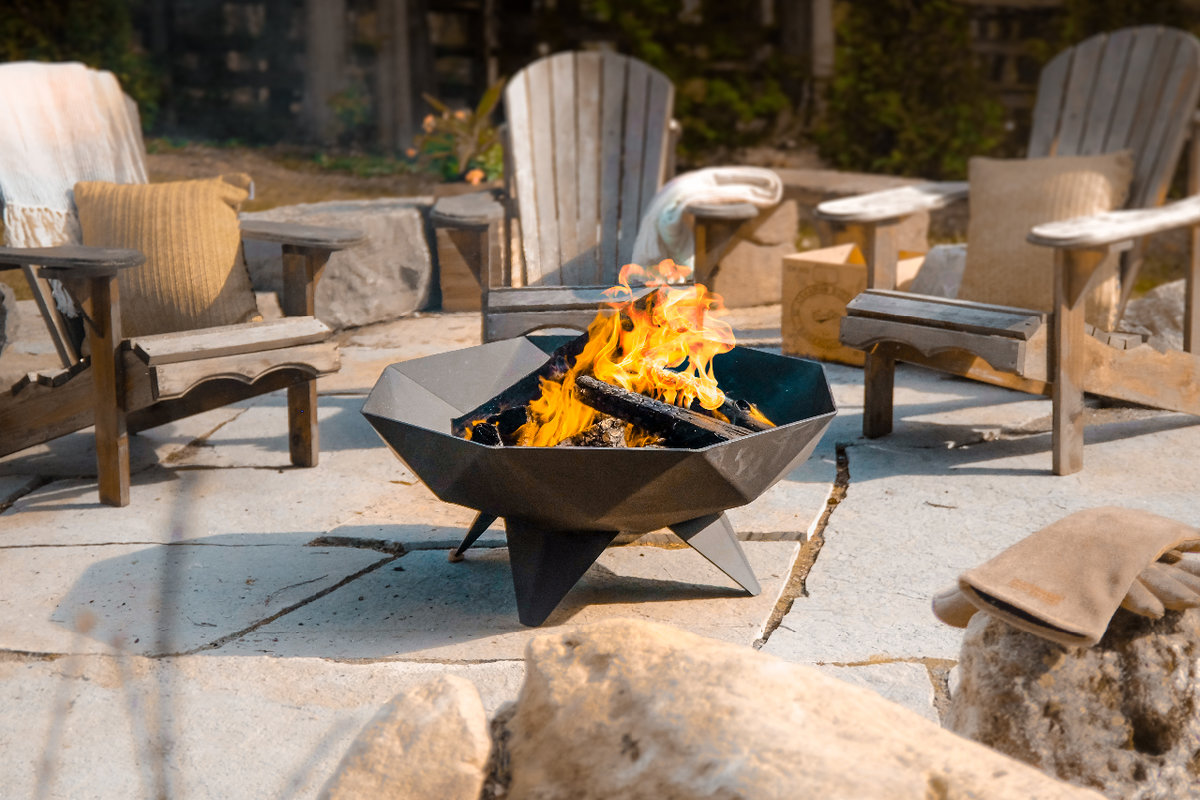 Enjoy your cottage oasis into the evening with a firepit
Place a fire pit at the heart of a seating area. Surround it with teak, resin or aluminum seating and a lot of water-resistant outdoor rugs and cushions. If you have the space, you can make the firepit an are to retire to after dinner.
Now you can enjoy your patio well into the night, even on a cool evening. Your patio seating area will become the focal point for entertaining with your family and friends. Iron Embers create unique long-lasting fireplaces that your family will enjoy for generations at the cottage.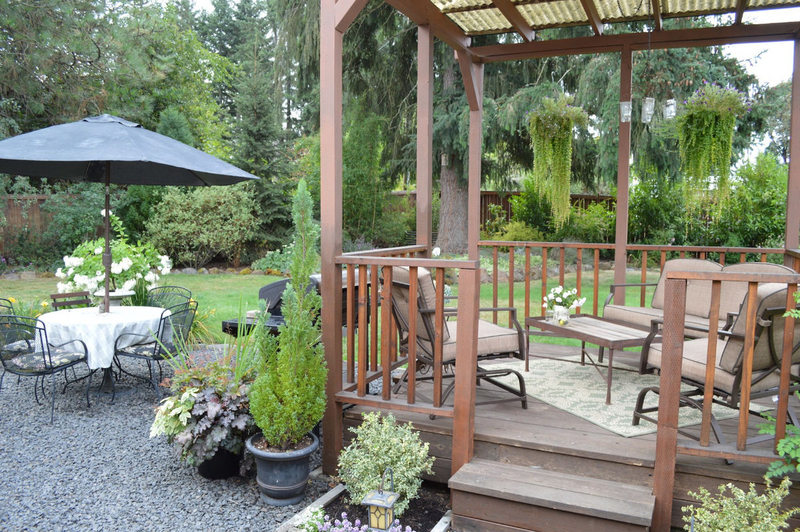 Use decks to create elevation
Adding a deck to your yard opens a lot of design options and functionality opportunities. Decks offer a softer alternative to patio stones and allow you to bring in the natural wood look and feel.
Wood finishes allow you to tie in your planting with your design. You can create a perfect space for al fresco dining or relaxing and the deck lets you raise up parts of your design to create defined areas along with your sunken seating are or firepit. For more tips on al fresco dining visit our blog  Creating an Al fresco dining experience.
Opting for unfinished wood means your deck will weather over time and add even more character and cozy cottage vibe to your yard.
Make sure you choose a large table
When looking for an outdoor dining table that will fit your cottage style, make sure you look for a long farmhouse style table that will maximize the available space but also let everyone eat together.  Or, better yet, choose an extendable table such as the Hillmond that allows you to accommodate more guests.
We  recommend getting a durable teak dining table enough for creating a welcoming and cozy feeling. Teak will weather beautifully, creating a nice patina and it will fit in with the cottage vibe perfectly.  Consider the Circus – a table that screams for family, friends and conversation.
Increase your privacy and up the coziness
factor with plants and screening
Plants and screens can be used to create nice private areas in your backyard. Try to use tall willowy plants which will give you privacy but also allow a soft breeze. If you opt to go with screens, look for rustic or weathered ones that keep that vintage vibe.
If your garden has several levels, consider building a wall with plants or screens to enclose your patio which will both make it feel more private and prevent onlookers.
Another option would be to build a pergola over your patio are and grow climbing plants over the pergola. If you also want some pretty blooms, you can go with roses or clematis over ivy and the blossoms will also add a delicious smell.
Add a swing seat to your up your cottage
vibe
Adding a bench or swing seat to your cottage oasis gives you the perfect place to take a break while you are gardening or cuddle up with a great book on a quiet day.
Choose a seat that blends in with your plants and enhances your cottage garden. If your seat or bench has a frame design around it, you can also add climbing plants to the bench for vibrant pops of color and much needed shade over the seat.  A solid teak  bench such as the Turin 2-seateror Turin backless bench will naturaly patinina to rustic grey enhancing the cozy cottage vibe.
Use lighting to create that cottage
ambience
Proper lighting means you will be able to use your cottage space late into the evening. Warm outdoor lights can also help define boundaries between the different spaces in your yard and highlight key elements such as seating or firepit areas.
The right lighting can completely transform an outdoor space and current product lines come in a wide variety of choices. Remember to keep the cottage vibe at the forefront, too much lighting can swing the design to more of a hotel/resort look than a cottage.
For an impromptu al fresco moment, hand a plug in pendant from a tree near where you are seated or combine with patio string lights.  Lights such as the Midway floor lamp not only add light but also a stunning shadow that will add to the cozy mood.
Add water to really bring in that cottage feel
One of the most effective ways to bring in the cozy cottage feel is to add in a water feature. Most cottages have access to some form of water, whether on a river or a lake. The sound of trickling or moving water creates a calm and tranquility that immediately evokes that lakeside feeling.
Water features not only add texture and visual interest, but they also help in creating a stress free, restful environment. Water can be added in many ways from using small ponds to a larger pond or waterfall feature.
If you do add a water feature, make sure you make it a focal point in your design by arranging your seating or divided areas to take full advantage of it.