Both Summer and Winter use adds value to patio decor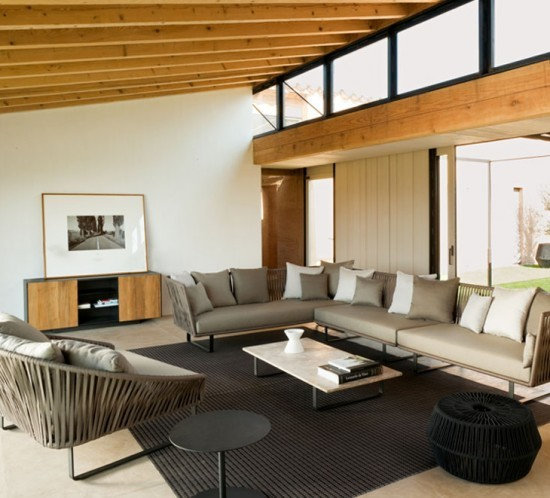 If you are already starting your fall chores, as well as beginning to plan ahead for the upcoming winter and festive season, why not marry components of the two? Since the weather swings between summer and winter are significant in our region, one of our current fall chores is typically to begin taking down our patio awnings and covering, or storing away, our summer furniture for the winter, protecting all from ice and snow.

But why not 'think differently' as an old Apple slogan suggests? That is, let's 'think differently' about some of our outdoor furniture storage requirements!  What if we have some extra space in our homes, whether an underutilized family room or space that can be created by rearranging furniture? If Thanksgiving was any indication, it would seem that we are beginning to embrace the pleasure of gathering together again to enjoy one another's company, excellent food and great drink. So, if there is some extra space waiting, or can be created in your home, why not opt for this solution to your outdoor furniture storage needs?
Outdoor furniture doesn't always look as such, especially the Scandinavian design furniture at Cottage Culture, which means it's very versatile and stylish. These features, in turn, mean you can gain year-round use for your investment in your outdoor furniture, rather than using it for only a fraction of a year, and spice up your indoor space at the same time. These benefits are in addition to creating additional seating to accommodate friends and family who will gather with you indoors over the holiday season and chilly winter months. How to achieve a coordinated look, you ask?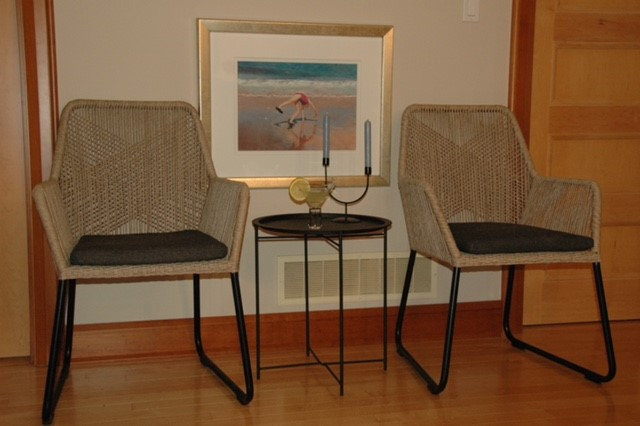 Decorating with All-Weather Wicker and Rattan in the Winter
Decorating with this trend in the dead of winter without it feeling out-of-place is also easier than it appears. No longer just for patio use, all-weather wicker and rattan are taking over as a stylish and trendy material for home accents. Whether on furniture, lighting or tabletop accessories, this tropical looking material can bring a warm ambience to any room. As for why you should consider this trend, look no further than a few designers: Brooklyn-based interior designer Eliza Gran loves it for its ability to "feel both contemporary and vintage at the same time"; Dolley Frearson, co-founder of High Fashion Home says it feels "very organic, unstructured, and has a hand-made look that people are loving right now"; and Ben Marshall, Creative Director of Hudson Valley Lighting, similarly explains that the material allows people to feel more grounded and connected with nature, which has been a huge trend of late. And while, sure, rattan does bring an "airy, laid-back, bohemian feel to any space," as Emily Robinson from The Citizenry's design team says, it's also completely possible to transform it into a cozy, wintry scene come cold weather with some expert tricks. A few of those will be covered further on.
But before we leave a discussion of materials, let's also not forget sustainable natural teak, which can move indoors equally well. Teak, wicker and rattan enhance a wide variety of styles including Bohemian, Coastal, Retro, British Colonial and other traditional styles, as well as Scandinavian. They add visual interest in neutral spaces without adding colour, and their casual, inviting feel is ideal for living spaces where comfort is key.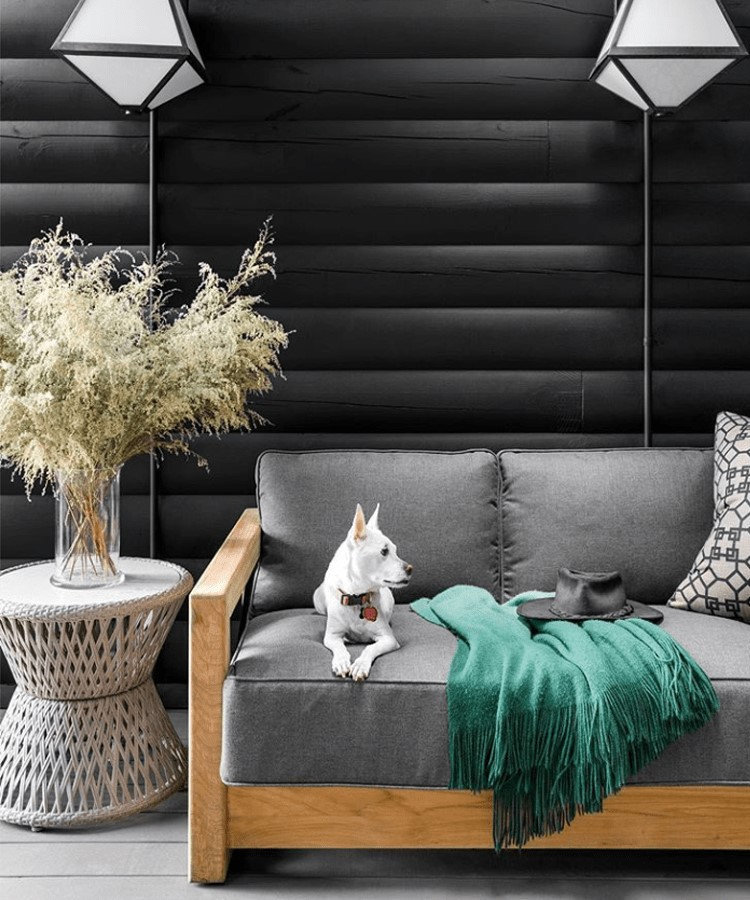 Why you Should Include Texture in a Room.
There is also the benefit of all-weather wick and rattan adding texture to interior spaces. We may play with colours from time to time, but we tend to love natural interiors, and of course add natural greenery to our spaces. Whether we are passionate about fresh white/light interiors, soft grey tones or warmer biscuit tones, you can't get away from the fact that our homes are often very simple when it comes to colour.
These simpler colour palettes are very soothing, and there is absolutely nothing wrong with choosing this colour palette, but if you do have a room like this, then you must include different textures. To reinforce this concept, think back to those long walks along the lakeshore this past summer and consider what you were viewing on the beach. You would have seen coarse sand, smooth pebbles, rugged outcrops of stone, soft and worn pieces of driftwood and some seashells – just a beautiful array of neutrals from white through grey to touches of sandy warmth. What makes this scene come alive is the varying texture. This texture is why all-weather wicker and rattan are integral to our decorating schemes. It is also the perfect way to introduce some individuality without putting the bank on speed dial.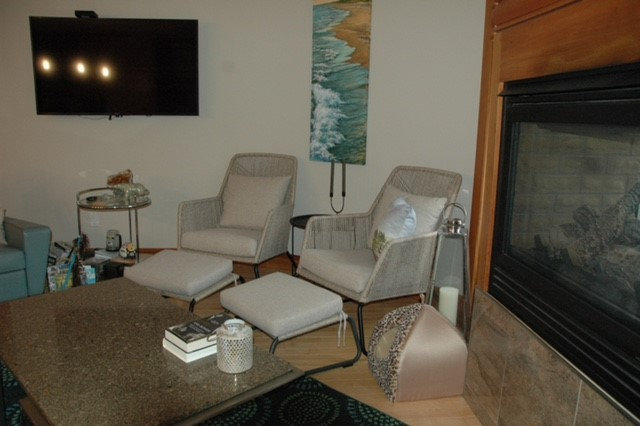 How to Decorate with Rattan in the Winter.
What follows are some key themes from experts on how to bring all-weather wicker and rattan indoors and transform the look into a cozy wintry scene in your space.
Lean into Scandinavian Design.
As Kelly Mason, Manager of Creative and Content at Lulu and Georgia notes, rattan has a "very natural fit" in Scandinavian design, especially when it comes to the colder months. "A rattan chair with a sheepskin throw looks perfectly cozy by a roaring fire," she says. You could also incorporate an element of upholstering, with a deeper colour cushion, such as slate or charcoal. Thick knits and cool-toned woods will also add to the Scandinavian feel.
Pay Attention to Colour Pairings.
Adding materials in warm colours to rattan accents can give it a warmer feel overall. Consider shades like caramel or deep rich browns, bronze, deep blues and teals, hunter and olive green, and black.
The tones of your all-weather wicker and rattan pieces matter as well, with decorators suggesting natural light and natural shades give a positive feel but also allow you to work with a mid-light tone palette. With that natural base, you can pair earthier colours like a slate stone, ideal for creating a cozy winter scene.
Combine with Non-Rattan furniture.
The other fabrications that surround your rattan piece are very important. Combining your all-weather wicker or rattan with other non-rattan furniture keeps it from looking like a sunroom, if you are not in fact, furnishing a sunroom. In one model living room for example, you will find two large rattan chairs, along with a leather sofa and a marble coffee table. This approach creates more interesting indoor spaces than the use of matching pieces does.
Create a contrasting effect.
To elevate rattan, pair it with rich materials like luxe leather and chunky wools. These dramatic textured materials help ground the summery, beachy feel of rattan, creating a layered dimensional feel to your space. Opt for all-weather and rattan pieces with clean lines, like the Scandinavian style of the Brafab pieces at Cottage Culture, that highlight the material itself.
Layer Cozy Textures.
Just like the sheepskin throw mentioned earlier, pieces like a sheepskin rug, faux fur pillows, chunky knit throws or pillows, metal accents or a vase of dried flowers can add a warm, inviting and cozy feel to rattan's otherwise summery vibe. Picture adding in a few candles, a crackling fire in the fireplace, and a steaming mug of some delicious beverage, and you're all set!
One word or caution is that certain fabrics and textures - lightweight materials, like cotton and linen will have the opposite effect. This lovely combination will instantly transport you to a beachside oasis, which is fine if you're decorating a sunroom, but this pairing doesn't evoke the cozy, wintry vibes you're aiming to achieve.
Avoid Light and Bright Elements.
While there are plenty of things you can pair with all-weather wicker and rattan to make it feel more wintry, there are a few elements you should avoid, according to experts. If you're going for a cozier look, avoid any bright or neon colours which look like they're  direct from tropical climates. Also, skip sultry weather elements such as palm tree wallpaper or tropical plants when you're going for a cozier look.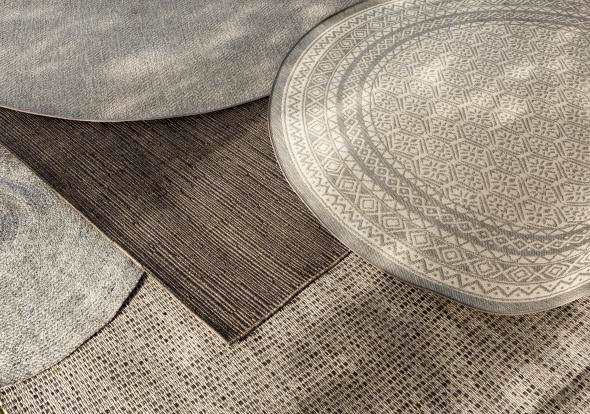 Incorporate Accessories.
You can incorporate colours and textures that mimic the season and create a light, airy atmosphere that brings the outdoors in. Decorators' go-to strategies to incorporate this type of natural texture include a sisal rug, which is practical and makes a room come alive, as well as small rattan accessories like planter, and other baskets and tabletop pieces such as rattan trays.
Use it Sparingly.
Experts' recommendation is to opt for one or two statement rattan pieces in a few various rooms. While it may be tempting to congregate all your favourite all-weather wick or rattan pieces together, doing so will work to enhance the material's summery vibe, and counteract your intent to create a cozy, wintery feel.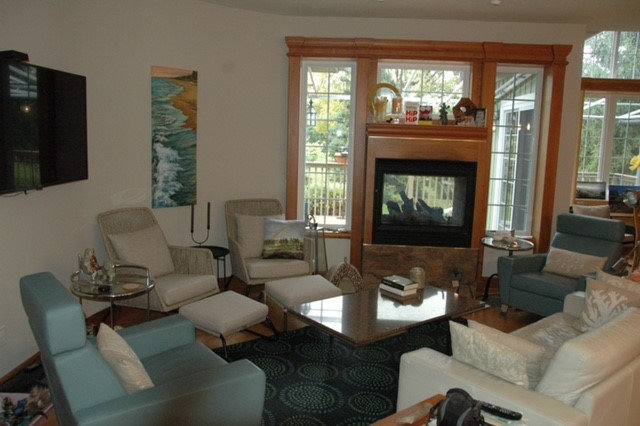 If you follow these suggestions, you will achieve year-round enjoyment from your outdoor furniture, while 'storing' it for the winter! And you will have attractive, comfortable seating for all your family and friends over the holidays and winter season.
Now enjoy that delicious steamy beverage while curled up in your all-weather or rattan furniture in front of the fire!