Make Fall Cottaging Cozy with Canadian Fire Pits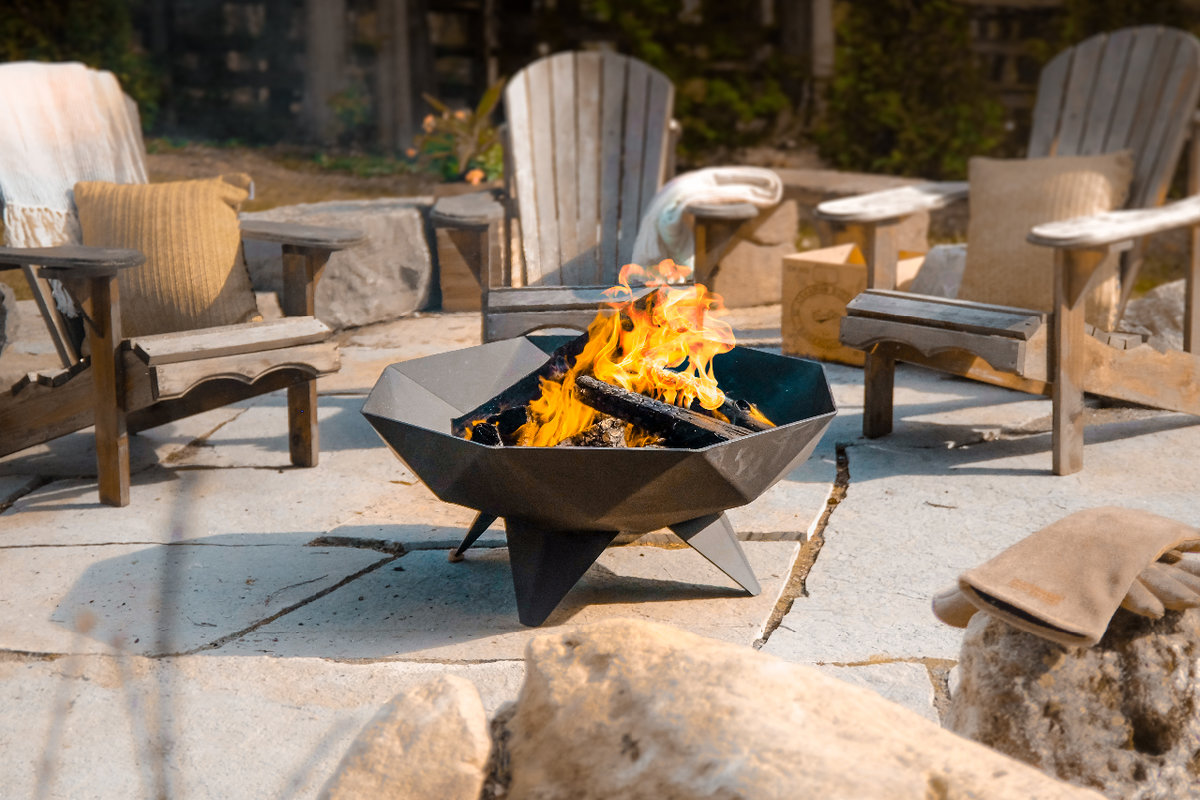 As our Canadian landscape becomes a canvas for nature's artistry with trees adorned in a myriad of colours – fiery reds, burnt oranges, and vibrant yellows intermingled with fading greens and people wrapped in cozy layers stroll along pathways adorned with pumpkins and hay bales it's a beautiful time to visit the cottage! Fire pits can greatly enhance the experience of fall cottaging, as they provide warmth, ambiance and a focal point for socializing. There are several more reasons why fire pits are considered essential during fall cottaging, we have listed a few:
Warmth and Comfort: Fall weather can be chilly, especially during the evenings, Fire pits provide warmth, allowing people to comfortably spend time outdoors, whether for roasting marshmallows, telling stories, or simply enjoying the crisp autumn air.
Ambiance: The crackling sound of the fire, the warmth it emits, and the flickering flames create a cozy and inviting atmosphere. This ambiance is perfect for relaxing and unwinding during fall evenings bringing a sense of stillness and peace.
Social Gathering Spot: Fire pits naturally draw people together. They serve as a focal point for socializing, making them a popular spot for friends and family to gather, share stories m play music, or enjoy meals together.
Cooking and Smores: Fire pits allow for cooking, whether it's roasting marshmallows for s'mores, grilling hot dogs, or even cooking meals in a Dutch oven or over a grill grate. This adds a fun and rustic element to the overall cottage experience. Our favourite gill grate/fire pit combo is the Cottager by Iron Embers, it is the perfect size and easy to use!
Aesthetic Appeal: Beyond their practical uses, fire pits add aesthetic value to outdoor spaces. They create a mesmerizing visual effect, especially in the backdrop of fall foliage or starry nights.
Cottage Culture carries a large selection of Iron Embers fire pits which are handcrafted in Guelph, Ontario. Built from ¼" thick steel, these fire pits can be used in all four of our Canadian seasons. Known for the most durable fire pits created with expert craftmanship each Canadian-made fire pit comes with a 10-year guarantee.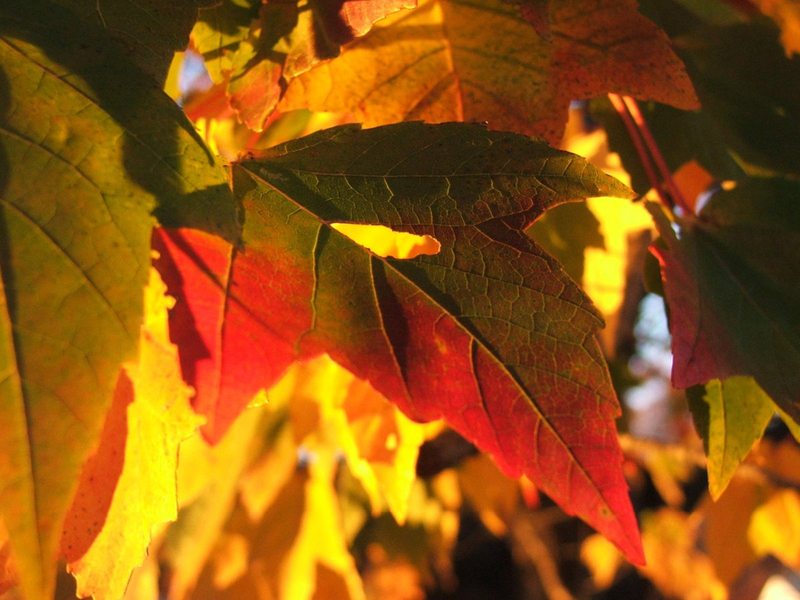 The Charm of Fall Cottaging in Scandinavian Style
The combination of stunning scenery, comfortable weather, cozy vibes, seasonal activities, and a quieter atmosphere make fall cottaging highly appealing for many people seeking a serene and rejuvenating getaway. Incorporating Scandinavian furniture and décor into your cottage for fall can also attribute to a serene and rejuvenating getaway for you and your guests. Cottage Culture is here to help you create a cozy, inviting atmosphere that complements the season. By using natural materials layered with cozy textiles and sprinkles of warm lighting we create a feeling of warmth and relaxation. We strive to create this feeling for all of our customers not only for fall, but for every season because we believe the cottage is a feeling not just a place! Contact us for a free decorating consultation.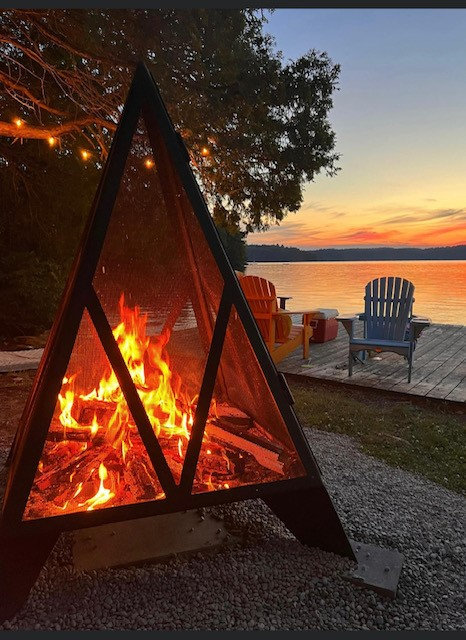 Canadian Fire Pits: The Heart of Your Cottage Oasis
Iron Embers fire pits are built for fire lovers. Proudly handcrafted in Guelph, Ontario each Iron Embers fire pit is welded solid and polished smooth by a team of expert fabricators. Built from ¼" thick steel for use all year these fire pits are a focal point in your outdoor space. Iron Embers has been building Canada's most durable fire pit for over a decade and each Iron Embers fire pit comes with a 10-year guarantee.
Iron Embers fire pits are not only durable and practical but it's the design and style that sets them apart. No matter what your personal style there is an Iron Embers fire pit to compliment your outdoor space (or be the centerpiece!).
These are only a few of the great fire pit options that are available at Cottage Culture for a full selection contact our knowledgeable staff and they will help you find the perfect fire pit for you.
How to Choose the Perfect Fire Pit for Your Space
Selecting the ideal wood-burning fire pit involves considering various factors to ensure it meets your needs and preferences. Here's a guide to help you choose the perfect wood-burning fire pit for your space:
Size and Space: Measure the area where you plan to place the fire pit. Consider the dimensions and ensure there's enough space for the fire pit and safety clearance around it. Never place a fire pit closer than 10 feet from anything flammable, this includes overhanging tree branches. Choose a size that fits well in your outdoor area without overcrowding the space.
Material and Durability: Wood-burning fire pits come in various material like steel, cast iron, copper, stone, or ceramic. Each material has its aesthetic appeal, durability, and maintenance requirements. Consider weather resistance and how well the material holds up to heat and outdoor elements.
Design and Style: Wood-burning fire pits come in different designs, from traditional bowl-shaped pits to more elaborate and decorative styles. Choose a design that complements your outdoor décor and matches your personal taste.
Safety Features: Look for fire pits with safety features such as sturdy legs or base for stability, a spark screen or mesh guard to prevent sparks from flying, and a grate or cover to contain the fire. Ensure it's made of heat-resistant materials to avoid accidents.
Ease of Use and Maintenance: Consider how easy the fire pit is to set up, start, and maintain. Some fire pits come with features like air vents for better airflow and catchers for easy clean up.
Budget: Set a budget and explore wood-burning fire pits within that range. Look for a fire pit that will last for years to come.
Cooking Options: Some wood-burning fire pits come with grates or attachments that allow for grilling or cooking.
Local Regulations: Check your local regulations or homeowner association rules regarding fire pit usage, size, fuel type and placement. Some areas have specific guidelines or restrictions for outdoor fire features.
By considering these factors, you can choose a wood-burning fire pit that suits your space, lifestyle, and safety requirements while providing a cozy and enjoyable outdoor experience.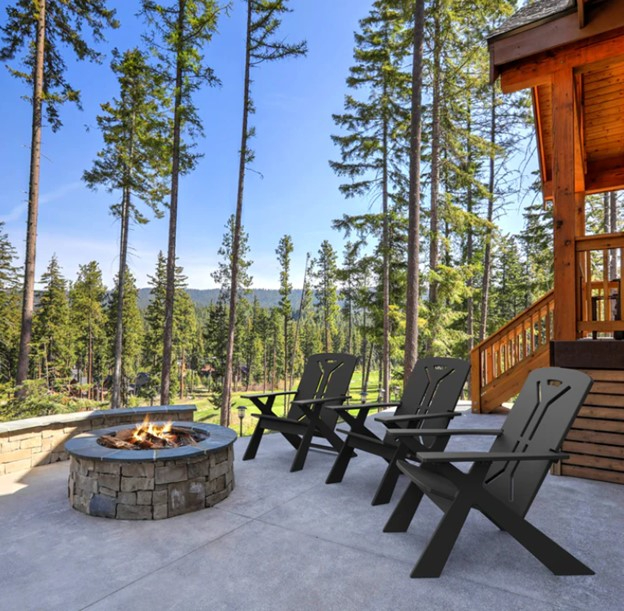 Cottage Furniture Ideas for Enhancing Your Cottage Patio
Now that you have chosen the perfect Canadian fire pit for your cottage it's time to complement your fire pit with stylish outdoor furniture creating the cozy and inviting atmosphere while offering comfort and functionality. Here are our top 3 seating picks:
Poly lumber chairs: This highly sought after material is popular due to its low maintenance. Not just used for Adirondack Chairs anymore poly lumber furniture now has style. Our favourite fire side chair is the Ease Chair.
The Folio Chair: Made of durable fiberglass resin these chairs are sculpted comfort. With a unique square pattern the Folio chair warps around you creating a cozy, structural embrace. 
The Andy Foldable Armchair: The classic look of the Andy chair with teak details and black aluminum frame is enhanced with the reclining capability guaranteed to find the perfect angle for fireside relaxation. As the Andy Armchair folds up easily and neatly, storage is not an issue.
A place for everything and a everything in its place! As most campfires happen at dusk or in the evening it's important to know where everything is. The Tamarack Log Holder not only holds the fuel for your fire but with the additional table top accessory becomes the perfect side table to hold your s'mores ingredients.
When choosing furniture, ensure it complements the style aesthetics of your cottage and outdoor space. Opt for materials that are durable and suitable for outdoor use to withstand sparks from the fire and changing weather conditions. Additionally, arrange the furniture in a way that encourages conversation and social interaction.
Cozy Fall Evenings by the Fire
Cozy fall evenings by the fire can be incredibly inviting and memorable. Here are some ideas to make those moments even more memorable!
Warm Beverages: Prepare a selection of hot beverages like mulled cider, hot cocoa, herbal teas, or pumpkin spice lattes. Don't forget marshmallows, whipped cream, or cinnamon sticks for garnishing.
Comfortable Seating: Arrange cozy seating around the fire pit. Include a lap blanket at each chair for extra warmth.
Smore's Station: Set up a DIY s'mores station with graham crackers, chocolate bars, and marshmallows. Roasting marshmallows over the fire is a classic activity everyone enjoys.
Stargazing: Fall evenings often offer clear skies, perfect for stargazing. Bring out a telescope or simply lie back and enjoy the view while identifying constellations.
Mood Lighting: Enhance the ambiance with string lights, lanterns, or candles placed strategically around the seating area. They add a warm and inviting glow to the surroundings.
Fall Décor: Add seasonal decorations like pumpkins, gourds, cornstalks, or fall-themed garlands to create a festive atmosphere.
Soft Music or Nature Sounds: Play soft acoustic music or nature sounds in the backyard to set a relaxing mood. Alternatively, enjoy the sounds of the crackling fire and rustling leaves.
Outdoor Games: Keep some easy to play outdoor games handy sucha s cards, bocce set or bean bag throw to keep everyone entertained.
Storytelling or Sharing: Encourage story telling, sharing memories, or discussing favourite books or movies. The warmth of the fire tends to inspire conversations and connections.
Comfort Food: Prepare simple and comforting fall snacks like roasted nuts, popcorn, or apple slices with caramel dip to enjoy alongside the fire.
Time for Reflection: Take a moment for personal reflection or gratitude. Appreciate the season, the company and the beauty of the moment.
Remember safety first. Keep a fire extinguisher nearby and supervise the fire pit to ensure it's properly extinguished before calling it a night. With these ideas, you can create a cozy and inviting atmosphere for memorable fall evenings by the fire.