Are you dreaming of spending this spring and summer at your cottage or in your backyard? Are you excited to eat dinner outside, entertain friends and family, or lay by the pool or lake? Is your current patio furniture up to these jobs? If not, it is definitely time to start thinking about upgrading your outdoor furniture, so you're ready to enjoy the warmer months to the max! 
Buying patio furniture can be an investment, so it is important to ensure you find pieces that you will love – and that will last – for many years to come. In addition, shopping can be overwhelming when you see the abundance of styles, materials, and layouts available on the market today. For that reason, we are here to help you navigate choosing the best patio furniture for you.
Continue reading to learn more about planning your space, choosing high-quality pieces, exploring different options, and making use of the expertise of outdoor furniture retailers near you!
Tip 1: Consider Your Lifestyle and Space 
Like most people, your backyard, balcony, or patio has become a valued extension of your main living space. However, how you use that space is entirely based on your personal preferences and priorities. Each area is also unique and will accommodate different styles and sizes of outdoor furniture. For that reason, considering your lifestyle and the size of your space is our first tip!
It is always fun to dream up your perfect yard or balcony, but you also want to be realistic about how much outdoor furniture will fit comfortably in the space you have. You also do not want to invest in pieces that will be underutilized or take up valuable space for gardens, walkways, a fire pit, planters, or play areas. Therefore, solid planning will make a big difference when it comes time to start shopping for patio furniture perfect for you.  
Consider Your Lifestyle
Perhaps you love to host lively outdoor dinner parties with friends and family. Or maybe you prefer to use your space to curl up with a good book in tranquil solitude. You may also like to have your coffee on the deck in the morning or stretch out on a lounger while you work on your tan. For you, it may even be a combination of all these fun summer activities. Therefore, how you and your family like to enjoy your outdoor living area will impact what types of patio furniture will suit your needs for entertaining, relaxing, dining, and lounging.  
Consider the Size of Your Space
The size of your space will also be a significant factor in what your outdoor living area can accommodate comfortably. If you have ample room, you may easily be able to have an outdoor dining area, sectional sofas, coffee tables, lounge chairs, and more. However, if
you have a smaller space, you may prefer multi-use foldable furniture or a small bistro table with seating. Crowding your area can make your space visually overwhelming and awkward to navigate, so be sure to consider what you truly have room for before dreaming up your new outdoor oasis.   
Our team can help you design the outdoor layout that fits your family's lifestyle. Book a conversation with our patio furniture experts to get started.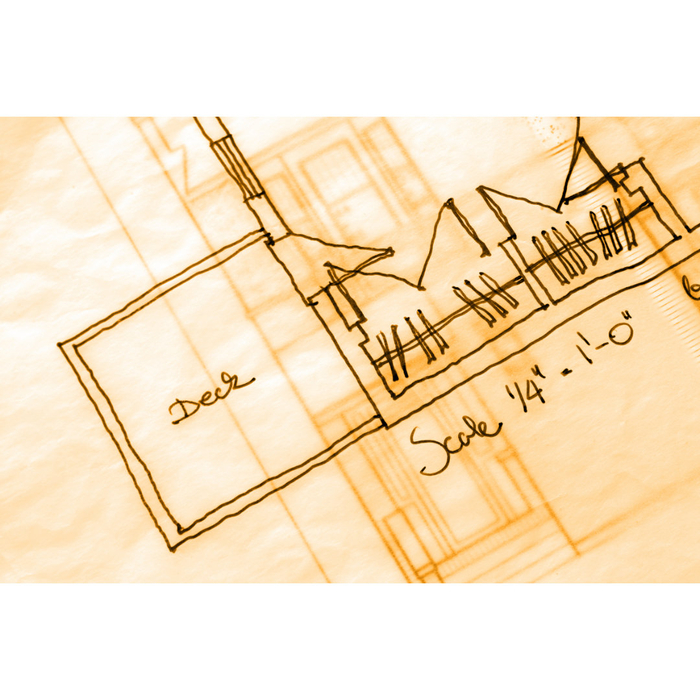 Tip 2: Measure Your Space and Plan Your Layout 
It is easy to arrive at an outdoor furniture store and find many pieces that you love. However, it is also common to over or underestimate what will fit into your available space. For this reason, always measure your outdoor area and prepare a rough sketch of the layout you have in mind. Even if you change up your plan once you see the available patio furniture options at the store, your measurements will come in handy. Bring your sketch with you to make it easier to decide what will suit your space best.   

Tip 3: Consider Your Weather Conditions
Across Canada, we experience various weather conditions that can impact the longevity and functionality of patio furniture. Therefore, your weather can make a big difference in the outdoor furniture and accessories you choose for your home. If you live on the coast, you may have salty air and need to be conscious of how some patio sets will hold up. If your backyard gets full sun from dusk until dawn, you will want to look for UV-resistant materials. If your space is very open and you get heavy wind gusts, furniture made with heavier materials will be your best bet.
No matter what kind of weather you experience in your part of Canada, there is patio furniture that will withstand to harsh conditions! Experts here at Cottage Culture will be able to guide you on materials designed to withstand the elements in your region.
Tip 4: Select High-Quality and Durable Materials
When shopping for patio furniture, it can be tempting to buy cheaper sets to save some money in the short run. However, it is important to remember that you get what you pay for. Bargain sets may seem like a good idea at the time, but they are also prone to degrading more quickly. On the other hand, high-quality patio furniture can last for decades when cared for correctly, making it a worthwhile investment that saves you money and time in the long run. 
High-quality outdoor furniture will also be more comfortable, provide you with more customization options, and offer you better customer service. 
There is an abundance of options for materials used in high-quality patio furniture. Common materials include cast aluminum, wrought aluminum, stainless steel, wicker, teak, and wrought iron, to name a few. Each material has its own benefits, and the option you select will be based mainly on your style, weather conditions, how often you plan to rearrange your furniture, and how much maintenance you are up for each year.
Cast aluminum and wrought aluminum are lightweight, rust-free, and require little maintenance, making them popular for patio furniture. In addition, since these materials can be shaped into different designs, cast and wrought aluminum furniture come in an array of stylish and elegant designs.
 
All-weather wicker outdoor furniture typically has a cast aluminum frame covered with durable UV-resistant material. These pieces are comfortable with or without a cushion, sturdy, stylish, lighter-weight, and easy to clean.
 
Stainless steel is prized for its longevity and modern appeal. This material requires some occasional maintenance and may wear more quickly in regions with salty air, but it is an elegant, versatile option for patio furniture.
 
Teak outdoor furniture is solid, rot-resistant, and durable under many harsh weather conditions. Over time, teak will develop patina and appear grey (which has its own charm). However, if you love the honey hue of unweathered teak, protectants will maintain the wood's natural beauty. 
 
Wrought iron is a heavier material that offers classic elegance and character. It is not rust-resistant and will require annual maintenance, but it will last for generations with proper care. If you like to move your furniture around, look for lighter weight options like cast aluminum.
No matter which style and material appeals to you, talk to our patio design team and we will be able to help you narrow down what will work best for your climate and specific needs.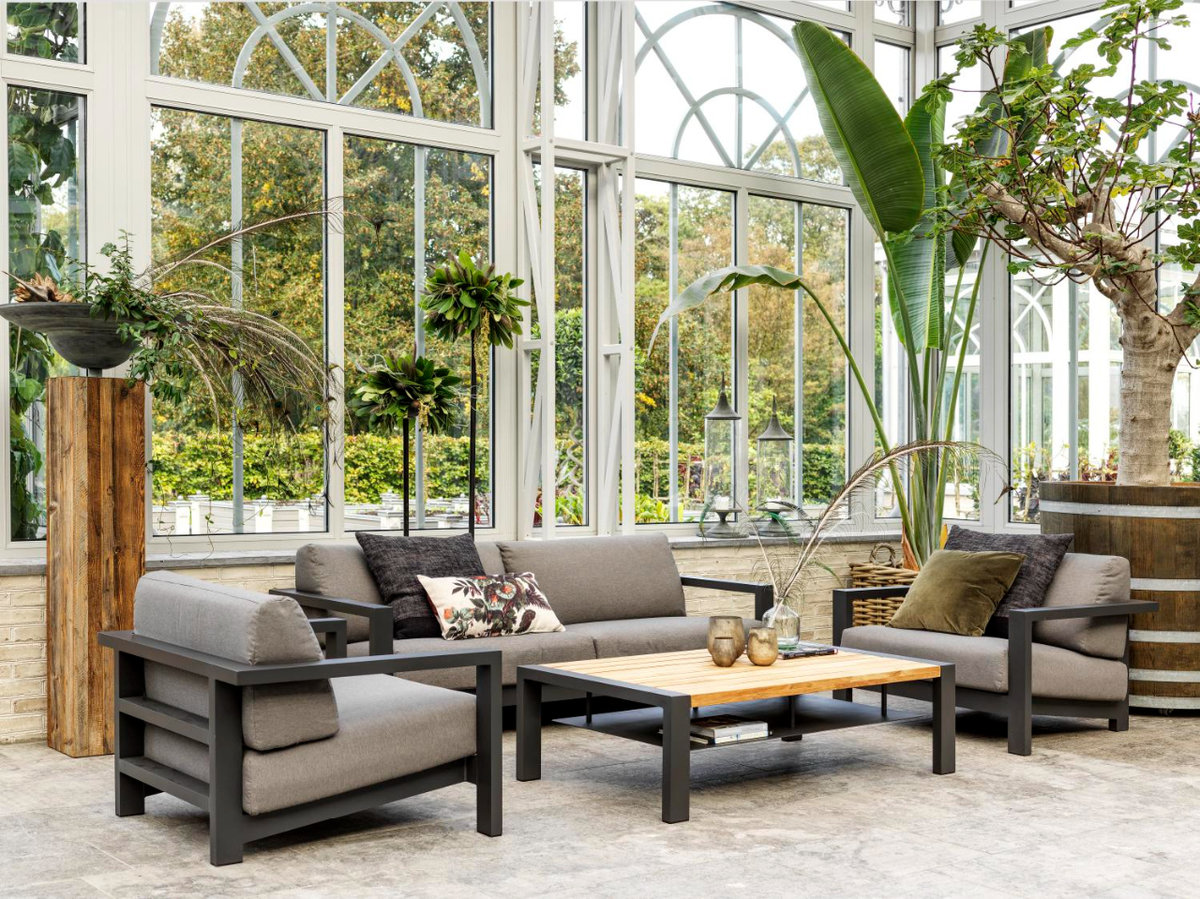 Visit a Showroom 
Before buying any outdoor furniture, be sure to visit a showroom to get a feel for what you like and don't like. Sometimes you may think a particular style is perfect until you see it in person. Unfortunately, this surprise can be incredibly disappointing when it arrives on your doorstep - and shipping unwanted furniture back can cost a pretty penny.
When visiting a showroom, don't be shy to take floor model patio furniture for a spin so you can see if the length, width, height, angles, and cushions are comfortable for you. Also, be sure to ask any questions you may have about product specifications, opportunities for customization,  and maintenance requirements.   
With your vision, rough layout, dimensions, knowledge of your weather conditions, and an idea of what materials may work best for you, you'll be ready to start creating your backyard oasis in no time!