Cottage Culture opened its doors during Covid in July 2021, as a division of parent company Iceculture Inc, which created ice sculptures for the event and hospitality markets for over 30 years.  Cottage Culture curated a line of products from Brafab, one of the leading outdoor furniture companies in northern Europe.  Their climate challenges are similar and their Scandinavian design appealed to our own tastes, which is important if you intend to offer a product that you believe in.
We wanted to partner with a company that had a solid history and we want to share this history with our customers.  Cottage Culture is a new venture but our partners have given us a depth of knowledge that is as reliable as it is exciting.  We want to share this history with experts from several  of Brafab's inspirational newsletters entitled "Brafab Moments".
Brafab – a longstanding history of quality design and thoughtful craftsmanship 
Brafab is one of the biggest outdoor furniture suppliers in the Nordic region with more than 90 years of experience located minutes from their founder's first location in Norra Ossjo Sweden. Their popularity extends all over Europe, as they carry a variety of outdoor furniture lines representing many different tastes and styles. 
"Our company is characterized by the spirit of family, and we care about all of our stakeholders; customers, suppliers , employees and the expert retailers.  Over the years we have cultivated an entrepreneurial belief that anything is possible, and that has driven us and our evolution" – Ida Hedunger, Marketing Manager, Brafab.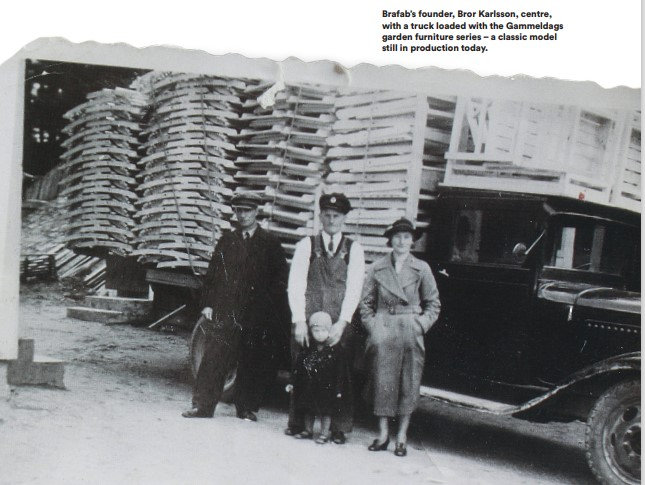 Brafab began as a small, family-owned company in the 1930's with Bror Karlsson, the founder, travelling farm-to-farm in the area surrounding Norra Ossjo, Halland, Sweden selling his hand made wares. He was born only a few hundred metres from Brafab's current headquarters. At that time, this area was dotted with small farms that had a limited means of subsistence for much of the year.  During the summer months residents were able to work at the larger farms a few kilometers away.  In winter they turned their attention to making potato baskets, wooden spoons, and ladders. 
Bror Karlsson was a popular man and an enterprising entrepreneur. He transported the baskets and garden furniture around the countryside via horse and buggy to sell the products to farms in the region surrounding Norra Ossjo, Halland.  Over the years the family-owned business grew and today Brafab is one of northern Europe's leading outdoor furniture companies.
Honouring Historical Roots 
Rolf Brorsson, Bror's son, is still partly active in the company.  "We helped make the products from a young age, especially me. I would often sit and weave baskets with my father.  The garden furniture at the time – a sofa, table and two chairs" – was called Gammaldags and it's still part of Brafab's product range.
The first time Rolf joined his father to sell their wares by horse and buggy, he was 15.  A few years later, he bought his first truck, which he used to try his luck at various local markets.  "The first time was a raining Wednesday, I recall, and I didn't sell much.  I headed out into the countryside to try to make a little more money before taking out my sleeping bag, making some coffee on the kerosene stove and falling asleep between the hand brake and gear stick" reminisced Rolf.
A Growing Demand for Garden Furniture 
Brafab expanded the wooden furniture offering in the 1960's to include modern, durable steel furniture.  They also enhanced the comfort with softer seats made of woven plastic strips.  From the very beginning, the combination of comfort, design and practicality has been at the foundation of Brafab.
In the 1990s the company further expanded their product lines and the materials used to include aluminum, teak, synthetic rattan, stainless steel and more.  Building personal relationships with suppliers was and still is of great importance to Brafab. 
The company's Purchasing and Product Development representatives travel regularly to visit suppliers to ensure that quality is maintained in each of their products.  Nothing replaces eye-to-eye contact and a physical handshake.  These are important for building solid personal relationships. "You can never really get to know people from a distance. For the most part we know our retailers and suppliers personally, which has been one of the cornerstones of our success." -Rolf Inge Sivald Brorsson, Director Brafab.
The company continues to grow and evolve and its genuine love for quality furniture is at the centre of the company's development.  When it comes to design, each detail is carefully considered and from the beginning excellent comfort has been Brafab's hallmark.  The philosophy is simple: "why sit in an uncomfortable chair?".  This is the mindset that has made Brafab renown for comfort.
The furniture is known in particular for its excellent comfort, which has been a focal point for decades.  Product Manger, Marie Bergqvist continuously develops new furniture in collaboration with the product development team. 
Brafab today
 
Presently Brafab employs around fifty people in Sweden and Asia, and is responsible for curating a diverse line of outdoor furniture products from their many suppliers worldwide. "Thinking big , thinking innovatively and cultivating a local mindset towards personal relationships and authenticity are part of our DNA and always have been.  Our headquarters in Norra Ossjo are just a few hundred meters from the site where our company founder was born.
Our legacy is not only a part of the company's heart and soul; it is also the reason why we are who we are today. From the small-scale, hand-crafted production in the 1930s, we have grown into a well-established brand with sales in and beyond Europe. With our strong spirit of service and belief in the importance of personal relationships with our customers, suppliers and retailers, we are leading our business towards a future in which outdoor furniture has ever-increasing importance in our homes. – Brafab Thinking Outside 2022.
"To ensure high quality at every level, with creative solutions and innovative materials, Brafab invests in, thorough behind-the-scenes work takes place with a focus on the details" Johanna Lagerfors.
Cottage Culture and Brafab 
Cottage Culture is proud to be the first store in North America inventorying a wide range of  Brafab products. Cottage Culture is located in Hensall, Ontario in picturesque Huron County which boasts some of the most beautiful countryside and lakefront properties that Ontario has to offer.  Family owned and operated Cottage Culture shares the same values and beliefs as Brafab.
We pride ourselves on our exceptional customer service and attention to detail.  Cottage Culture is dedicated to providing high quality outdoor furniture with the individual attention and care that you would expect from a small business.  Our showroom showcases more than 25 lines of outdoor furniture from Brafab.  The lines have been hand-picked to span both a wide range of relaxing and entertaining styles as well materials constructed for the out of doors. 
We've concentrated on the items from Brafab's offering that we feel offer something new to the Canadian market.  We aren't trying to compete with what is already here,  Scandinavian design is both functional and elegant and therefore creates a fabulous base canvas for someone trying to enhance their outdoor space. Cottage Culture's showroom includes a selection of outdoor dining tables, armchairs, occasional chairs, sofas and modular lounge seating groups, many of which look as stunning indoors as they do out.
We created Cottage Culture to provide something different; to be a source of unique, European designs that are classic enough to provide canvas for personal expression and that can be enjoyed this summer season. – Heidi Bayley, president Cottage Culture.
Make the most of every moment
When you own outdoor furniture from Brafab, you know your'e getting carefully crafted furniture with sturdy construction, tasteful design and reliable materials.  We recognize how important it is to be able to take a seat and try our furniture before you make a purchase.  Is it comfortable, does your preferred chair fit under the table? Does the colour of a lounger match the furniture you already own?
We also appreciate that it can be nice to consider a purchase in the peace and quiet of your own home.  You can do just that by visiting cottage-culture.ca, where you will find information and pricing.  In addition  Brafab.com is a great source of inspiration and items outside the Cottage Culture inventory that can be special ordered.
Major Changes are underway 
As Johanna Lagerfors, outlines in "Making a Brafab product – from idea to finished furniture" in Brafab Moments,  Brafab's work process is largely based on  the concept of outdoor homing; the trend of brining the indoors out, and the outdoors in.  The line bewtewen our indoor and outdoor lives has become increasingly blurred in recent years.  Interior design moves that were unthinkable just a few years ago – like putting a carpet under the patio dining table – are now a popular way to create a relaxed feel. Modern outdoor settings often contain multiple spaces, each serving a different purpose.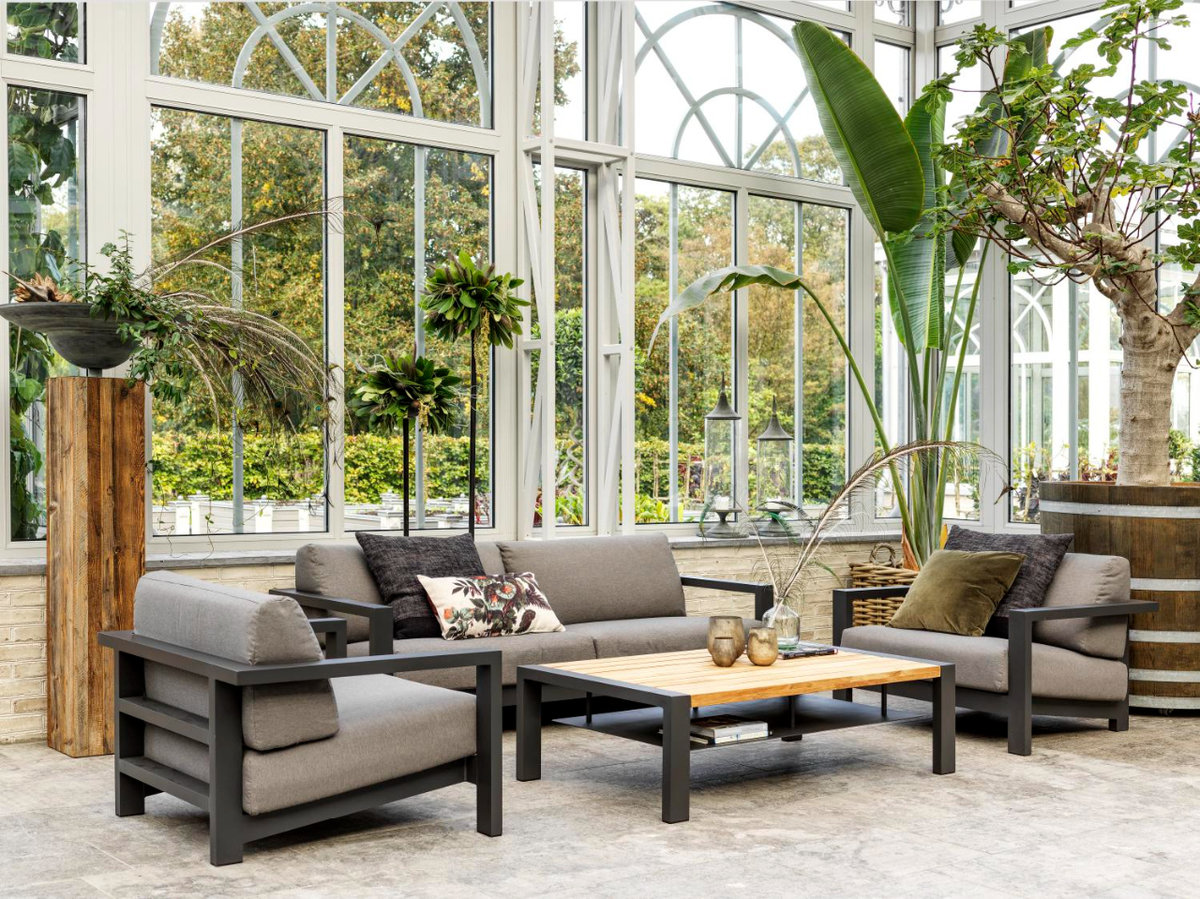 To satisfy the modern need for flexibility, many of Brafab's furniture choices are adaptable, list nesting tables that can be used as needed.  "It is also common to blend styles today.  One area might be more romantic, while an outdoor spa or lounge area might have a cooler look.  Many people are also skipping complete sets in favour of pairing a sofa from one set with a table from another" says Marketing Manager, Marie Bergqvist.
Creating New Outdoor Furniture Designs 
Marie Bergqvist is product manager on the team that develops new outdoor furniture for Brafab.  Comfort, attractive design and long-term sustainability are important components.
Brafabs Product Development cycle lasts for about a year, but ideas for each collection are already considered well before then.  The initial phase is guided by creativity and design.  Meticulous care goes into choosing proportions and precise angles of the seats, backrests and armrest. 
At Cottage Culture, we aim to guide each customer through the many seating options offered in our showroom.  There is a large variety of cushion comforts, seat heights and depths as well as materials and no two people are alike.  There are chairs that I find perfect for myself and the next customer finds the experience much different" says Angela Roth, Assistant Manager of Cottage Culture.  "Equally each family uses their space differently, whether it be private lounging, lingering dinners or functional meal time for lots of children.  We recognize that finding the right combination of these factors is important for every family."
Bringing Brafab to Canada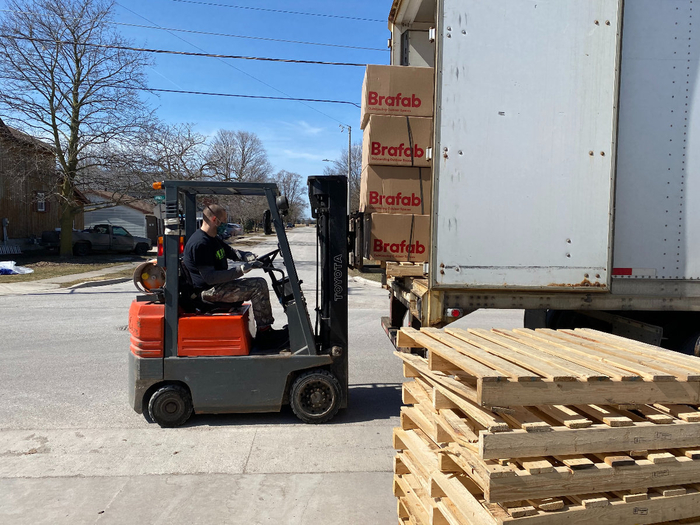 Logistics in 2022 is challenging, shipping containers are scarce and rates are ever changing.  Cottage Culture benefits from Brafab's thoughtful consideration of the construction of their designs. "That's one of the factors for success at Brafab", explains Marie. "Since most of our products are produced far away from Sweden, we have to consider clever, sustainable construction solutions for the sake of both the environment and shipping costs."
Cottage Culture has leaned on Brafab's experienced product development team by trusting their insight on combining upcoming trends with tasteful aesthetics to provide classic but unique lines of furniture. 
These pieces are ready for purchase right away as Cottage Culture has a warehouse on-site.  This eliminates a lot of frustration for customers who want to enjoy the short summer season.  There aren't many Canadians who don't appreciate our four season climate but none of us want to wait around for furniture to enjoy the outdoor season when it finally arrives.  Cottage Culture combines availability with style so that as we elevate our outdoor spaces, we can do it thoughtfully.
Visit cottage-culture.ca to review our selection of Brafab outdoor furniture or visit our showroom to take a seat located at 148 King Street, Hensall, On N0M 1X0.