Using your patio furniture indoors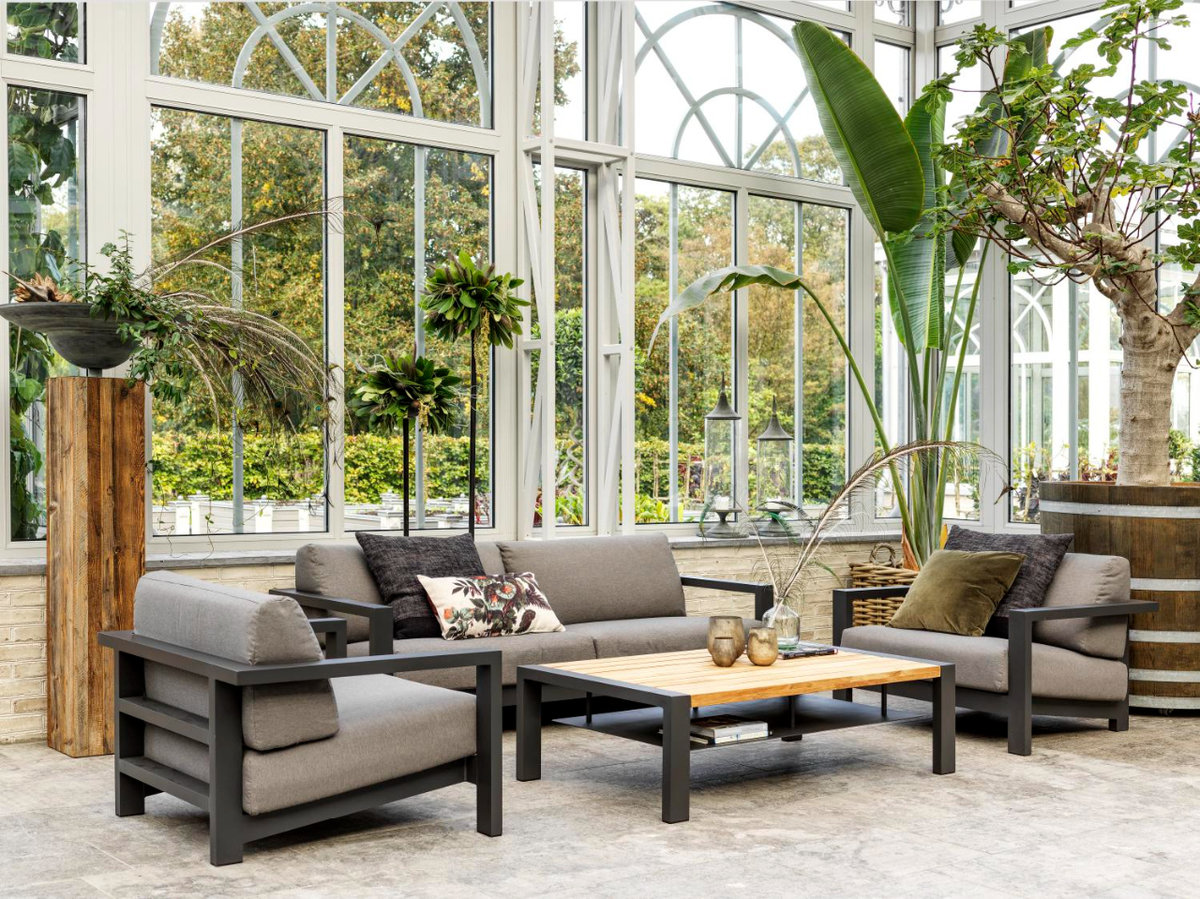 With the arrival of the crisp Autumn weather our thoughts turn to dismantling our outdoor living spaces for another year. Before you go and store away your patio furniture why not take a look and see if you can use any of your outdoor furniture pieces in your indoor space? Refresh a corner with seating for two for a morning coffee or add that extra seating to your living room space. No longer is outdoor furniture made strictly for the outdoors, it now comes in many different styles and dimensions. Resin is no longer the only option!
The Benefits of using patio furniture
indoors 
Patio furniture can be expensive. Using your patio furniture year-round gives you more value for your investment. You paid for it, you might as well use it.
Patio furniture is made of durable materials. Aluminum, synthetic wicker, teak these materials are durable and stylish using them indoors as well only makes sense and clean ups are a breeze with Sunbrella or Olefin fabrics. Think of it, this furniture is made to withstand the elements of mother nature, it will be durable for indoor use as well.
Patio furniture is light weight. With the exception of the recycled plastic chairs and solid teak tables, patio furniture is generally lightweight making moving them easy to relocate, move around and arrange indoors.
Patio furniture is comfortable. Outdoor furniture is designed with lingering and lounging in mind. Why not reap these benefits all year long?

Space Savers 
The scale of outdoor patio furniture lends perfectly to small hard to design spaces and private corners. Quality and design have come so far in patio furniture some condominium owners prefer patio furniture for their indoor living spaces. When every square inch counts you want to make sure that you choose wisely for function and design. The Covelo line is a popular choice for small indoor living areas. Insert link.
Do you have a small unused corner in your indoor living space that you just don't know what to do with? Consider placing a small bistro set in the corner. Not only are these sets eye-catching it will give you a new area to sit and enjoy your morning espresso or cappuccino. By moving your café set indoors you will be able to enjoy the Parisian vibe all year long!
Styling tips for using your patio furniture indoors 
I know plants are not furniture, but you have nursed these plants along all summer, why not enjoy them throughout the winter? Not all plants can be safely moved indoors, unfortunately annuals will not make the transition. However, most other plants will thrive just as beautifully indoors, just be sure to place them in the correct natural light requirements in your home. While you are bringing in your favourite plants it is also a great time to give them a touch of fertilizer to ease the transition. A simple styling trick when bringing in your patio plants is to use a plant basket. It's as simple as placing your potted plant from outside in the basket pot and all! We would advise to ensure you have a spill tray at the bottom of your pot incase you over water it.  These baskets add a warm texture to your space and are available in a variety of colours.  Our favourites are the Pokoloko plant baskets that come in 3 different sizes and designs that compliment each other.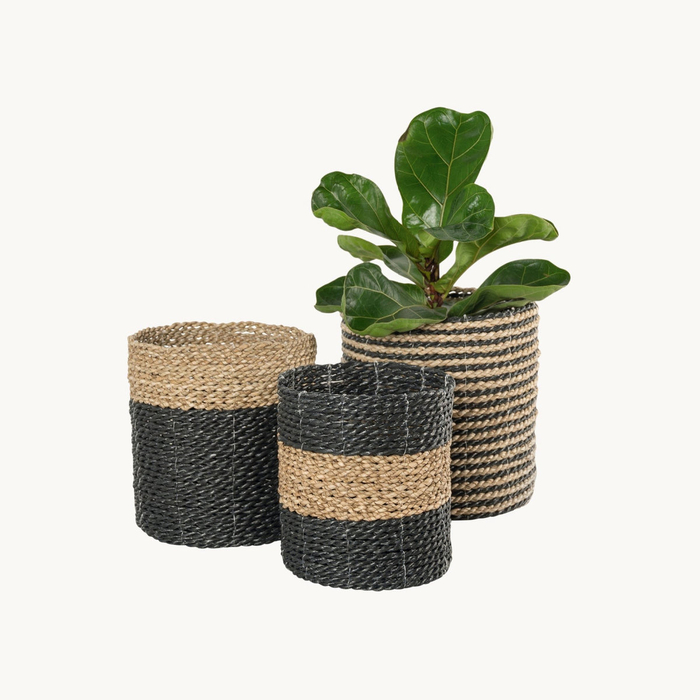 Style wise, usually your outdoor furniture will be along the same lines as your indoor furniture. People tend to gravitate to their preferred style when sourcing and purchasing furniture. This being said it makes it easy to meld your outdoor patio furniture with your existing indoor furniture.  
Why not freshen up your current indoor furniture set up? Side tables and end tables are interchangeable with indoor and outdoor furniture and sometimes add that perfect bit of something new to add interest to your space. Some popular versatile outdoor side table options are the Pamir side tables for a traditional look and the Virgo nesting coffee tables for a more modern look.
Don't be afraid to use your outdoor rugs inside.  These rugs again have come a long way from the old peeling plastic versions.  The Averio rug looks and feels like a sisal rug however is made of a polypropylene that will not flake away and makes for easy clean ups!  With the arrival of fall and the impending arrival of winter muddy and snowy boots will be lining our entry ways, this is a great place to use your outdoor rugs.  The Chilewich shag rugs are specifically designed to capture the dirt and debris from footwear as well as the feet of our canine family members. Less vacuuming is always a good thing! To clean the rugs just take them outside for a quick shake.
Another area of your home that is quick and easy to spruce up with outdoor furniture is your home office or bedroom. Do you have some extra floor space in these areas that could accommodate an occasional chair? Sometimes just the addition of a chair and a side table create the perfect little moment in your indoor living space. The Indus and Lyra lines meld beautifully with the esthetics of a home office. You can't even tell that they are outdoor furniture!
Swap out your dining chairs. With the ever more popular eclectic look when it comes to dining chairs, why not exchange a couple of your indoor dining chairs with your patio dining chairs? Not super keen on the eclectic look? A more unified esthetic is to exchange the two end chairs creating visual interest.
Create a garden room 
Do you have a formal dining room that you no longer use? An area of your basement that is forgotten? Maybe even a home gym that is only used as a laundry rack? These areas can be transformed into beautiful garden rooms, even if they are not bathed in sunlight.  With a little bit of white paint, botanical print wallpaper used strategically and some artificial plants these spaces can be transformed into an inviting and relaxing garden room. This is a great idea especially if you have some true rattan pieces of outdoor furniture. Adding these pieces indoors creates a costal vibe and we all need to feel a bit of a warm costal vibe at some point in the dead of winter. We have put together some of our favorite garden room pieces for some inspiration.
The Vallda
Made of true rattan the Vallda line is made to last generations. As rattan pieces are investment pieces it makes sense to have a place indoors to use them year round.  There is an added bonus of feeling an instant sense of warmth when you pass by a rattan chair which helps chase away the winter blues. 
---
  The Hassel
The dimmensions and design of the Hassel make it a great option for luxury in  small spaces. The neutral colour palette compliments any interior you just add your own personal choice of toss cushions and or throws to completel the look!                                                                                                                                                                                                                                                                                                                                                                                                                                                          
---
The Pembroke
Similar to the Hassel the Pembroke lends itself beautifully to luxury in small spaces. With the tubular black aluminum legs the Pembroke has a bit more of a modern look but again with a neutral colour palette making it easy to meld with your interior decor.                                                                                                                                                                                                                                                                                                                                                                                                                                                                                                                                                                                                                       
Think before your shop!
As you can see the line between indoor furniture and outdoor furniture has definitely been blurred. It makes sense to take the time when shopping for patio furniture to think ahead of how you may be able to use these pieces of furniture year round.
Being creative and thinking outside of the box before you go ahead and store all of your patio furniture for the season may lead to a new look for the interior of your house this winter! Happy decorating!