Six helpful tips to create an
Al fresco Dining Experience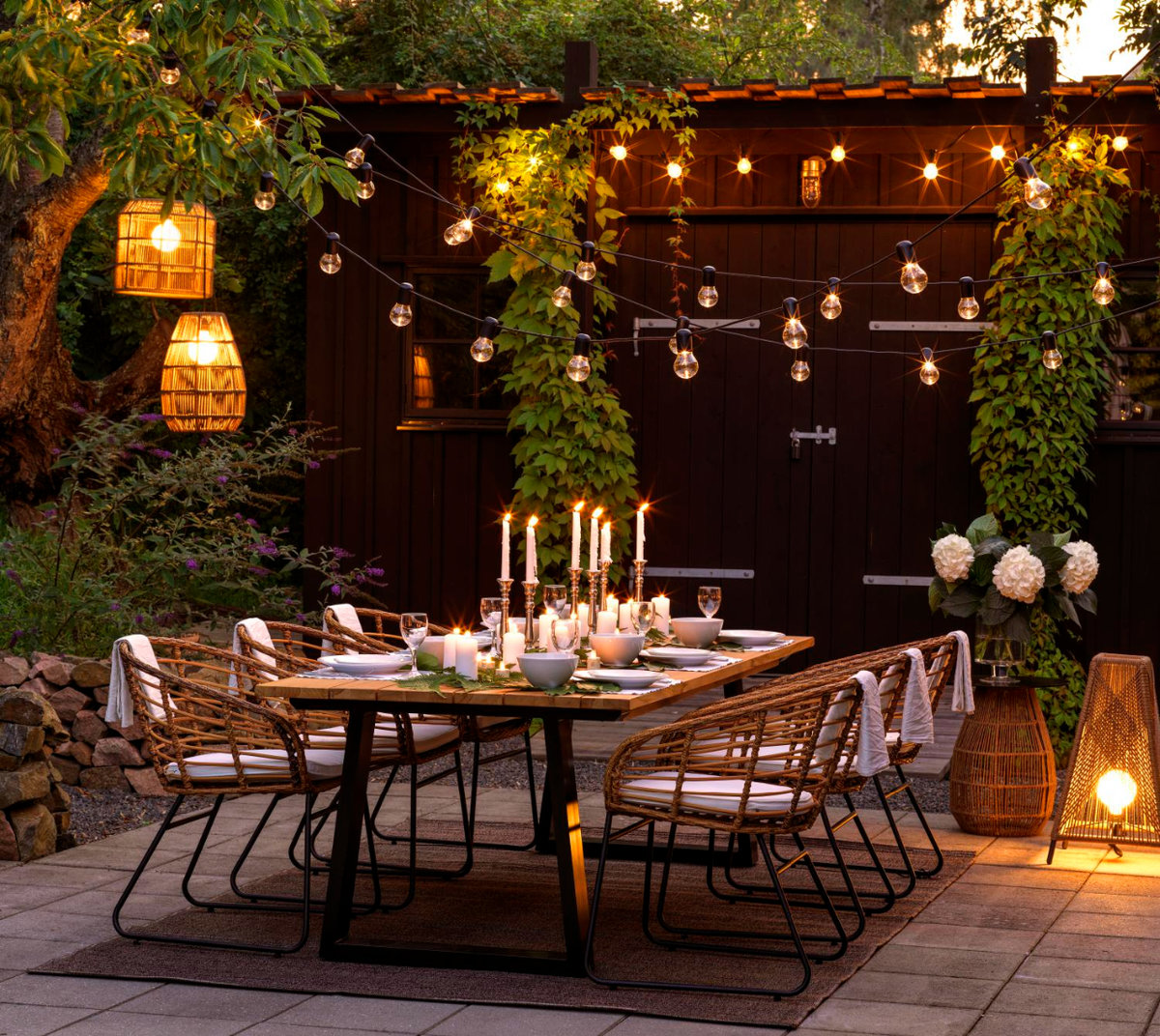 Summer is here and time to make the most of it! There is something about eating outside on your patio, or in your garden that feels a little more special than being indoors.  Dining al fresco is a term that comes from the Italian language which roughly translated means "in fresh air." Choosing to dine outside in the fresh air features many benefits all of which are great for the soul and encourage you to stop and take in your surroundings. Dining al fresco can be as elaborate or as simple as  you like, we have put together a helpful list to ensure that your next al fresco dining experience is a success!
Decide how elaborate you would like your al fresco experience to be.
There is no right or wrong when al fresco dining, it is more about the experience and the feeling of uniqueness and unwinding. How elaborate you create your al fresco dining experience is most easily decided by thinking of your guests you will be entertaining (if you are having guests.) Will they be more comfortable in a relaxed setting where they can kick back and unwind? Or are you looking for more of a WOW experience with fine wine and gourmet food?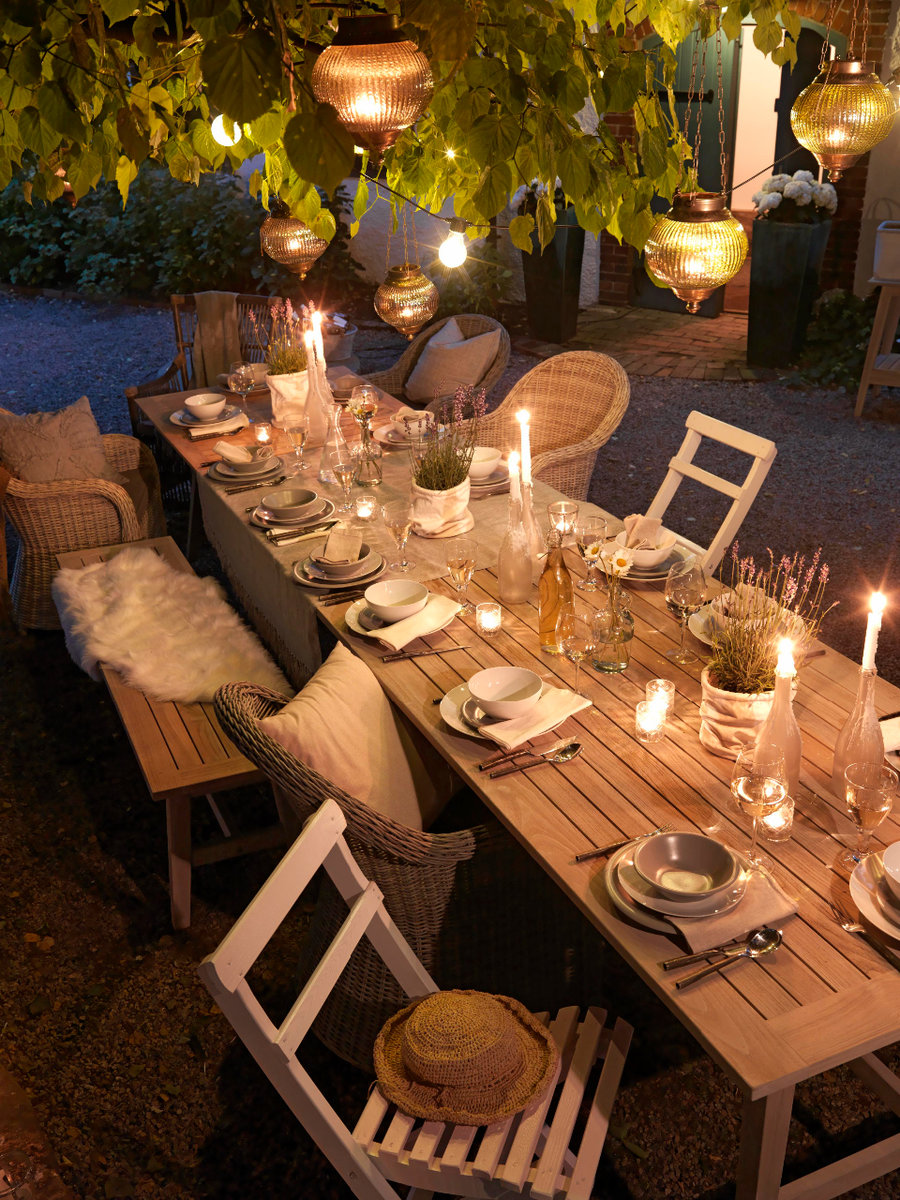 Seating. 
Now that you have decided what type of al fresco dining experience you would like to create for your guests it is time to think about seating.  Will you be requiring a cozy romantic seating for two hidden along a garden path? Then think of light-weight options for furniture as you may be carrying them a distance. The Nimes table is light and versatile making it the perfect table for alfresco dining for two.  Paired with the Lenora synthetic wicker chair this combination sets the perfect stage for a private al fresco meal. Or maybe you would prefer something more reminiscent of cafes in Paris?  The Loire/Arras cafe set definitely evokes romance.
If you require seating for more than two really there are many options. Don't be afraid to mix it up! A variety of different seating options add to the charm of impromptu al fresco dining. You can even bring your indoor dining chairs outside if you are short a chair or two. Just don't forget to bring them back inside at the end of the night. Cottage Culture offers a variety of attractive outdoor dining tables and seating options along with knowledgeable staff happy to help you choose the perfect dining set for your outdoor space and al fresco dining experience. 
Setting the Scene. 
Now that you know how elaborate you would like your al fresco dining experience to be its time to create a feeling or mood with your table settings.
If you are looking for a more relaxed feel forgo the table linens and consider cloth or paper napkins at each place setting.  Although cloth napkins are more of an initial investment they are reusable and better for the environment. Cutlery can be rolled in either cloth or paper napkins and be prepared ahead of time. Instead of a fancy centerpiece for your table, place a fully stocked ice bucket with your pre-dinner bevy.  This is sure to entice your guests to kick back and relax. As always when entertaining outside be sure to use unbreakable dinnerware and glassware.  Accidents are more prone to happen outside with uneven hard surfaces and no one wants to be cleaning up a mess.  Less is really more when creating a relaxed atmosphere for your guests. If you would still like to add a touch of hostess spirit consider a single bloom of your favourite flower cut from your yard at each setting creating a quick simple decoration for that added personal touch. 
If you are looking to create a WOW experience for your guests a little more planning is required. Usually this form of al fresco dining requires a few trips to the kitchen and back so it is recommended to have your table set up with easy access to the kitchen.  Linens set the stage for your outdoor dining experience. Table cloth options are truly endless however we recommend choosing one that compliments your surroundings, maybe the colour of the blooms of your prize-winning hydrangea bush in your garden or even take cues from your patio furniture. When in doubt a crisp white linen table cloth is versatile and always in style, don't worry bleach is your friend!
Once the base of your table is chosen now we begin to layer.  Chargers help keep food and spills off of your table cloth as well as ground each place setting. Again, the options are endless but for summer al fresco dining wicker or rattan chargers add to the atmosphere.
The next layer is the dinnerware, have your larger dinner plate on top of your charger with a smaller dinner plate placed on top for your first course or appetizer.  Cutlery set out alongside of the charger is recommended for a more elaborate dining experience.  Even though you are creating a WOW experience for your guests still consider unbreakable dinnerware for your alfresco dining.  There are many stunning sets of dinnerware made of melamine that is very durable and easy to wash up! When setting the table for glassware it is recommended to set out a glass for water and wine glass at each setting.
Next, we are on to the centerpiece, fresh picked flowers from your garden arranged in a beautiful display or maybe a sculptural centerpiece of succulents for a touch of flare.
The final touch to your outdoor table setting is candles. Votives scattered around the table add a warming feel and add a touch of romance.
The Menu.
When creating the menu for your al fresco dining experience there are a few unique things to consider. How to keep certain food items cold or hot depending on the dish, ease of transportation of the dish from the kitchen to your outdoor dining area, and timing of your dishes are all things to consider.
If you have chosen to create your al fresco dining experience away from your house in a secluded spot we recommend choosing a menu that can be easily stored in coolers.  You can have a "hot" cooler and a "cold" cooler for your different food items. These coolers can be strategically hidden nearby or drape a linen over them creating a bit of a side table!
Transporting the food from the kitchen to your outdoor dining area can be a tricky time-consuming task.  Consider setting up the food buffet style, this way all of the food can be brought out at once and you are able to sit down and dine with your company.  If you do choose to set your food out buffet style consider using serving dishes with lids to keep the pesky insects away from your meal. Net domes for your dishes or even an array of tea towels to cover food items are another option.
If you would rather serve your food at the table than family-style dining is recommended. As you bring out your dishes have your guests pass around the food items. This helps limit your trips to the kitchen.
Single plate service per guest is the most complex choice for alfresco dining. If you choose to serve your guests in this manner it is best to have help as there will be many trips back and forth to the kitchen and many hands make light work.  This option is nice as there are fewer items on the table during your meal, however it is hard to be able to sit and enjoy your company when you are plating and serving food.
As for the star of the show, the actual food! We have put together a few of our favourite recipes to share with you.
Dips, breads, crackers, antipasti. These items are simple to prepare and can easily be purchased at your local supermarket. A variety of fresh-baked delicious breads with a few crackers served alongside a couple of different kind of dips (hummus or spinach for example) with a sprinkling of fresh fruit and maybe some small rolls of deli meat make a beautiful display to keep your guests munching during your alfresco lunch.
Quiche or Cold Pasta dishes also are great menu choice for lunch as they too can be prepared ahead of time and are easily served at the table.
Our favourite Quiche recipe:
 https://www.the-dinner-pony.com/quiche-recipe/
Our favourite pasta salad recipe: https://www.littlebroken.com/pasta-salad-italian-dressing/
When choosing a more elaborate meal, consider grilling up some steaks or chicken on the BBQ and having a couple of salads prepared ahead of time ready to put on the table. This is in an interactive way for your guests to enjoy their alfresco dining experience. There is something about standing by the BBQ with a cold drink in your hand visiting with friends!

Desserts. No dining experience is finished without dessert! Again, the key to is to have the dessert made up ahead of time and hopefully make only one trip to the table.  Want to keep it light? A variety of fresh fruit and freshly whipped cream topped with some shaved chocolate is always a crowd pleaser. Or why not go for the delectable summer treat of ice cream! Give each guest a bowl of their own ice cream and set out a tray of different toppings for them to choose from. Chocolate sauce, caramel sauce, sprinkles really your imagination is your only limitation!
Setting up a lounge area.
Although not required but a nice added touch is once your dinner is over and dessert has been polished off move your party to a lounge area for added relaxation.
Again, create a mood for your guests to relax in, look for comfortable furniture that you can sink in and cozy up. Cottage Culture has many comfortable options to choose from with something perfect for everyone! When creating your relaxation "mood lighting" is an important element to consider. The Midway floor lamp with a dimmer makes it easy to create a cozy atmosphere or if you would rather prefer a hanging light fixture the Pamir hanging light fixtures exude a warming touch. Add some light music playing in the background and maybe a tabletop firepit to sit around to enjoy a post dinner drink and you have created the perfect lounge area to finish off your al fresco dining experience.
Keeping Warm.
When al fresco dining with friends the conversation seems to last into the night and as the day ends temperatures drop. To ensure that your guests are comfortable it helps to have a basket in your outdoor area filled with an array of blankets and throws for your guests to choose from.  Patio heaters and gas burning firepits are also a great heat source.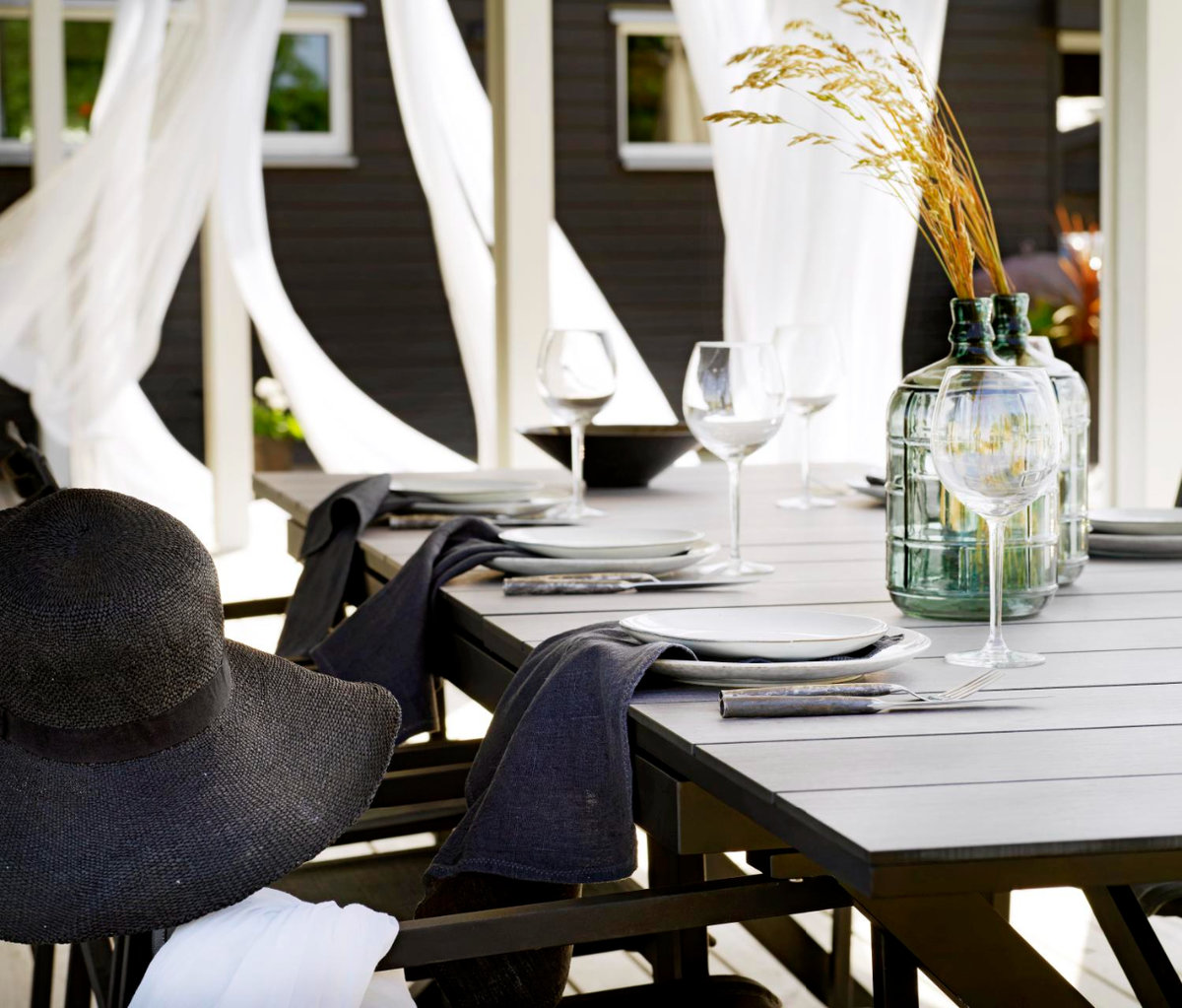 Creating an al fresco dining experience for that special someone or your friends and family is as unique as you. There are no right or wrong choices, do what makes you feel comfortable and stress free because when you feel relaxed so will your guests! We hope you found these tips helpful and you choose to enjoy the beauty of al fresco dining in your outdoor space. The only limit is your imagination!