Time to Drink and Dine Alfresco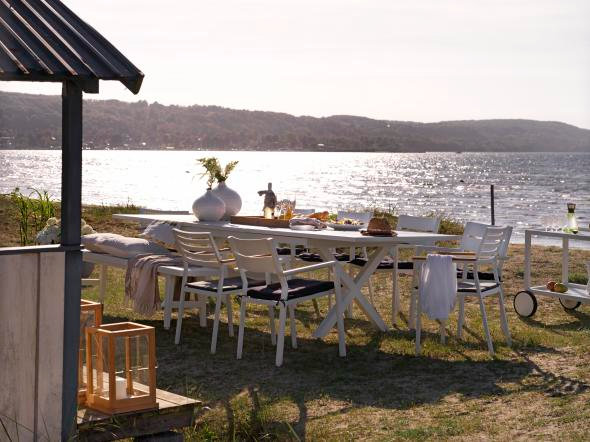 Who doesn't love the spontaneity of friends and family dropping over to share the enjoyment of our beautiful summer season. There's something about eating outside on our patio or in the garden that feels a little more special than being indoors. And with surprise guests, you don't have the stress over planning a visit, or mealtime either. It's all about enjoyment of the moment!
This warm and sunny time of year reminds me of the relaxed get-togethers in Italy, It also brings to mind Italy's bountiful lemon harvests along the Amalfi coastline, and more particularly, one of its famous lemon products, Limoncello (although I'm also partial to their heavenly lemon-scented soaps).  Limoncello is essentially a liqueur that is made by macerating the outer peel of a lemon's skin in a neutral grain spirit alcohol for several weeks, the peels then removed, and the alcohol diluted with water and sugar.
Limoncello was often, and still is, produced as a homemade liqueur, with recipes passed down through generations. It is typically served as a digestif either after a meal or with a dessert. Otherwise, limoncello can be served as part of a cocktail, with my favourite being the Limoncello Spritz, a favourite of my friends as well! Whether you have made your own or have a store-bought bottle stashed away for just such occasions, what better way to enjoy the warmth and relaxation of our lovely summer days, than with spontaneously gathered friends enjoying an al fresco party on a deck or patio, and a toast to our warm summer days, with a Limoncello Spritz.
You can easily extend the party into the evening with a quick and easy dinner including favourite flavours of the season … and the best news? It can still be healthy too when you incorporate seasonal vegetables or fruit! To help you, we have included some quick and easy Al Fresco drink and meal ideas to share with friends or family who drop in this summer, and have you spending less time cooking and more time enjoying friends in lovely weather. The following recipes can be found at the end of this blog.
Limoncello Spritz
A quick and easy pasta dinner
Grilled Peach and Brie Smothered Chicken
Grilled Asparagus (in foil)
Al Fresco Seating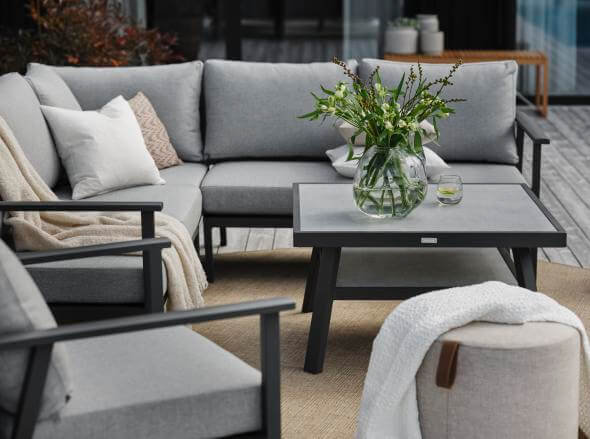 The Samvaro grouping at Cottage Culture is the perfect choice for these spontaneous get-togethers, as there is a corner sofa, armchairs and a large, taller height coffee table available. It is a modern, yet classic series in anthracite aluminum, with subtle contours creating a pleasant and inviting feel, along with pale grey Olefin fabric (the
European version of Sunbrella) cushions complete with water-repellant lining. The seat height is higher, at 48cm (18 7/8 inches), so it feels more like a dining chair height, which, with the taller height coffee table complete with a stylish storage shelf, makes it perfect for enjoying drinks and snacks.
Or, to keep going with the Al Fresco theme, you could also choose to gather a selection of chairs around an extendable table they don't need to match! - to seat your clan. Extendable tables are a wonderful way to provide spacious dining for your regular family or friends in your space, yet expand to accommodate, more infrequently, others who may drop-in on occasion, whether spontaneously or for specific holiday meals. Cottage Culture has a selection of these extendable tables in two sizes to accommodate your gathering. And using whatever outdoor chairs you have is an easy way to enjoy the moment with family and friends, free from the stress of organizing an event that needs to be planned down to the finest detail.
To extend that casual and carefree theme, throws or Turkish towels  can make a great table cloth and add a spot of colour. Turkish towels, made from long-fibre 100% Turkish cotton, are washable, making them an easy care solution as a spontaneous table cloth at your festivities. And what's better value than being multi-use these days? Cottage Culture has a wonderful selection, so you are sure to find something which catches your eye.
Finally, pull out your assorted glasses and dishes – it's casual after all! - then layer in any candles you have handy. And keep throws at hand to ward off any cool breezes as the evening lengthens.
And now for the recipes to complete your Al Fresco celebration. Once your recipe choices are prepped, spend your time relaxing and enjoying your guests !!
Al Fresco Recipes
Limoncello Spritz
A simple and wonderfully refreshing summer cocktail made from just three ingredients, you'll definitely enjoy this vinous yet fizzy cocktail! The recipe requires the following:
Pour the ingredients, starting with the limoncello and finishing with the sparkling wine, into a large wine glass or tall highball filled with ice. Stir gently and garnish with a lemon slice and mint.
You can also use thyme or basil instead of the mint.
Similarly, consider using champagne or crémant** instead of a prosecco if you prefer something a little drier than prosecco. 
Notes:
*I choose a lemon lime flavoured sparkling water for the extra citrus flavour
**I tend to choose a drier sparkling wine - usually a Cremant (~10g/l sugar) (or a Cava (such as Codorniu sparkling at 9g/l sugar))
A quick and easy pasta dinner
While pasta may, for some folks, seem to have a bad rap, it can be part of a healthy dinner when paired with a bounty of seasonal vegetables.
Cook your favourite pasta (maybe try a whole wheat option for a bit more fibre!) according to package directions. Drain and set aside.
Heat 1-2 tbsp of oil in a large skillet, and sauté onion and garlic until soft.
Add slices of zucchini, bell peppers, thinly sliced carrots, mushrooms, fresh peas, or any other vegetables that might need to be slightly cooked.
When the vegetables are just tender, add drained pasta, your favourite greens and herbs, and stir to combine.
Leftover chicken or sausage would bump up the protein and add another flavour element.
Serve topped with parmesan cheese.
Add a bottle of your favourite red - perhaps a lighter Pinot Noir, or a rosé to toast the summer season and you have the recipe for a convivial celebration of the season. Sit back and enjoy!
Grilled Peach & Brie Smothered Chicken
Source: EatingWell Magazine, July/August 2020
This super-fast and healthy smothered chicken tastes best on the deck with a chilled glass of gewürztraminer. The fruity white pairs nicely with the peaches here.
Recipe Summary
Active: 20 mins  Total: 20 mins  Serves: 4 
Serving Size: 3 ounces chicken and 1 ½ cups salad
Ingredients
1 pound chicken cutlets
½ teaspoon ground pepper, divided
¼ teaspoon salt plus 1/8 teaspoon, divided
1 firm ripe peach, halved
4 ounces Brie cheese, sliced
3 tablespoons extra-virgin olive oil
2 tablespoons white balsamic vinegar
2 tablespoons fresh tarragon leaves, plus more for garnish
1 (5 ounce) package baby arugula
Directions
Preheat grill to medium-high.   
Sprinkle chicken with ¼ teaspoon each salt and pepper.
Oil the grill rack.
Grill peach halves, cut-side down, until lightly charred, 4 to 5 minutes. Transfer to a cutting board and slice.
Grill the chicken until an instant-read thermometer inserted in the thickest part registers 160 degrees F, 3 to 5 minutes. Flip, and top the chicken with the peach slices and cheese. Grill until an instant-read thermometer inserted in the thickest part registers 165 degrees F and the cheese is melted, 1 to 2 minutes more.
Whisk oil, vinegar, tarragon and the remaining 1/4 teaspoon pepper and 1/8 teaspoon salt in a large bowl. Add arugula and toss to coat. Serve the chicken on top of the arugula. Garnish with more tarragon, if desired.
Grilled Asparagus (in foil)
Source: Fresh Off the Grid
This simple grilled asparagus recipe is the perfect side dish to make on your next backyard BBQ.
Sometimes we can get so hyper-focused on the main dish that we completely forget to make a side. That's one of the reasons we love making this foil-packet grilled asparagus! It's so incredibly easy to make, requires very few ingredients, and can be ready in virtually no time.
Recipe Summary
Prep Time:  5 mins  Cook: 15 mins  Total: 20 mins  Serves: 4 
Tips for the Best Grilled Asparagus
Select medium-sized asparagus spears. Really thick asparagus spears are too fibrous to be enjoyable. 
Cook the asparagus in a foil packet for the soft, tender, and lightly charred asparagus.
For the best results, grill the asparagus over medium heat.  
Don't overcook. Remove when spears are soft but still retain some structure. 
Topping with freshly grated parmesan and lemon zest really takes this recipe to the next level. 
Ingredients
1 lb asparagus
2 tablespoons olive oil
1 teaspoon sea salt
1 teaspoon garlic powder
½ lemon, zested
2 tablespoons grated Parmesan cheese (optional)
Directions
Preheat a grill to 400F.
Trim the tough ends of the asparagus – this could be ½" to 2" depending on size.
Roll out a large sheet of foil, followed by an optional, slightly smaller piece of parchment paper.
Place the asparagus on top of the foil and parchment. Make sure the asparagus is only stacked 2 stalks high to promote even cooking.
Drizzle with the oil, then sprinkle on the salt and garlic powder. Use your hands or a silicone brush to make sure the asparagus is evenly coated.
Cover with another sheet of parchment and foil and crimp the sides to create a sealed packet.
Place the packet on the grill and cook 6-8 minutes on each side until the asparagus is tender but still has a bit of crunch.
Remove form the grill and carefully open the packet (there will be lots of hot steam!). Finish with some lemon zest and grated Parmesan and serve.
This is a super easy dish that comes together in minutes, makes the most of this bountiful seasonal vegetable and is a great way to add a side dish to your meal without dirtying another piece of cookware – perfect for your Al Fresco meals!
Bon Appetit!!