Using Neutrals
Modern Minimalism
Anyone who has been reading about style of late, whether in home décor and design, or fashion, has read that a neutral palette is the trend, starting this past spring and continuing hot.
Cottage Culture has been on board with this neutrals trend from the store's inception. It was an easy decision, since the outdoor furniture is Scandinavian in design – Brafab from Sweden, to be specific – and so has its basis in simple, clean architectural lines and a natural, neutral colouration.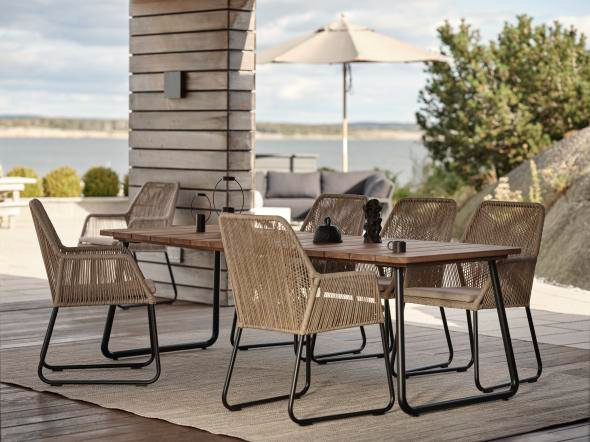 Shop this look
Midway Dining Chair    Averio Carpet 
Scandinavian Style
Reflecting on Scandinavian or 'Scandi' Style, a Telegraph newspaper fashion writer, Lisa Armstrong, wrote about what she saw on the street, following her trip to Stockholm not long ago:
"We've all read about Scandi style, but what does that look like in reality?

Floaty dresses but not overpoweringly flowery. Trainers with everything (I didn't spot many open-toed sandals – maybe it's too chilly there most of the time to bother with them), no flashy logos, few strident colours, low key make-up and very little detectable facial surgery… all of which makes it surprisingly compatible with …[quality] Italian style, in fabrics so plush and tactile…
…As we know, Swedes, like their fellow Scandinavians, have an aversion to flash. That's partially what makes Scandi style, another sartorial genre that's risen in popularity, so attractive…
…There also happens to be a rich history and diverse culture (from Scandi noir to an uncomplicated attachment to nature that culminates in Sweden's Midsommar festival) that makes it attractive to designers looking for fresh inspiration…"
To reinforce this point, the Telegraph also reported on lifestyle blogger, Reena Simon from Cardiff, and the Scandi influence on not only her UK home, but also her wardrobe.
"Reena Simon's Cardiff home offers up the kind of creamy, rustic look that we'd all aspire to, if it weren't for the messy and complicated reality of children, pets and their associated clutter. Except, Simon has all of these to navigate, too: three young daughters, a dog, a home renovation (now complete) – and she has also co-authored an interior design book, Scandi Rustic."
"There's no overstuffed wardrobe lurking out of shot. "Less is more,"  – Reena says.  "I don't have lots and lots of clothes, and it's quite a simple colour palette." This is the smartest element of her style formula – it looks designer, even though most of it comes from the high street."
'Less is More' Decorating with Neutrals
We can all take a lesson from this 'less is more' approach, especially when planning our own outdoor area, and possibly, a late-summer outdoor gathering like the 'Midsommar' event of our Scandinavian compatriots.
If you are thinking that, in general, neutrals are repetitive and dull, it's likely that you've read about bloggers or designers talking about the lack of colour in a space, using adjectives such as "boring" and "lifeless". When any trend becomes popular enough to become a foundational part of design, it becomes more difficult to think and speak of it as fresh and new. But that's not fair to neutrals and we think that they don't get enough credit. Decorating with neutrals is a timeless and versatile choice, increasingly popular for those wishing to create calming, harmonious spaces to retreat to in our modern world – a place to recharge one's batteries or just take a break from everything.
As a general guide, the neutral palette spans White, myriad Off-Whites, earthly Beige, Clay tones, and shades of Taupe through to Charcoal Grey tones and Black.
While neutrals may sometimes be underrated, we wish to convince you otherwise! Decorating with neutrals has always held enduring appeal. Many times, neutrals are the backbone of a space, creating a clean and calming environment for your minimalist taste, or perhaps serving as a canvas for other prints or colours within a space.
When used correctly, neutrals emphasize your patio, deck or porch. The key is developing a plan that involves neutrals as the backbone, and incorporates design options that ensure the space looks fresh and interesting.
Let us share some designers' advice on how to master the neutral aesthetic, so you can create your own beautiful outdoor space using neutrals! The following eight topics provide an overview to get you started.
Using a Neutral Palette to Create a Cozy Space

 Layering Neutral Tone

. Moodier Neutral Tones

 Neutrals as a Base for Bolder Colours

 Black for Contrast and to Ground

 Employing Texture – Natural Materials and Fabric

 Choose Neutral Furniture with Sculptural Shapes

 Metallic Accents for Movement and Dimension

Your Outdoor Setting – It's Part of the Decor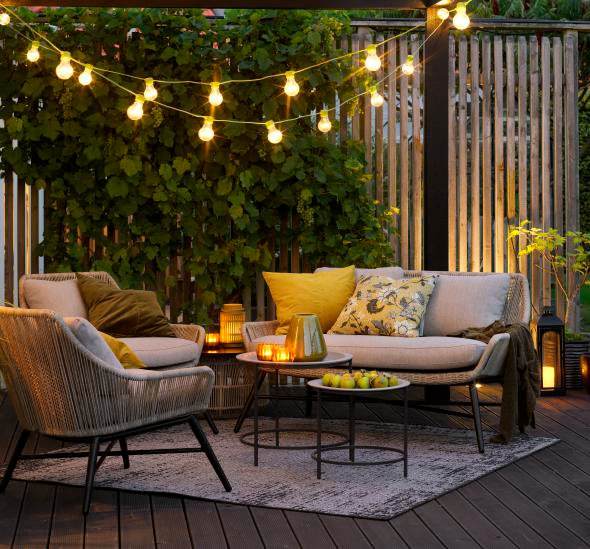 Shop this look
1. Using a Neutral Palette to Create a Cozy Space
Neutrals seem to be forever linked with minimalism and modernism. But the Cottage-core aesthetic and cozier spaces also benefit from the quiet of neutral colours. By decorating with any of the neutrals that have warm undertones, such as beige, clay and taupe you can bring a cozy feel to an outdoor furniture setting, while keeping it feeling light and bright. Given its architectural style, much of the furniture also works well indoors.
Ruth Mottershead, the creative director of Little Greene suggests,
"for an uplifting but calming scheme, consider warm earthier neutrals paired with deeper hues to create a contemporary look".

Shop this look
Vannes side tables 
2. Layering Neutral Tones
You might consider using a selection of neutral tones to avoid your neutral outdoor setting from looking 'flat'. This can be easily achieved by layering in additional cushions, a cozy throw or two, or choosing additional outdoor furniture pieces that coordinate with the tones of your existing furniture.
For interior designer Georgia Zikas, a neutral palette is the perfect choice for a space that an owner wants to stand the test of time; "I am a big believer that classic does not need to mean boring" she says as she played with tonal greys in the project, and indicated that the subtle contrast between the various greys creates some dimension.
3. Moodier Neutral Tones
Moodier tones, like the deeper charcoal greys, are still neutral. However, the deeper palette feels more powerful, and really makes a statement thanks to the shade alone.
If you have a space that feels too 'airy' and lacking in definition, consider employing shades of charcoal, anthracite or espresso, perhaps in the furniture cushions, in a coffee table or side tables, an outdoor rug, or the furniture itself, whether you choose powder-coated aluminum in anthracite, or synthetic outdoor rattan.
4. Neutrals as a Base for Bolder Colours
Decorating your outdoor (or indoor!) room with neutrals can be a great way to showcase a stronger accent colour or colours, giving these colours a chance to shine. This approach allows you to add your own personality to a space. It's also an easy and economical way to incorporate trendy colours which can change quickly, while keeping your base palette consistent.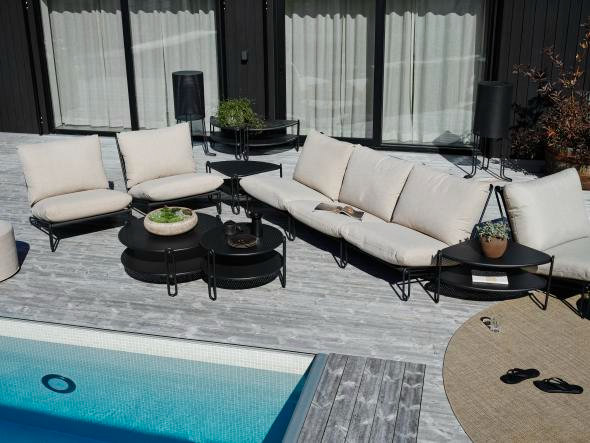 Shop this look
5. Black for Contrast and to Ground
Incorporating black into your outdoor setting can feel intimidating, but it shouldn't be. Black can ground a space that feels too 'airy' and lacking in definition. Incorporating black is also a perfect way to add some edge and contrast to an outdoor furniture setting full of whites, tans and beiges.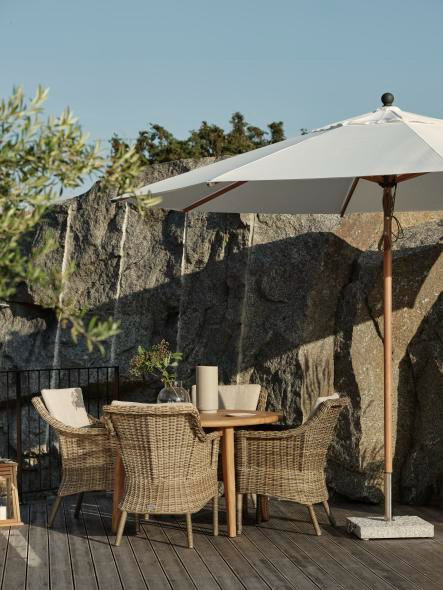 Shop this look
6. Employing Texture – Natural Materials and Fabric
Incorporating earthy materials will help bring a connection to nature, which is important in Scandinavian culture. It you are fortunate to have it, a natural stone patio or stone or brick retaining wall will add texture and dimension to your outdoor setting.
Consider choosing synthetic outdoor wicker or sustainable teak with the neutral toned upholstery cushions, for your outdoor furniture. The texture of rattan and natural wood will help to create interest and add depth to your neutral outdoor furniture scheme.
Likewise, textural fabrics will add depth and interest without the addition of, or need for colour. This texture can be added to a neutral palette through the addition of outdoor rugs, cushions, cozy throws, baskets to store extra throws or a footstool, which can also be an extra seat or an impromptu table.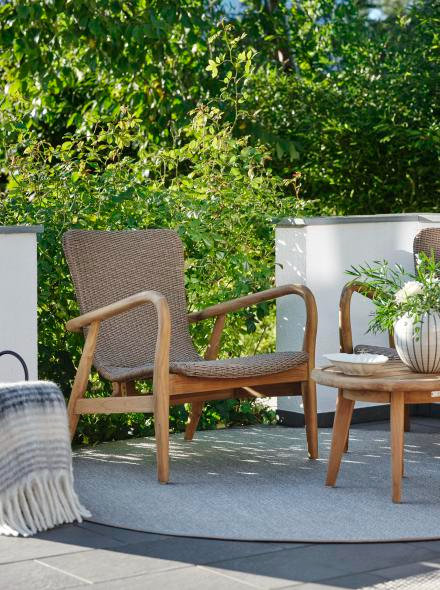 Shop this look
7. Choose Neutral Furniture with Sculptural Shapes
A neutral palette is a wonderful way to showcase the beautiful design lines of Scandinavian furniture. The muted oatmeals and greys of the upholstery allow the furniture to stand out as pieces of functional art.
With their sleek open frames, Cottage Culture's synthetic outdoor wicker furniture in the Covelo and Midway designs, and Lilja teak chairs keep the space feeling light and open, while the choice of a neutral palette helps focus attention on their iconic sculptural shapes.
8. Metallic Accents for Movement and Dimension
Swapping out wooden accent pieces for metallic pieces, such as lanterns, can be an easy way to add more movement and eye-catching detail in an area that's decorated in a neutral palette. The way light catches metallics also gives them dimension, adding another layer of interest to your outdoor setting. Glass accessories similarly add interest, with the glass keeping the eye moving along the space and not distracting.
9.Your Outdoor Setting – It's Part of the Décor
Your landscape forms part of the décor, adding its own colour and movement to your outdoor furniture setting – the greenery, shrubs and flowers are all elements that add texture, dimension and interest to a neutral palette. And of course, plants and planters on a deck or patio are the final touch.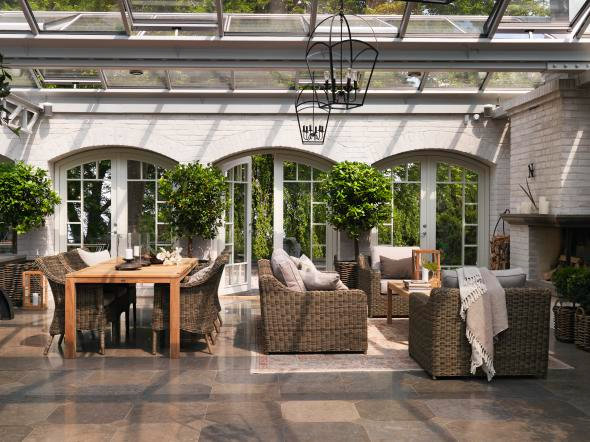 Shop this look
In summary, neutrals will create a cohesive look in your space that you can enjoy for a long time, and isn't longevity what we all want right now? We hope the ideas we've shared here may help you add interest and freshness to your setting and allow you to find calm and lasting enjoyment in your outdoor environment for years to come, (although these ideas may be equally applied indoors as well)!
We would welcome you into our Cottage Culture showroom to share the pleasure of our outdoor Scandinavian style furniture with its neutral and architectural aesthetic.