Creating a comfortable luxury lounge look for your outdoor space
With the end of summer almost upon us, why does it feel like we need a vacation to relax and recharge from our vacation? Let's face it creating summertime memories can be exhausting. Organizing family get togethers, days at the beach wiping sand from children's feet, hands and food! Packing and unpacking, it can leave you feeling even more drained than before you went on vacation!
There is no doubt that spending time outdoors is a great form of selfcare and even more effective when you take some time for yourself to enjoy solo. Studies show that spending time in nature can reduce blood pressure, muscle tension and heart rate. In fact, 90% of people say they have more energy after spending time outside. With all of these great reasons to spend more time outside why not create your own luxurios lounge area to reap the health benefits mother nature has to offer you?
To create the perfect spot to unwind and recharge is simple, we have put together some helpful tips to assist you in putting together the perfect personal little get away for you to relax, recharge and unwind.
Almost everything will work again if you unplug it, including you. -  Anne Lamott
Identify that perfect spot 
Your "perfect spot" is where you feel the most relaxed on your property.  Take a walk around your outdoor space and listen to your instincts. Do your shoulders relax a bit more when you are near the pool or water feature or do find yourself having a deep exhaling breath by your flowers in your garden? Does a particular view help your mind calm and your thoughts stay present? Whichever area you are the most at ease is the perfect area for you to create your personal luxury lounge area.
Then condsider the seating that you prefer to use and the space available to you. A chaise lounge though incredibly comfortable requires a large available footprint. This type of seat requires space - a typical chiase is around 78in long x 27in wide (sometimes more with arms). If you are using multiple chaies lounges then you want to leave two to three feet between each seat for easy access.
For tighter spaces, consider a more upright lounge chair with a footstool - matching or not. Although not as versatile in terms of going from horizontal to seated lounge posiitons, this seat is often as comfortable and is perfect for reading, eating, and sipping. Footstools can be part of a set or a functional pouf, side table/stool combo or even a planter. Anything that allows you to lift your tired legs.
Also consider the sun's position and your own preferences. For example, are you a morning person who soaks in a sunrise or the early morning rays as shadows lift for the day? Or do you long for restful sunsets? If the afternoon siesta offers you the greates rejuvenationm then shade is no doubt an important consideration.
And then consider your senses. If your eyes are spent happily in a book then the ambient sounds around you are very important. If you like to gaze out over a view then this will be an important factor in identifying the best spot.
Elements for a Luxury Lounge area
We recommend keeping your lounge area simple and uncluttered.  It is harder to unwind and decompress amid clutter. All you really require is a comfortable seat;  lounger, daybed or armchair and a footstool, a side table for your book and refreshment and an option to get out of the sun if need be. 
But to add a luxurious comfort and elegance, the extra elements you could have on hand are a light throw for added coziness, a selection of outdoor toss cushions for added comfort, natural elements such as greenery and water.
To further personalize your lounge area, let's look into each of these elements in a bit more detail.

The Lounger 
a.k.a the Sun lounger, chaise loungem beach chair, deck chair. The lounge seat is likely the largest investment component of this special space. There are many options to choose from but the best choice is likely the combination of the chaise that feels most comfortable to you and the one that is most asthetically pleasing - that draws you to get there in the first place. You do want ot be able to envison this space in those stressful moments as you prepare to steal away for that well-earned time off.
There are many materials that are used to make loungers including wood, wickerm synthetic rattan and iron. We have found, however, that our most popular loungers consist of rust-free sturdy but light aluminum frame with a maintenance free textline fabric.
Cushions remain a split vote as it is hard to beat that feeling of sinking into a soft cozy cushion when you finally recline for a moments peace. That said, more and more we see customers opt for a low-maintenance textilene option. This seat that allows air to flow through is perfect poolside when you have a swim before your relaxing/recharging time. People don't seem to want to bother with collecting cushions or wrestle covers before a rain or having to wait for cushions to dry when the rain clouds beat you to the punch.
Having said this, Cottage Culture has a range of lounging options....here are a few of our favourites.
Cottage Culture's menu of Loungers 2022
VEVI - The staff pick is the Vevi black aluminum lounger in chic black.  The clean, straight lines of this lounger allow it to integrate with many different styles.  It comes in white, khaki beige and classic black which allows for great versatility - dress it up however you like! The adjustable neck roll on the Vevi lounger provides extra comfort and is one less cushion you would need to worry about bringing in and out of the weather as it too is textilene.
ANDY - For a classic look, consider the Andy Lounger – one can almost imagine them lined up on the deck of the Titanic or a poolside at a summer resort from days gone by.  The comfort of this seat is hard to match with it's adjustable head and foot rests to create that perfect personalized comfort.  Teak detailing on the arms and head rest of this lounger add an elevated aesthetic for an elegant look.  Although classic in appearance the Andy lounger is modern in it's functional design.
ELATI – To capture that Scandinavian look of functional design combined with natural materials, then look closer at the Elati lounger.  for your relaxation haven.   The Elati lounger consists of a durable, sustainable teak frame in modern lines with a grey quick-drying textiline fabric. The meticulous design of the Elati lounger creates a first-rate reclining experience perfect for you to relax and recharge in style.
VEVI TEAK – If top-of-the-line luxury is what gives you the special place that you deserve, then let us introduce the Vevi teak lounger. The design is the same as the aluminum Vevi, but the materials and style is elevated with the use of a sustainable, solid teak frame, eye-catching stainless-steel structural accents and high-quality black Ferrari texteline fabric. This lounger is a jaw dropper! Comfort is not over looked when it comes to the design of the Vevi teak lounger with an adjustable head rest for you to create the perfect reclining position this lounger is where day dreams are made!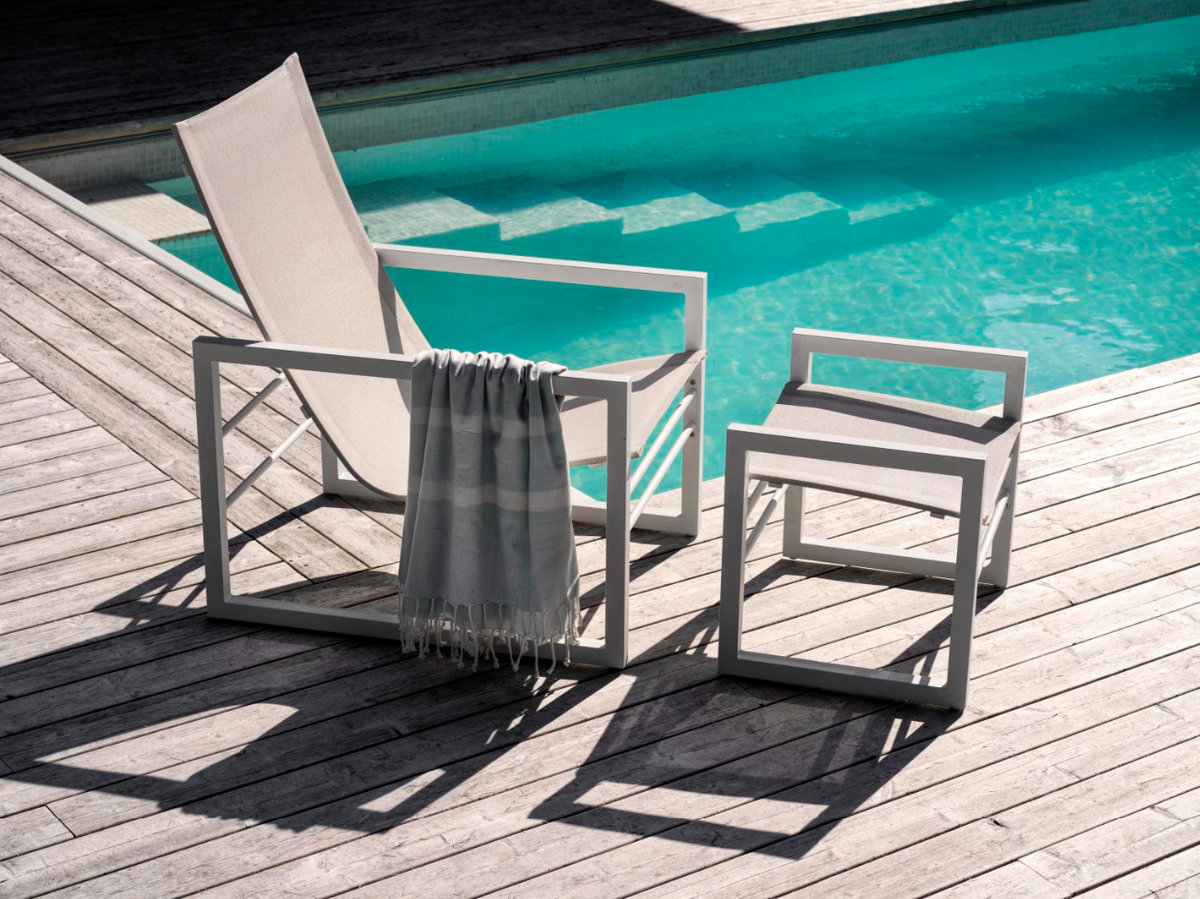 Alternatives to a Lounger 
Maybe a lounger is not your ideal form of outdoor relaxation and you would feel more comfortable in a hammock or an armchair?
Hammocks are not limited to lounging horizontally from the tree limbs anymore (although I must admit I could find some peace swinging in a hammock with a nice summer breeze). There are many different types of stands available allowing you to place your hammock wherever you choose.  Indeed even the sitting position is variable from seated to reclined to your traditional lying down position.
Some of stands have even become elaborate enough to include their own attached canopy to help keep you out of the sun. There are many different fabric choices available when you are looking at hammocks, everything from braided rope netting to canvas material. The options are endless. Just be careful when you get out of your hammock as this sometimes is challenge for some of us!
To take lounging to the next level, consider the sunbed – made for two people to lay side by side in the summer air.  And once again, some sunbeds also come with their own canopy supplying their own cool shade. The bases of the sunbeds range from synthetic wicker to powder-coated aluminum. Make sure that the sunbed cushions are covered in an olefin fabric or a Sunbrella fabric as these fabrics are mold, mildew and UV resistant.
If your outdoor space is limited in size and you would like the option of a sectional or a sunbed, consider Cottage Culture's Gonesse Lounger.  The Gonesse is a versatile piece that can be set up as a corner sectional or remodeled into a sunbed large enough for 2 or 3 people. The rust-free aluminum frame and olefin fabric covered cushions make the Gonesse a low-maintenance option. The neutral colour pallette of the cushions create a cozy feeling and still allow you to add that personalized pop of colour with outdoor toss cushions or a warm throw.
Whichever lounger you choose it is best to take it for a "test drive" first and get a feel for it.  Some loungers may come with a lower price tag, but once you lay in them you feel the difference that you are paying for.  You also want to make sure that your lounger will last and be worth the investment.
On the Side 
When planning this space, you need to consider tables.  A side table for your luxury lounge space should be large enough to hold a good book and a glass of your favourite beverage. Any larger, and you start to may inadvertently create a cluttered look.
Again, the options for a side table are endless both in material and style. So, how does one decide? Consider a few of these points:
Do you want to add some visual "pop" with your side tables - creating a focal point or do you already have this and you prefer your side table to compliment the existing pieces, and perhaps blend in with the feel of the space?
Would it be beneficial to have your table double as a stool or footstool?
Are you looking to match materials or layer different materials for an interesting dynamic?
Some of our favourites:
The Pamir side table which is high on style and function and comes in two hues of synthetic wicker and three shape styles that can be nested or stand alone.
The Cero – a resin circular design that doubles as extra seating if required.
The Vevi bench – this is a split from the traditional side table but if you are lucky enough to have two loungers in your outdoor space you may prefer a larger, elongated table to share between the two seats for books, beverages and perhaps a plate of hors d'oeuvres.
Shade
The all-important element of shade! Just in case you happen to completely relax and maybe even enjoy a quick siesta in your outdoor luxury lounge space, a shade option is highly recommended.  Gone are the days of baby oil and lemon juice hair spritzs!
There is no question that a little sunlight is essential and it is a delicious feeling to curl up and feel the warmth of the sun in your bones.  However, protection from those harmful UV rays is necessary.
Umbrellas come in a variety of options including a cantilever design that eliminates the center pole creating more room and a unified space or a stand-alone option that is secured in a weighted base.  There are even half unbrellas for narrow decks or patio spaces. 
The market style umbrella is more economical than the more structural cantilever design and it is easy to use when you are just sneaking in a quick 'me-time' break when the opportunity arises.  The Mito umbrella base is a sturdy base made of granite with wheels and a handle making it easy to maneuver if required – at 110 lbs, this stands up well against wind.
When looking at umbrellas be sure to look for a tilting option.  This allows you to block out the sun at different times of the day no matter where the sun happens to be. Another option to look for when purchasing your umbrella is venting at the top. Be sure that there is venting or flaps at the top of the umbrella allowing the wind to move through.  The Cambre umbrella is a stylish option that has top flaps for air movement as well as a tilting option. 
Time has a wonderful way of showing us what really matters. 
- Margaret Peters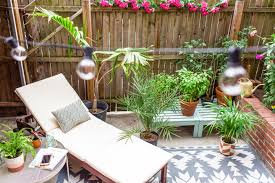 Final touches 
To achieve the full benefits of mother nature's free decompression therapy we do recommend that your luxury outdoor lounge space contain some greenery, flowers and/or other natural elements. Depending on where you chose to create your outdoor luxury lounge area you may have already have flowers in your space. If not, even an Elephant Ear plant, fern or Palm plant will give you the added touch of mother nature and are easy to care for.
Now that you have the basic elements needed to create your outdoor luxury lounge space all you need to do is put it all together and sit back and relax! If you are still having some trouble visualizing your space the knowledgeable and helpful staff at Cottage Culture are always happy to help! And remember, making sure to make time for you is not something you should feel ashamed of. When you take a few minutes for yourself each day you feel more recharged and more ready to handle whatever comes your way.