How to choose the perfect outdoor patio table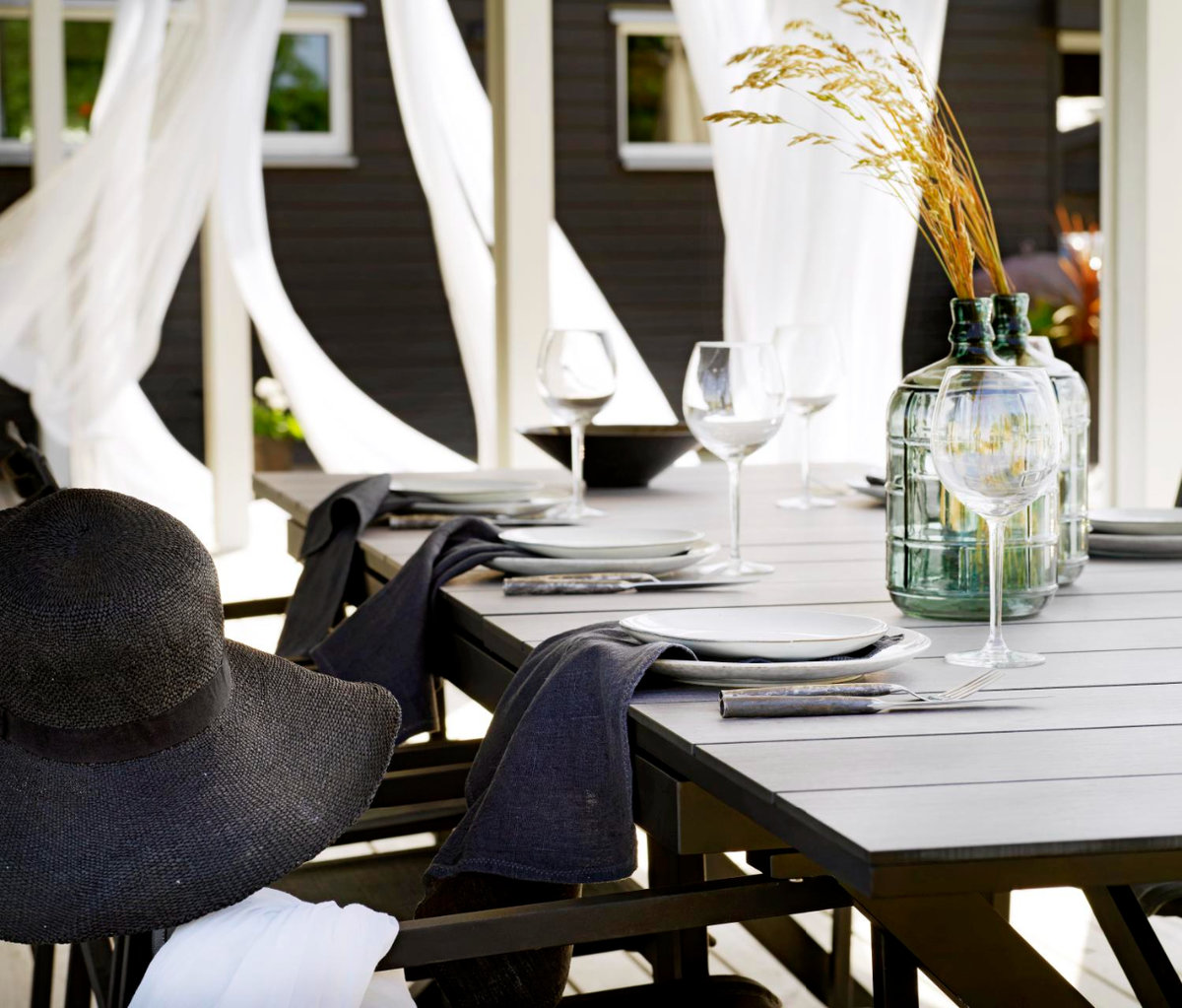 Planning an Outdoor Dining Table experience – let the Enjoyment Begin!
Are you, like I am, impatient for lovely weather after that summer-like 'teaser' week starting at Easter? I'm growing anxious to get outside and share warm, hospitable Al Fresco meals over a big table with family and friends! Whether the outdoor space is a city balcony or a sprawling shaded garden, dining outdoors is a much-anticipated ritual during the warmer months in our area. While we await that beautiful weather – the Weather Channel meteorologists indicate that after a cooler and wetter than average spring in Southwestern Ontario, we're going to jump right to summer(!) – we can use the time to plan our outdoor dining space for those future get-togethers. So, where to start?
Whether you're entertaining or just enjoying a cup of coffee and snack solo, there's nothing quite like Al Fresco dining. An outdoor dining setting will let you enjoy meals with family and friends while also soaking up the view and the fresh air. It's the perfect setting for Sunday afternoon cookouts with family, hosting drinks and dinner with a group, or a few close friends, and so many other forms of sunshine entertainment that centre around food and our wonderful outdoors.
You can make your patio your new favourite dining hangout with our suggestions, below. Transforming your backyard or patio into a dining area involves very little effort. Following our April 6th blog, you will have already given some thought to the style which will suit, and the space you have available. Now let's consider in a bit more detail.
Make a List of Needs
Determining the proper setup is a key element to ensure your dining arrangement fits your space, and accommodates both your day-to day and any entertaining needs. So, make a list of the activities you'd like to do in the dining space and use it as a guide to determine what type of table will suit your lifestyle. Do you plan to host your next family get-together, a big dinner party, your children's birthday parties or their graduation dinners in the space?  Or are you envisioning long, convivial meals with a few close friends, or quiet candle-lit dinners with your significant other? If it's just you and/or your immediate family and close friends that will typically use the space, you can create a cozier setting. If you love to entertain you might want to consider an area with as large a dining table as possible.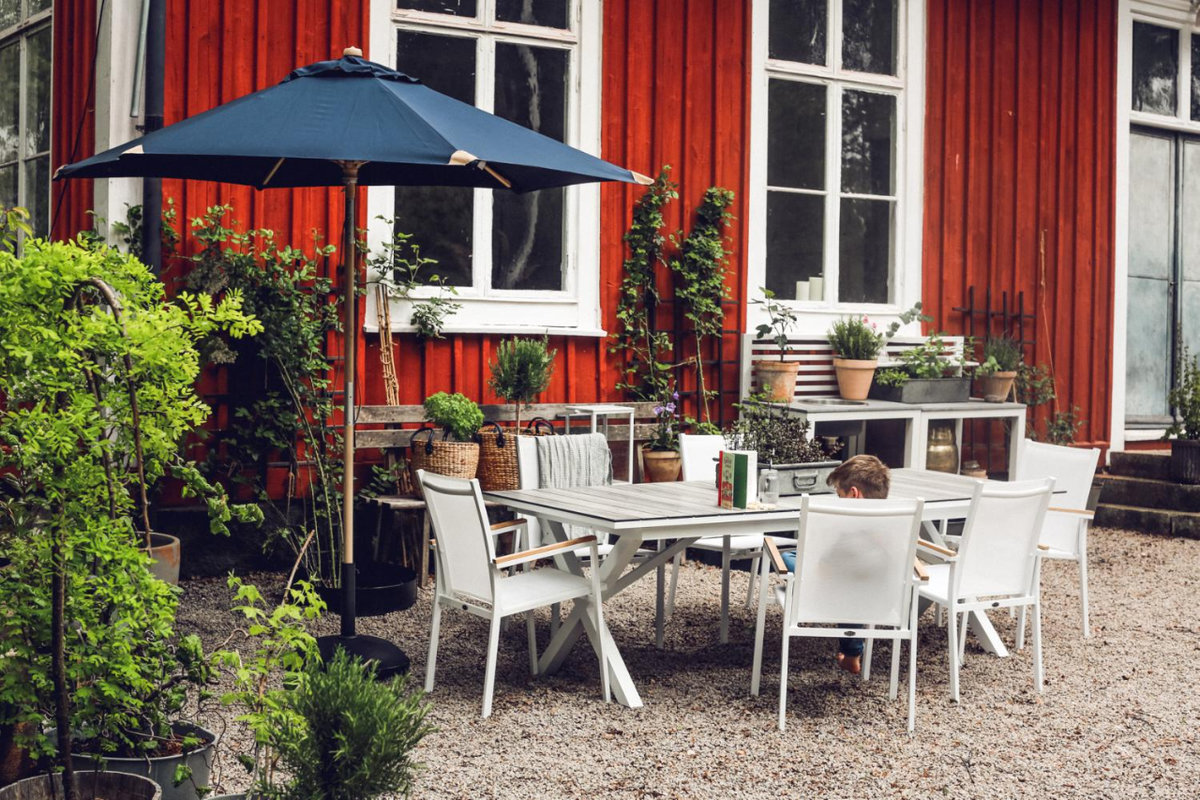 Consider Your Location
In considering location, it's ideal to situate the outdoor eating area as close as possible to an entry point to your kitchen, to lessen steps with dishes and food. Plus having easy access to the house is helpful for quick trips to the washroom. You will also want to consider the proximity of your table in relation to the barbecue, considering the heat and fumes.
In built-up areas, it's also important to be considerate of neighbours who may be in close proximity, with any noise from your outdoor dining area, whether you have outdoor speakers, or hold gatherings which extend late into the evening. Consider establishing a sound break, whether spatial or physical, if possible, between your property and your neighbours. You will also want to consider how sound carries into your home, as you don't want your table situated under the open window of a child who goes to bed early!
Determine the Space Available
If you're like me, you want people to be comfortable and linger over dinner for an evening of easy conversation. And that comfort begins with having the space to accommodate comfortable chairs, so it's important to measure your space before selecting a table and chairs.
Standard dining arrangements may range from three to nine pieces, including a table and two to eight outdoor chairs. A three-piece bistro set is perfect for two people to drink and dine in a small space. Five to seven pieces works for most families today, or small group entertaining, and will fit a variety of outdoor spaces, whether a medium sized deck or poolside space. For those with larger families or who love to entertain bigger groups on a regular basis, nine pieces may be the preferred choice. And where space is a bit constrained, a useful option is one of the newer extendable tables, which can be retracted for regular use, but expanded to fit a larger group when the need arises, and with different choices of table top to coordinate with your space.
Size-wise, dining tables should be at least 30" to 36" wide. Three feet or wider provides enough room for platters, bowls, pitchers and centerpieces as well as dishes, place settings, glasses and silverware. Alternatively, if you have a smaller space with a 30" wide table, you might consider serving meals buffet style, or using a sideboard for your serving ware. Also, the table design itself may affect the number of people you can seat at it. For example, a table with four legs may be able to accommodate a different number of chairs than a table with a trestle or pedestal base.
When you consider comfortable space, the 'rule of thumb' is to leave 36" of space around a dining table on all sides that have chairs. Measure the space between the edge of your table and other furniture or walls. Three feet provides enough room for someone to walk behind the chairs while others are seated or to comfortably pull the chair out to sit down. It's also plenty of room to open cabinets or drawers that are nearby. If the space is less than 36", you might be bumping into things or be uncomfortable. However, this 36" is just a guide; if you have a smaller outdoor space, it's possible to comfortably cut this down and work with a 30" to 32" spacing on each table side, by choosing smaller chairs, without arms for example, or a bench for one or both sides of the table, using armchairs only on the ends, like host and hostess chairs.
Width-wise, most chairs range between 16" and 24" wide, though some armchairs may be as wide as 30". The general rule of thumb is to allow 24 inches of space for every person gathered around your table. However, if the chairs are 24" wide or wider, add an additional 6" to the total width of your chair for the comfort of your loved ones, as you won't want people knocking elbows while eating! If space is limited, and you need to sit a specific number of guests, consider using side chairs all the way around your table. You might also consider using an outdoor bench on one or both sides of your table, as you can usually seat more people on a bench than the number of chairs you can fit on one side of a table.
The following schematic, from gambrick.com, even though an indoor setting, provides a visual of how to take the measurements for planning your space.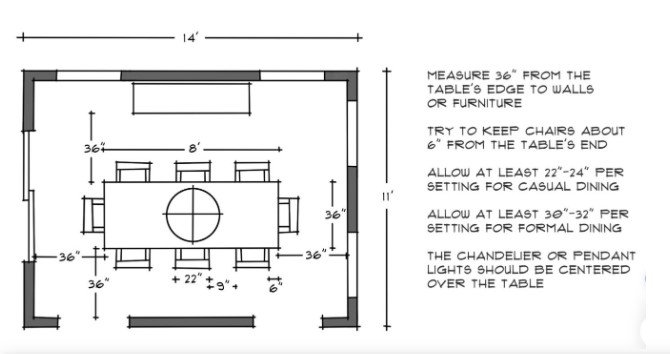 If perusing a data table is more your preference, the following table provides a general seating guide. We are assuming 24" per person, to allow for comfort at the table.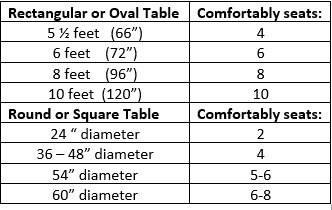 Maximize the View
Locate your outdoor dining area so that you and your guests can enjoy the view, whether looking out over a lush garden, a water feature or a lake, or sitting in your backyard looking back at your house softly lit for night. Or if you live on a hilltop, the world below would look lovely at night when gazing at it from your outdoor dining table.
And don't forget the view across your dining table. If you are hanging an overhead outdoor 'chandelier', it should be hung a minimum of 30" above the table to keep sight lines open. However, it should not be hung too high or it will detract from the cohesive feel of the dining setting. A good rule of thumb is to hang the lighting between 24" – 32" from the table. Also try to keep the pendant or chandelier centred over the table  or at least 6" from the edge, so gusts don't hit their heads on the fixture.
Go for Easy-Care Outdoor Furniture
You can put together your own combination of chairs and table, following the Scandinavian eclectic style esthetic, or choose a series that includes both dining chairs and a dining table in the same style. Your choices also include the easy-care material you want in both your table and chairs.
In tables, you can choose from solid, sustainable teak, or powder coated aluminum frame tables, some of which are extendable, and afford the choice of an aluminum top or high-pressure laminate top in a concrete-look or wood-look.
There is a wide range of chair choices including powder coated aluminum, or a powder coated aluminum frame with textilene sling, all-weather synthetic rattan in various styles and natural tones with coordinating cushions, solid teak, teak frame with nylon cording, and moulded plastic in designer styles.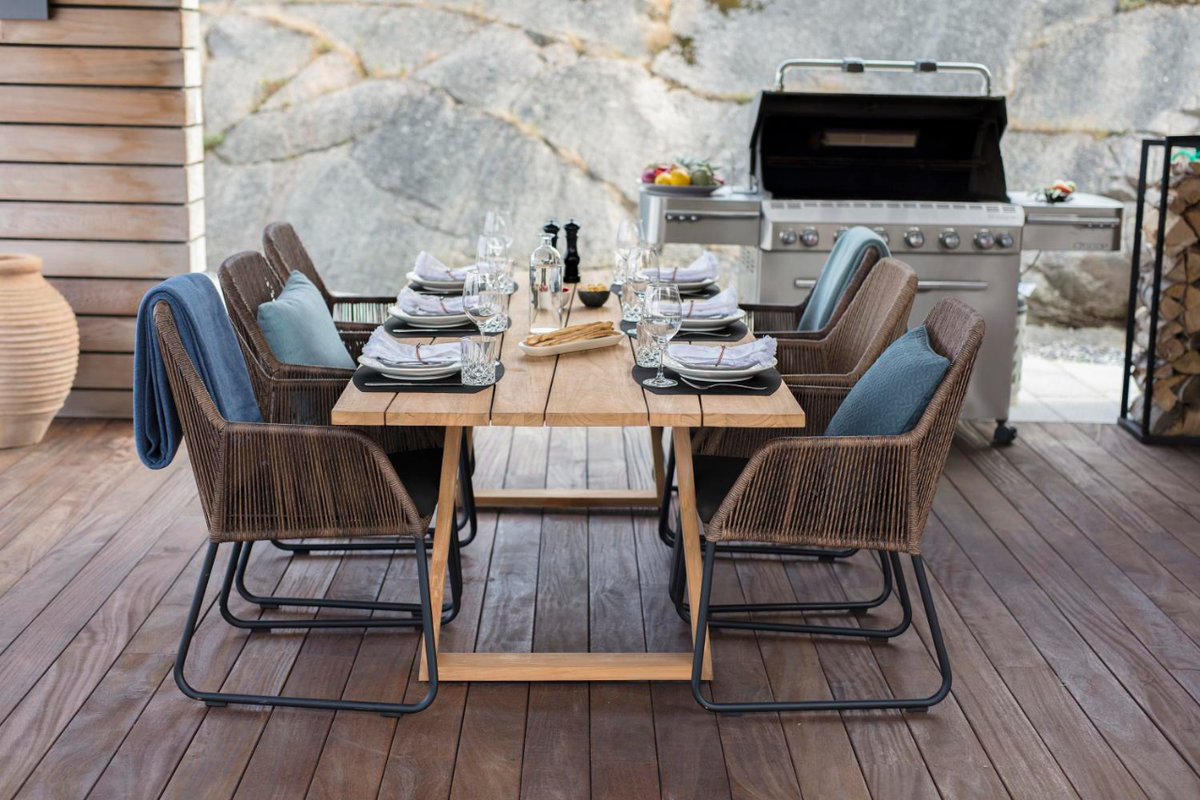 Invest in Quality
Cottage Culture has stocked all high quality, uniquely designed outdoor furniture. The Scandinavian design colours are neutral greys, charcoal, oatmeal and black, so will serve you well over the long term, and can easily brightened with a pop of colour in outdoor rugs, cushions or throws.
Summary
These guidelines will help you find the right fit for your outdoor dining experience. Once you've selected your choice, organized the setting and planned your menu, you and your guests will be able to sit most comfortably through meals and parties, and totally immerse yourselves in the pure enjoyment of family and friends.
Visit Cottage Culture to view their selection of stylish outdoor dining tables and outdoor dining chairs.  Our team of furniture experts can assist you in finding your perfect  outdoor dining table and dining chairs for your outdoor space. With free styling and layout consultations and white glove delivery service we are here to help you create your personal backyard oasis! 
Reach out to us or pop by our showroom! Looking for patio inspiration? Follow us on Facebook, Instagram, or Pinterest!