Fire Pits and Bowls vs Fire Tables: What's The Best for Your Outdoor Space?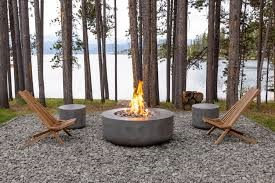 Creating an inviting and cozy outdoor space can be a challenging task. You need to consider everything from decking to even fire features. Choosing the correct fire feature for your outdoor space can help create the inviting environment you desire.
Whether you choose to use wood or gas (propane or natural) adding a fire feature to your cottage or home is a fantastic way to extend the use of your outdoor space. It can help extend its use into the colder months, or add a bit of flare in the warmer ones. To help you make the right choice for your space here are the differences between fire pits and bowls and a fire table. Hopefully it will allow you to create the best outdoor oasis you can.
Before choosing your best option, here are a few things to consider: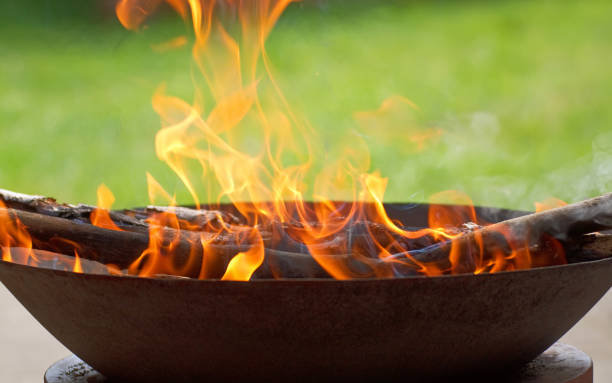 Is this for heat or ambiance?
Fire pits and fire bowls are meant to provide heat.
Fire tables are meant to provide ambiance.
You can opt for custom options to provide both heat and ambiance as you can control the number of BTUs (British Thermal Unit) the burner is outputting by turning the flame up or down.
Fuel source 
Wood is an excellent choice if you have an abundance of trees that you can use for free fuel.
Propane requires a tank, which can be an eye sore and requires covering and proper storage.
Natural gas, is it available in your area and will you have to run a line to the area and hide the gas line.
Size
Is there something on the market to suit your needs or will you require something custom?
Units on the market will range from 40000 BTU up to 150000 BTU on average they are around 50000 BTU.
There are many assorted sizes, shapes, and materials available on the market.
Safety
Fire regardless as to how the flame is produced is still fire and if you play with fire, you're going to get burnt.
Never leave a fire unattended on your deck if small children or animals are around.
Accidents do happen and a fire could have dire consequences.
One advantage of a fire table over a fire pit is the table does provide more of a barrier to the flame for smaller children.
Fire tables are a better option if you are looking at or already have a composite deck.
Gas is safer than wood as you can turn off the gas to stop the flame rather than having to put out a wood fire with water or an extinguisher.
Budget
How much money do you have for a fire feature?
Tables are double the price of fire pits as they serve a dual purpose, table and ambiance.
Custom options are available, but this is going to be the most expensive option.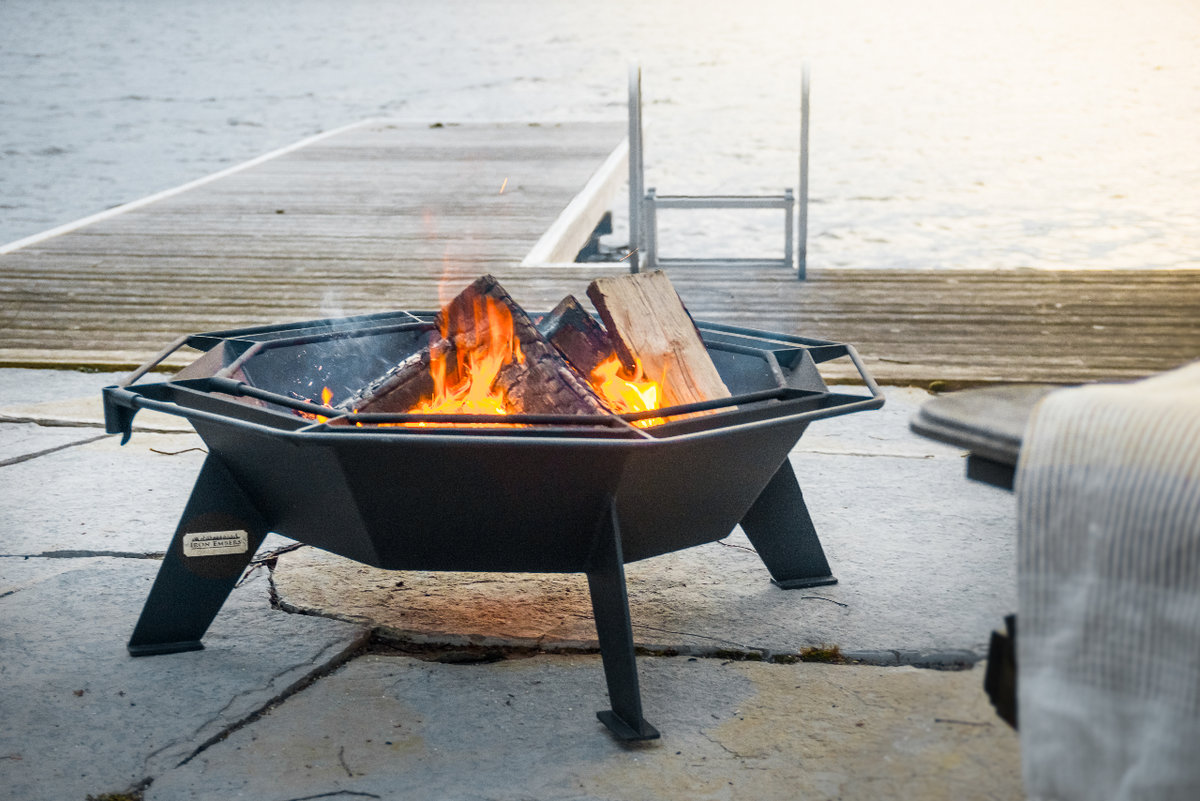 Fire Pits and Fire Bowls 
Fire Pits come in every shape, size, and material and are usually between 19" and 25" in height. You can choose from several types depending on what fuel you are looking to burn, wood, propane, or natural gas. You could also opt to buy a wood grate or gas burner and build the fie pit from interlocking brick, stone, or some other type of fireproof material. You can use your fire pit or fire bowl for outdoor marshmallow or weenie roasts; however, caution is needed when using propane or natural gas burners as to not let the marshmallow fall into the burner (not fun cleaning up after that).
Wood burning are the most common option available on the market (as of time of writing), but it does depend on your municipality as to whether you can burn wood and they usually have restrictions as to where they can be placed and how far from flammable materials it needs to be. Depending on the size of the fire pit, it will restrict the amount of wood that can be put in the fire pit, which will restrict the amount of heat produced. Check to see what you are looking for in terms of area that you are looking to heat before purchasing your wood fire pit. The manufacturer may also have grills or other attachments for your wood burning fire pit or fire bowl that might make this option even more appealing as it can be used to cook as well. Cottage Culture offers a great selection of high-quality wood-burning firepits in a variety of stunning designs! 
Propane and natural gas versions can be used anywhere since the fuel can be extinguished by simply turning off the gas so there is no danger of sparks starting an accidental fire. There are several types of gas fire pits, and they are listed in BTU or how much heat they will produce. You will need to see the diverse options on the market to choose the size appropriate for your space.
Fire bowls are usually a propane or natural gas burner in various shapes such as round, square, rectangular, or custom built that are added to your landscaping to be used as a fire accent throughout your outdoor space.
These features can include one or several fire bowls on top of a waterfall to fill your pool. They can be used to light a pathway or to provide lighting and flame in various sections of your outdoor space to show separation of the areas.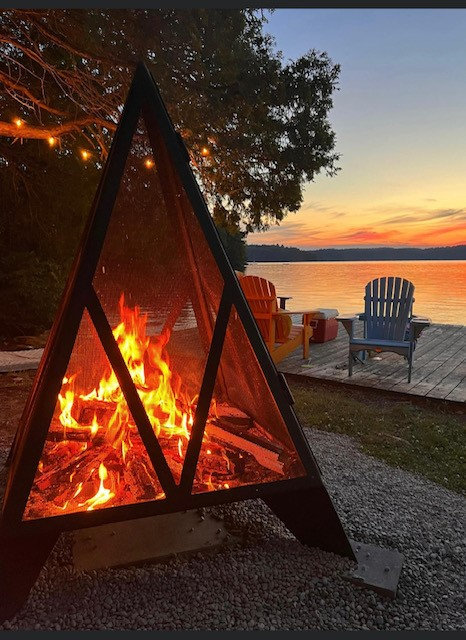 Important things about Fire Pits and Fire Bowls 
Suits lots of distinctive styles: modern & traditional.
Works well in areas that have limited space.
Classic campfire appeal and smell with real wood.
Larger fire bowls are not visually overwhelming in an outdoor landscape.
Creates intimate seating areas and provides warmth.
Allows you to have a larger flame because there is no limiting tabletop.
You can purchase covers for both fire pits and fire bowls.
Things to think about before purchasing a Fire Pit and Fire Bowl 
Restrictions in your municipality regarding fire pit placement.
Limited seating options around your fire bowl.
More difficult to find the right bowl suitable for a large area and may require a custom solution.
Side table may be required to hide the propane tank as well as to place drinks.
May not be recommended for a narrow space as it might overwhelm with heat or limit movement.
Fire Tables 
As it suggests this is a table that has a fire bowl inside it. This allows you to use the table like normal either at coffee table or bar height to enjoy cocktails and hors d'oeuvre, while also enjoying a fire in the centre to provide ambiance and warmth. You can also get one at dining table height with a fire feature inside, that would allow you to eat a full meal around a burning fire in the centre of the table.
Wood burning fire tables are less common, but there are some available on the market. You have much less control over the heat because you are adding logs to your fire. You would also have less control over the fire itself and would need to be careful with children or animals being round it.
Propane and natural gas tables are more common, and some manufacturers even allow you to swap out the fire bowl for a metal bowl to add ice to keep your bottles cold for cocktails in the warmer months when the fire bowl is not being used. Some fire bowls have fake logs or even fake stones, but most manufactures today use the fire glass as the colour choices are varied and can coordinate with the colours in your furniture or other accents in your outdoor space.
Fire tables are made of metal or metal with stone tops or tiled tops that usually are part of a line of patio furniture. There are tables on the market as stand-alone items that can co-ordinate with your existing furniture in your backyard oasis. You can also buy ones that are part of patio sets, that way you ensure all your furniture matches. They also help provide a sleek and modern look to any outdoor space and can go with a variety of design choices and styles.
Important things about Fire Tables 
Useable space for drinks and snacks or even a full meal.
Options for cold drinks when not using the fire bowl are available with some manufacturers.
Available in different shapes and sizes of tables as well as the fire bowls.
Squares or rectangular tables work well with sectional furniture.
Better suited for small or narrow spaces.
You can purchase covers for fire tables and side tables.
They can be purchased as part of a furniture collection.
Things to think about before buying a Fire Table 
Designed for less heat because of proximity to the fire.
The fire bowl may require a glass barrier.
Does the table come with a cover for the fire bowl when not in use?
May require an additional side table to hold a propane tank if there is not room under the table.
Picking the best option for your outdoor space can be challenging and seem to be a daunting task. Hopefully this will help you in creating your dream outdoor oasis and complete your space. Whether it be with a Fire Pit, Fire Bowl, or Fire Table creating the best space for you is the best option.