Firepits add warmth and ambiance to your yard, deck, or patio and can significantly elevate your outdoor living space. Firepits are a backyard favourite because they create a cozy spot for gathering with your friends, making memories with family, and sitting with your partner after a long week at work.
For some, a fire pit inspires a grilling menu for special occasions or a myraid of creative s'more recipes. And other's its about being mesmerized by flames and burning embers.
Backyard fire pits are available in an abundant variety of styles to suit your lifestyle. You can also create your own design using materials available at your local landscape supply store. What works best will depend on your style preferences, unique space, and municipal rules about backyard firepits.
Below, we cover the basics of fire pits, outdoor fireplaces, fire bowls, and tabletop firepits for your patio or deck. We also provide tips throughout and offer ideas on firepit solutions for small spaces.
Read on to learn more about choosing an outdoor fire pit for your space!
Evaluate Your Space 
Every outdoor living area is unique, so the first step in choosing a firepit is evaluating your space. The amount of space you can work with and the potential locations of your firepit may significantly impact which style you choose.
Firepits are quite obviously hot and flaming, so you must be mindful of what is beneath and surrounding your pit. For example, a large, open-top stone firepit will not work on a wooden deck and may not be ideal on a stone patio close to your house or fence. Or you may have a smaller space where you will need to find creative, compact, or multi-purpose solutions that keep your deck functional, comfortable, and safe.  
Take a quick walk through your yard or around your outdoor space and consider where you would place your firepit once you purchase it. Look for hazards, consider potential placements, and always keep safety and practicality in mind.
Cottage Culture can help advise you of any special considerations for your patio furniture. How far should your new rattan sofa be kept from the firepit? Are your cushions flame retardant? Speak with one of our knowledgeable reps today.
Consider Your Family's Needs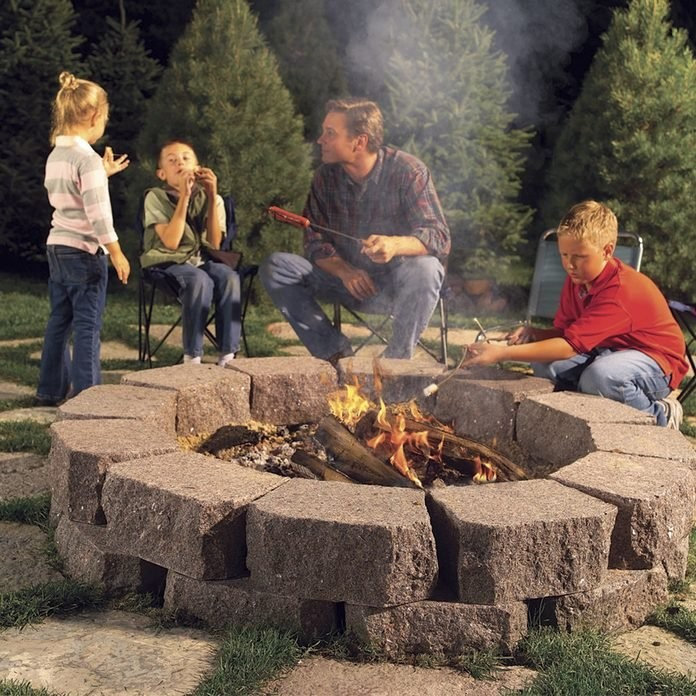 There is no "one-size-fits-all" firepit, so you will need to consider what you want and need in your backyard fire feature. Identifying what is most important to you and the people who will be using the firepit can help you narrow down what to shop for.
Do you love to roast marshmallows or make spider dogs together as a family?
Do you also use your firepit to burn backyard brush?
Would you prefer to have a more compact or enclosed fire feature?
Will your firepit be stand-alone, or will it be incorporated into other elements such as a dining table or coffee table?
Do you want to move and clean your fire pit easily?
Will your fire pit stay outdoors all year long?
Do you need a foot rest to warm feet on cool nights?
Ask yourself those questions to determine which qualities you need in your outdoor fire feature.
Check Your Municipal By-Laws 
Each municipality will have by-laws on cooking, recreational, and open-air fires. These by-laws will also include regulations about how far away your fire pit needs to be from other structures or combustible materials. In addition, they will indicate what types of materials you can burn in your backyard if any.
Be sure to check your local by-laws before purchasing or constructing your fire pit. This quick – but important – step can save you time, money, and hassle in the long run and keep you out of trouble with your neighbours and your municipal officials.
If you are not permitted to burn wood or fire logs in your town or city, check to see if propane outdoor fireplaces, pits, and bowls are allowed.
Decide on a Style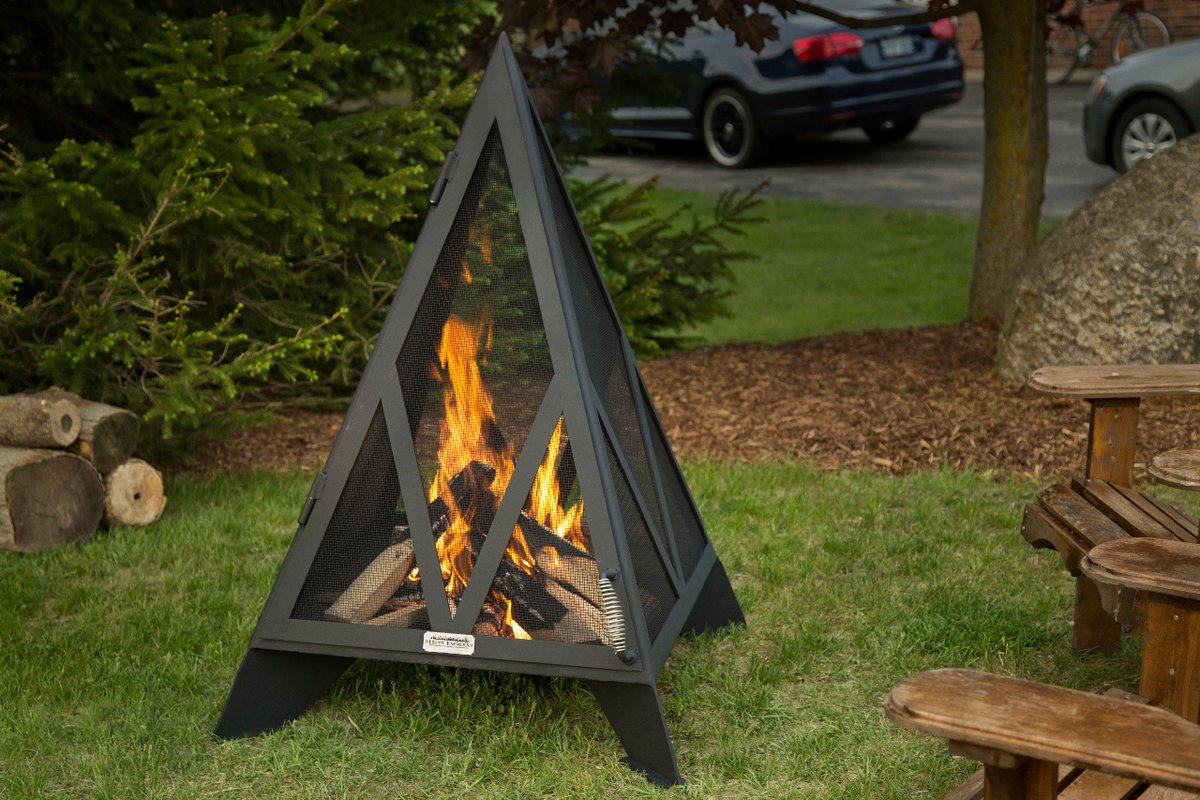 Once you have considered your outdoor living space, the needs of your family, and the rules around firepits in your town/city, you are ready to start shopping! Browsing styles is the most fun part of the process because there are so many different designs to choose from.
Common styles include:
Free-standing fire pits, fireplaces, and fire bowls
Built-in fireplaces
Firepit kits
Tabletop fire features
We explain each firepit style in a bit more detail below.
Free-standing Fire Pits, Places, and Bowls
Free-standing fire pits, fireplaces, and fire bowls are exactly what they sound like – stand-alone features. They typically have short, sturdy legs to keep them off the ground. They can be open at the top or be mostly enclosed. Many will offer spark screens and covers and they can come in interesting shapes and sizes to suit various spaces.
These options are perfect for smaller fires that you wish to contain. They are also great if you like to have larger gatherings and want to ensure all your guests have a seat around the fire. Free-standing options are easy to move and easier to clean as well. In addition, they can be transferred to your shed or garage for winter storage.
If this style is a fit for you, consider the 24-inch Modern Cube Fire Pit from Cottage Culture! You may also love the 3ft Polygon Fire Bowl , 3" Cottager Fire  Pit or the 4ft Pyramid Outdoor Fireplace!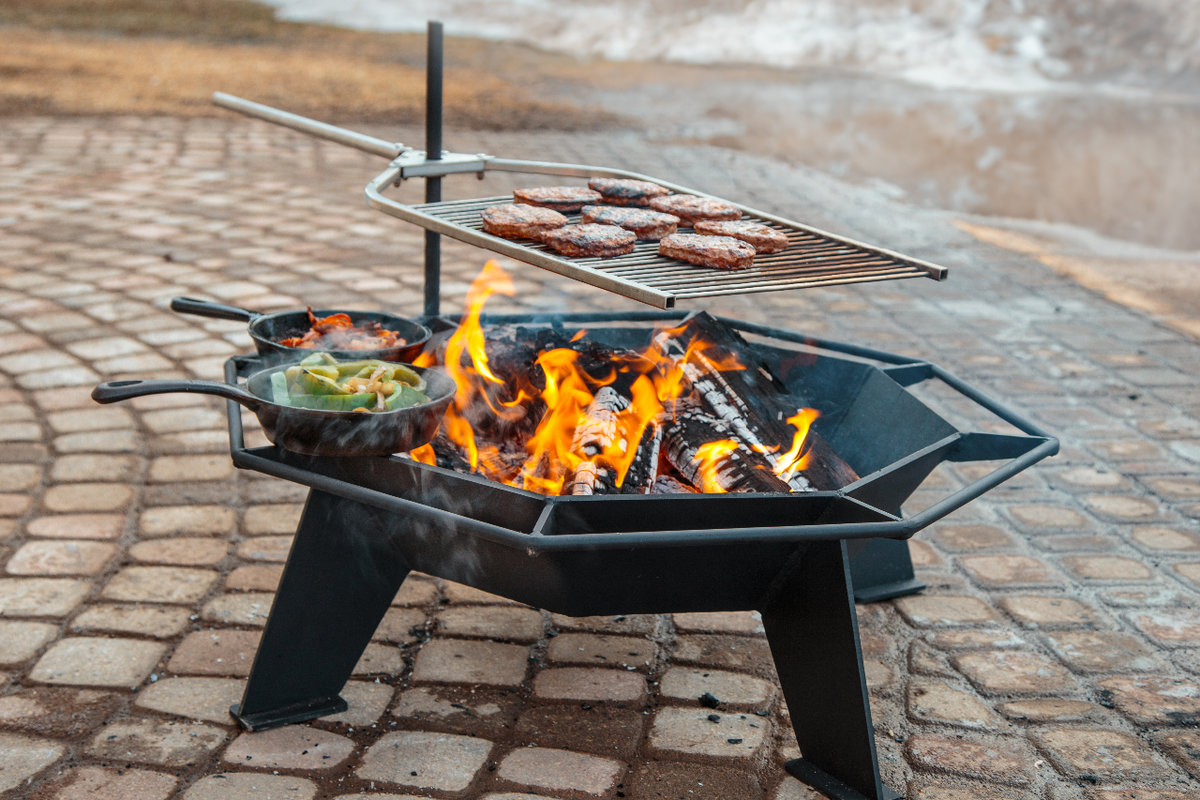 Built-in Fireplaces
Built-in fireplaces are what you would typically see indoors – except they are just outside. Built-in options speak to the current trend of extending our indoors spaces or "outdoor homing" by creating the feeling of an outdoor living room.  These elevate any outdoor living space and are an elegant solution for adding ambiance and comfort.
Outdoor built-in fireplaces will be more costly to design and install, but they are a timeless and very safe feature. However, it is important to consider that full fireplaces will require more space and may not suit the aesthetic of every yard, patio, or deck. 
Large bulky patio furniture is a thing of the past, new modern designs can be just as functional without taking up so much space. Modular furniture lines give you the option of changing your layout to suit the occasion or special changes.  Speak with our reps to see if we can downsize or rearrange your furniture to make more space for a built-in fireplace.
Firepit Kits and In-ground Firepits
If you want a larger firepit and would like to roll up your sleeves to install it, a firepit kit would be an excellent option for you. Firepit kits typically come with stone and a fire pit ring insert, giving you an easy DIY solution for your outdoor space.
You can also build an in-ground fire pit using materials from your local landscape supply or home improvement store. If you seek a more permanent or elaborate custom firepit style, landscapers and construction companies may also offer firepit design and installation services.
Firepits for Small Spaces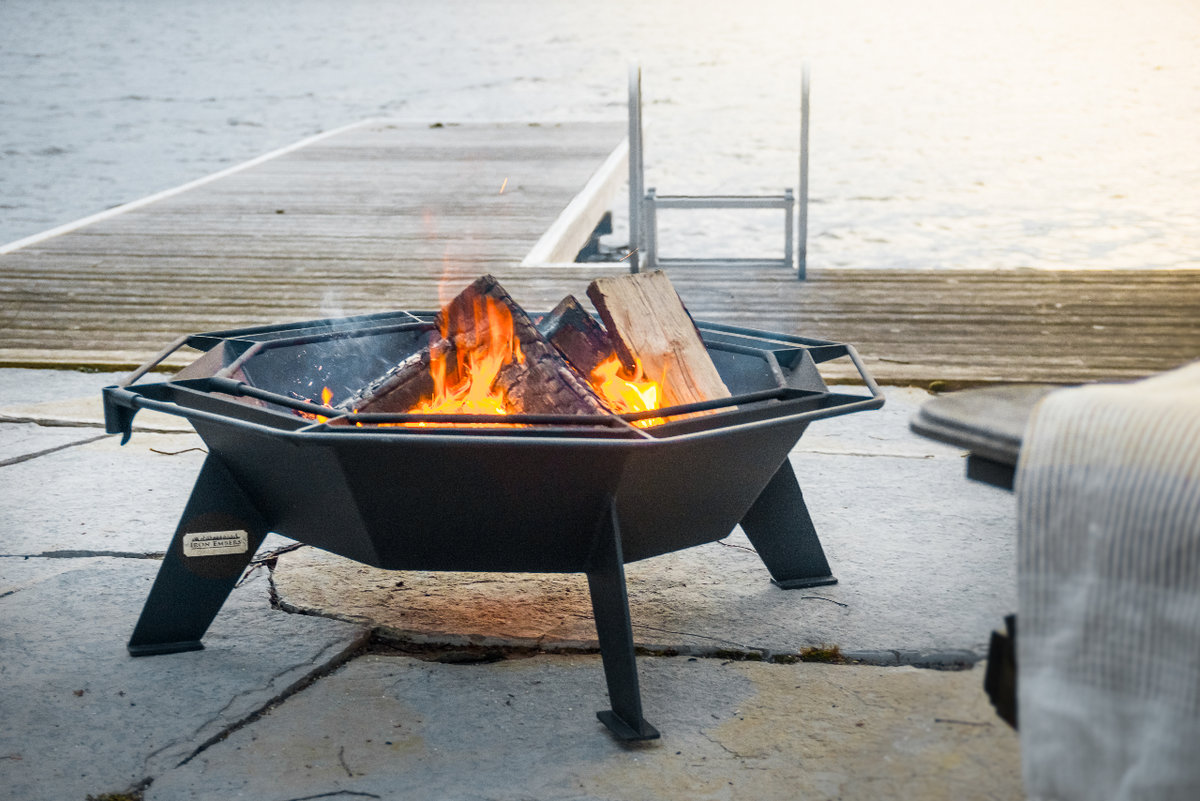 If you love firepits but have a small yard, or patio, you can still add a fire feature to your space. You will just need to be a bit creative and select firepits for small spaces rather than opting for large fireplaces or permanent firepit installations. You can also find firepits that serve more than one purpose if you are limited on square footage or prefer minimalist backyard design. 
Tabletop Fire Features
Tabletop fire features sit within or on top of your patio table. This option is suitable if you want a propane firepit that you and your guests can enjoy while sipping wine and eating dinner. In addition, tabletop fire pits are a great solution if you do not want to burn wood and would prefer to have propane as your fuel source.
Steel Tabletops for Firepits
Some free-standing fire pits and bowls can also double as a patio table. Choose a wood-burning fire pit or a modern propane fire bowl and add a steel tabletop. The steel tabletop for your firepit or bowl will sit on top of your fire feature when it is not in use keeping the wood dry and giving you more serving space. Start your evening enjoying cocktails and appetizers, then remove the tabletop and roast marshmallows on the fire. This option gives you the best of both worlds and is perfect for small spaces.
We love the 24-inch Modern Cube Steel Table Top and the 3ft Polygon Fire Bowl Steel Table Top!
Conclusion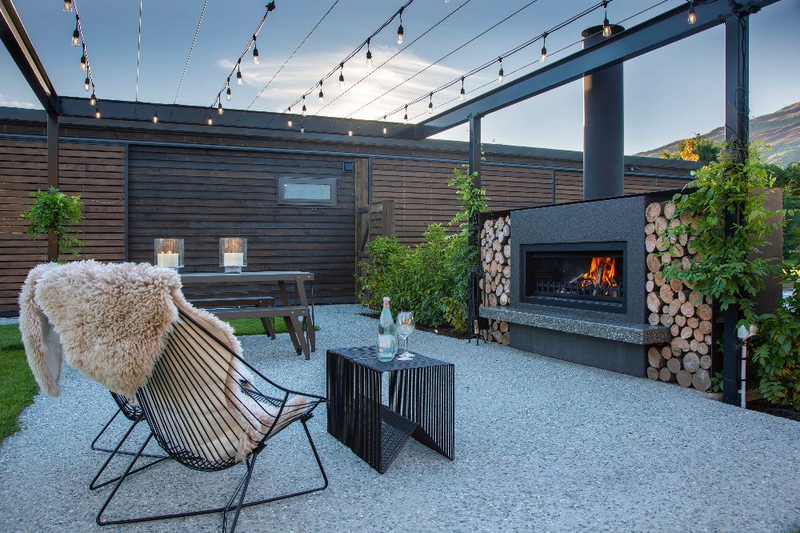 There are firepits for every backyard, and you will not have any trouble finding a robust selection of options. Choose to purchase one that is ready to use, build one yourself, or hire a professional to help design and install a more permanent solution.
Be sure to evaluate your space, consider your family's needs, check with your local burning by-laws, and shop around for firepit styles that suit your style and space.
Consider free-standing firepits and bowls, built-in fireplaces, in-ground firepits, and tabletop fire features. There is no shortage of firepit styles and designs to choose from!
If your space is smaller, you do not have to miss out on adding stunning firepits and bowls to your yard, patio, or balcony. Opt for multi-purpose pits with steel table tops to add both a table and a fire pit to your outdoor living area.
Regardless of which firepit option you choose, you'll never regret creating a stylish, warm, and ambient space to make memories with your loved ones!
Shop for Firepits with Cottage Culture 
If you are ready to start shopping for the best fire pit or feature for your backyard, patio, deck, or balcony, consider working with Cottage Culture! We are proud to be a family-owned and operated patio furniture retailer in Canada. We offer a large selection of outdoor furniture and accessories that exude comfort, quality, and character.
Browse our online patio furniture collection or visit our showroom in beautiful Hensall, Ontario. Our dedicated outdoor furniture experts are ready to help you design your space and select a firepit that works best for you and your family. In addition, we offer patio furniture delivery and installation services. Our goal is to make it as easy as possible for you to love your outdoor oasis.  
Are you looking for backyard inspiration or firepit ideas? Follow us on Facebook and Instagram!