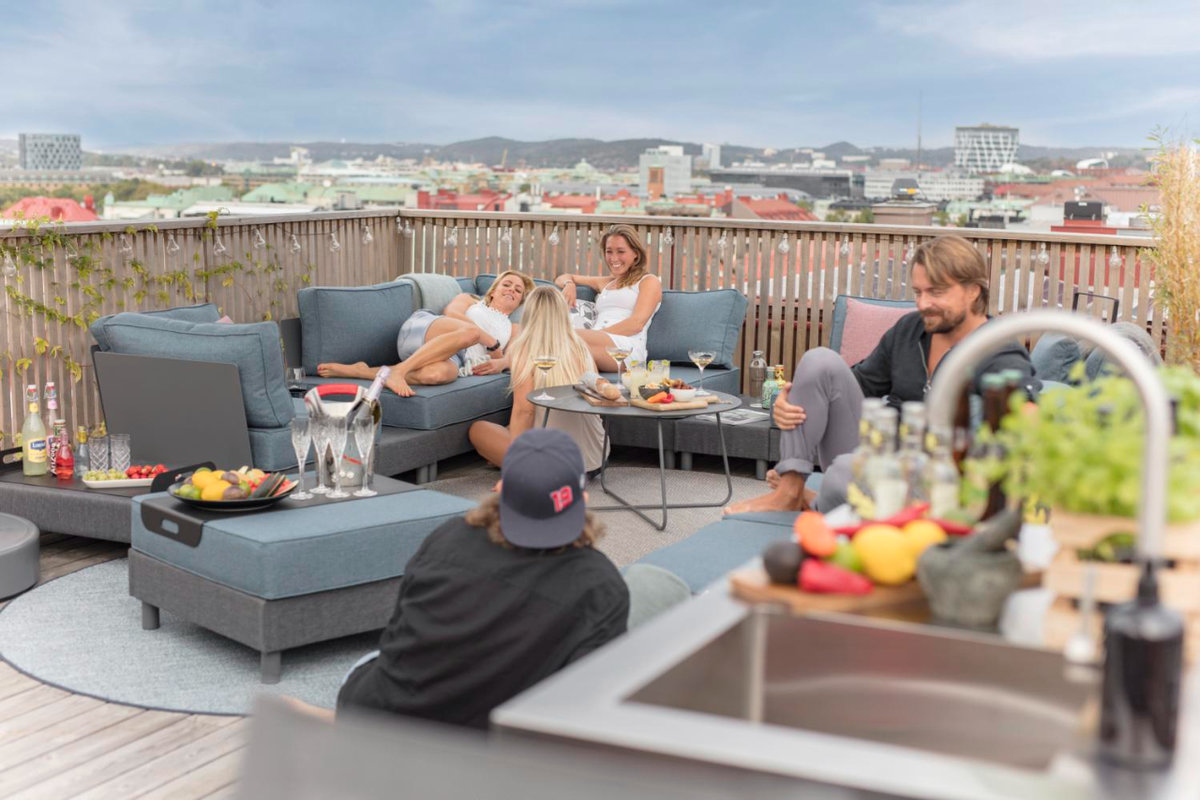 Spring and Summer 2022 is finally upon us! After spending a long winter indoors Canadians are looking forward to maximizing the outdoors in the warmer weather.  Your outdoor lifestyle can take on many different looks.  Do you prefer to create a relaxing outdoor sanctuary for fresh air relaxation, or intimate alfresco dining with friends on your deck, or host large parties with friends and family in your backyard.  As you start to think about how you will enjoy the outdoor extension of your home, let us share some trends for 2022. 
You may be updating your current outdoor space or creating a brand-new deck.  Or, you may simply be looking for ways to freshen up the space that you still love; a rug to define a seating area, a new cozy chair, simple ways to increase functionality such as options to increase seats or just to decorate with a pop of colour.  We hope that this list will give you a few ideas to maximize your enjoyment this Spring and Summer 2022 to help you make the outdoor space of your dreams!
1. Colour and ideas for incorporating it into your outdoor space.
We are experiencing clients looking for colour and not necessarily just to keep up with the 2022 colour of the year, although we love it!
There are a few notable colour trends this year and the approach to each is very exciting. Colour resonates in distinct ways for different people and these pandemic times are no exception. Some gravitate to uplifting, bold colours while others have found comfort in soothing neutrals.  As we near the end of the pandemic (hopefully), people are embracing vibrant colours once again.
Who doesn't't love to note annual colour trends and incorporate them into their existing decor? Here is a list of the 9 colour of the year picks that companies are predicting will rule 2022. Architectural Digest
Interestingly, Scandinavian colour trends for the year reflect a similar diverse approach with colour palettes embracing the notion that colour affects our senses and our moods.  Colour is a big part of creating the renewed atmosphere you are wishing to generate.  A palette can calm us down and others can spark creativity. Than Scandinavian Feeling
Scandinavian design is centered around the harmonious connection between living spaces and nature. If embracing a minimalist approach to the design of you outdoor space, you can still add a few pops of colour with outdoor cushions or other accessories or stay true to the minimalistic design and add natural hues.
Colour palettes and moods
Down to earth - Muted tones that represent natural, warming elements such as soil, sand, iron and dust. If you are looking to create an approachable space that exudes a relaxed feel, layer muted tones and textures - think wood textiles, effortless furniture styles with low-profile silhouettes for a lived-in look.
Joy & creativity - Embracing bold colour combinations, filled with optimism and hope. Monochromatic themes are still prevalent but with the addition of bold pops of colour. Shades of green are at the heart of much of the 2022 colour lineup and with landscaping, this is a perfect go to for outdoor spaces.
Calming and Harmonious - Bright and soothing tones with an airy feel and softening effect. Soft, pleasing colours have always been associated with spring, but now pastels are an all-season look. Add a few cushions in soft-solid colours on your outdoor sofa with the addition of floral pattern for the year-round spring look.
Colour Beyond cushions and accessories.
The key to implementing colour is to make sure that is is not overdone. To ensure that your bright colours are making the statement that you are looking for balance them with neutrals. The neutral soothing colours of greys, browns, whites, and blacks give the vibrant colours a launching pad and help to ground them.
A bright colourful umbrella is sure to add a big pop of colour and brighten up your space without committing you to new furniture. 
A trend that we are seeing more and more is the combination of a neutral dining table surrounded with an array of colourful chairs to create a casual but notably interesting aesthetic. We're even seeing the mixing and matching of chair styles to achieve a casual collected feel.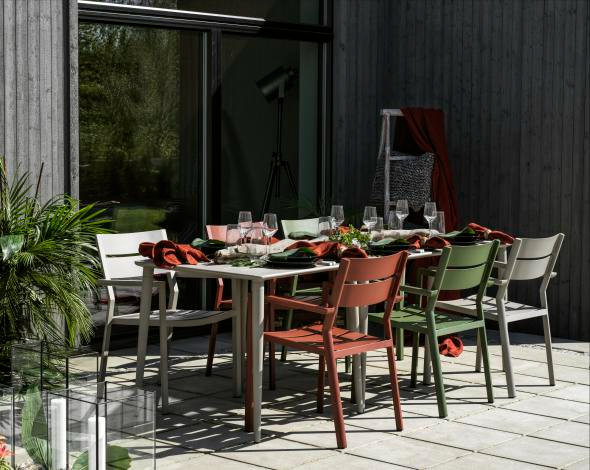 2. Defined Spaces.
As our outdoor spaces become more a reflection of our indoor, we are seeing spaces more clearly defined to create comfortable and welcoming vibes. Colour is one way to define a space and is being combined with the desire for contrasting colour splashes.
The Millboard Company  notes that they "are beginning to see examples of choosing decking boards in contrasting colors to draw attention to a focal point, such as an outdoor bar or an inviting garden room"
A new outdoor rug made from high quality textiles can change the look of a space while defining an area, whether it be a dining table, lounge space or even a kids play area.  A rug can offer a neutral backdrop to allow other coloured accessories to shine or a fun brightly coloured rug can change the whole feel of a space to brighten a mood and freshen up a space.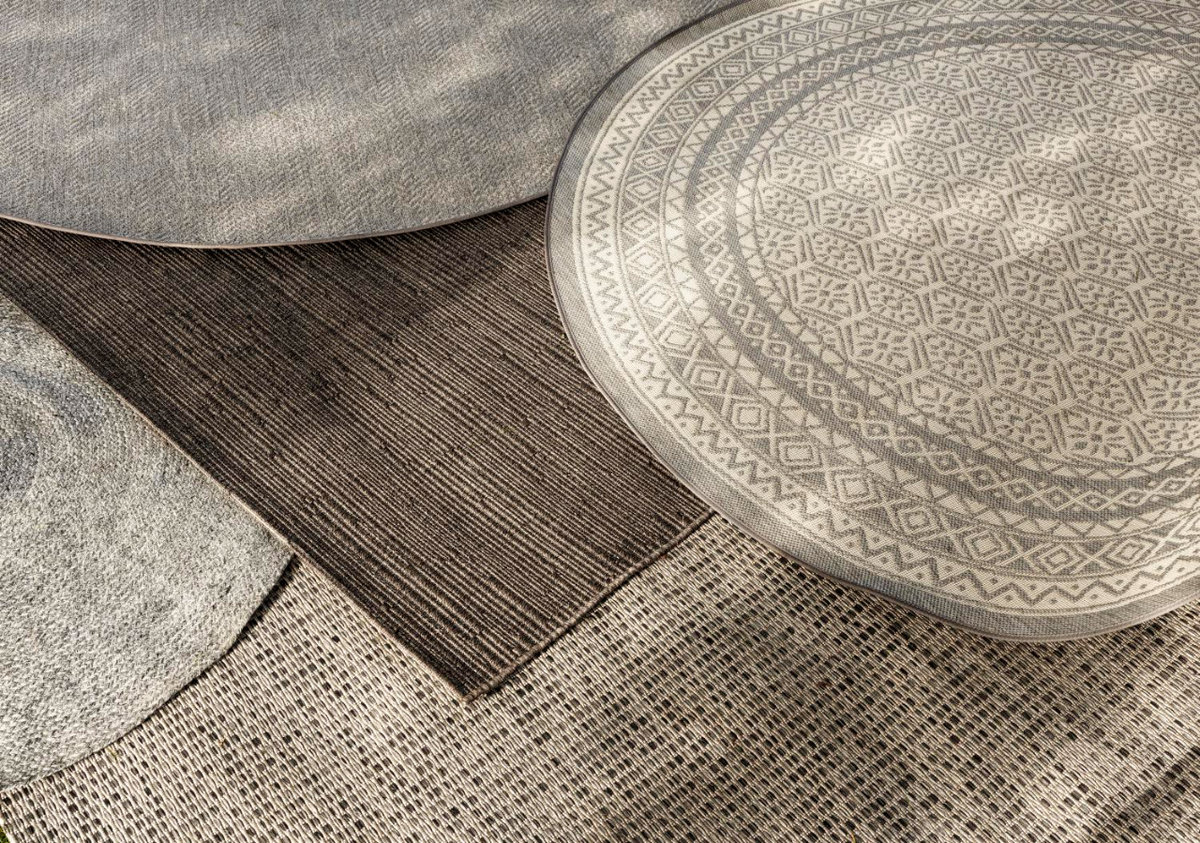 Planters – shades of green continue to dominate this season.  Monochromatic decorherefore begs for the use of simple plantings in various shades of green in pots that offer the warm tones of terracotta, natural basket elements or warms woods and painted ceramics and what better way to add colour than beautiful florals that tie in with other accessories – tying in with natural elements is what 2022 is all about.
Planters also serve a purpose greater than their natural beauty.Planters can define spaces or set boundaries just like walls and dividers do indoors. As outdoor spaces become more and more a reflection of our indoor living spaces, this visible division of space makes an airy feel comfy and more welcoming.
3. Botanical Elements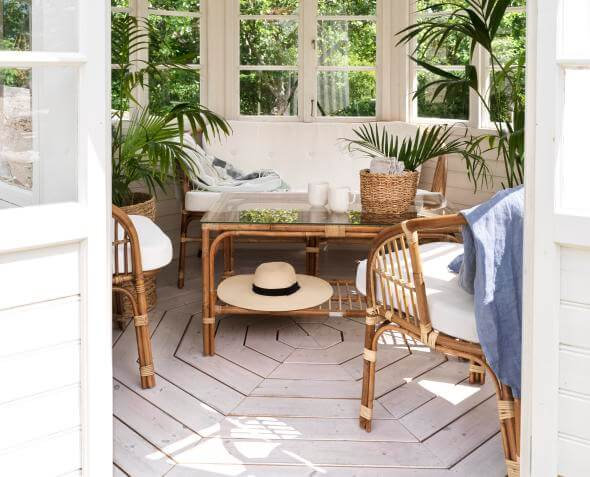 The Miami palm leaf is back! We love House Beautiful's advice "Get playful with vibrant colors, floral textiles, unique accent chairs, and painted ceramics to bring this fun trend to your backyard."  2022's hopeful joie de vive, is indeed displaying a stylized homage to nature.   We like it paired with real rattan and outdoor synthetic styles to create a light, breezy feel. Organic materials such as light woods, paired with this bright, fun theme maintains the connection to nature but with a modern and lighthearted nod.
4. Unique table frames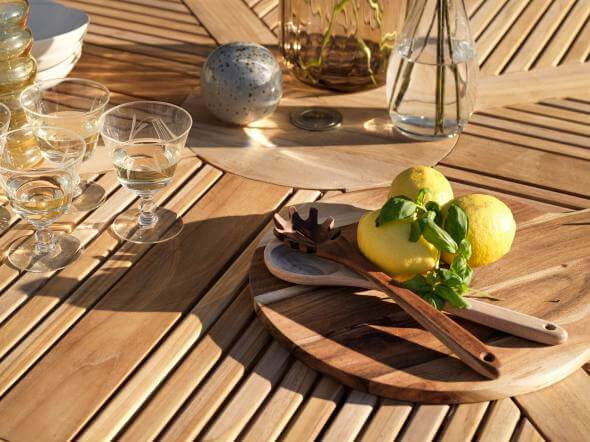 It's all in the details! A quality outdoor dining table is a big investment and it should look and perform like it! This year Canadians are admiring the extravagant table frames from this year's collections of the premium garden furniture manufacturers 
When choosing your outdoor table consider how many people you will be having at your table as well as the space you have available for your outdoor eating area. Does an extend able table afford you the luxury of flexibility?Leg room is another consideration. Well placed legs make all the difference.When the legs of the table are placed in the centre of the table it is easier to squeeze in one or two more guests. A parsons-style table with a leg in each outer corner offers ample legroom but can limit seats depending on the width of your chairs.
5. Modular Furniture
According to Summer Living Direct  modular furniture "has taken over the outdoors.  Sectionals that can be easily reconfigured depending on the entertaining needs make it easy to change up the look and functionality of your space."
Cottage Culture spotlights two such modular lines – the Villac and the Battleford.  Simple, clean lines combined with comfort and versatility.  Chaise lounge, Armchairs, armless lounge chairs, sectional or creative conversation areas with ample room for platters of hors'doeurves and cocktails.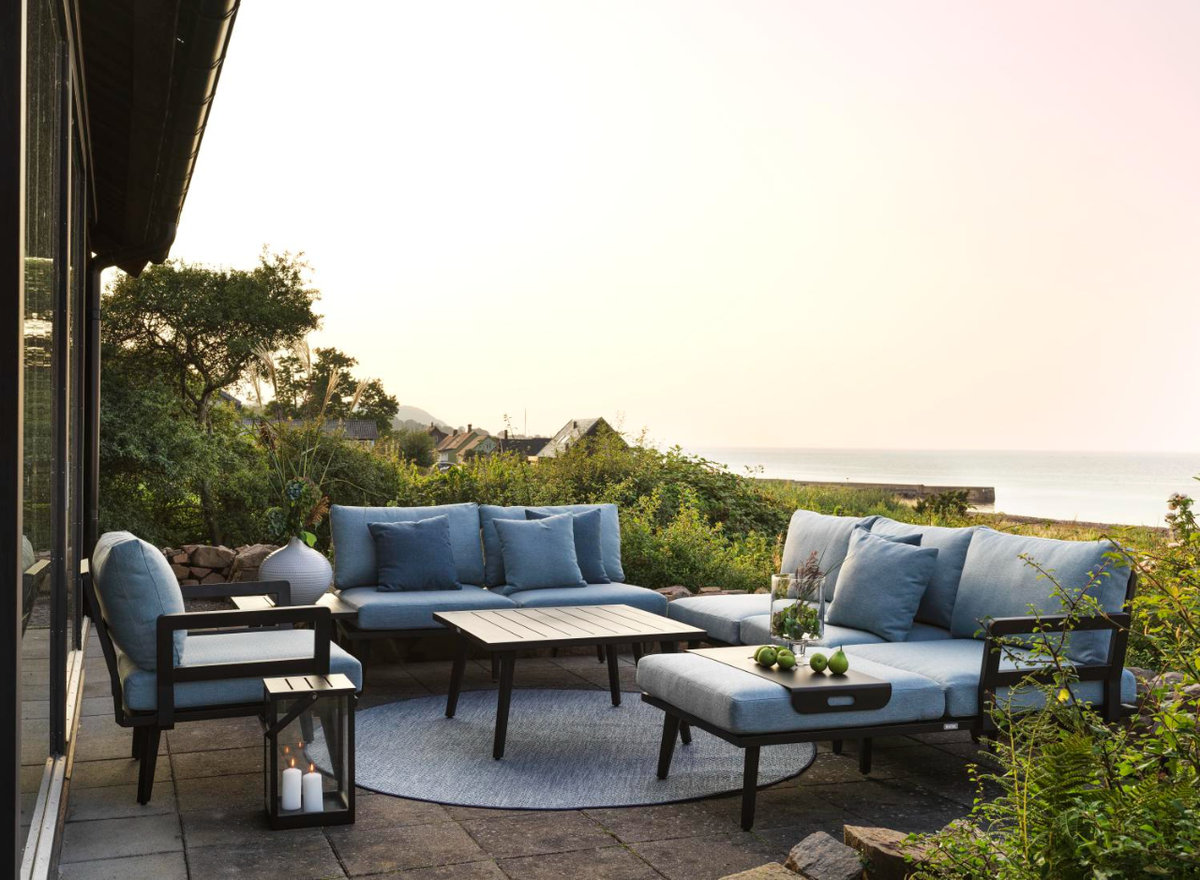 6. Perforated metals, mesh and airy furniture styles
Some describe it as a '70s revival with a twist.  Furniture frames with sleek contemporary silhouettes with woven synthetic wicker or real rattan to pair form and function.
Furniture with perforated patterns in resin or metal, in muted colors allow for easy cleaning, prevent pooling from spills or a rain shower and offer durable and sculptural silhouettes.
7. Boho is back!
"Bohemia can be anywhere because it is not a place but a state of mind." ‒ Arthur Ransome.
Bohemian design can mean a myriad of different things if you consider the intent to allow a person to be themselves in their many layers both figuratively and literally.Bohemian design revolves around elements from the natural world so it's no surprise it's a trend for outdoor spaces this year.
This fun, eclectic style is a fantastic way to express yourself in a joyous way and it really allows you to layer old and new – infusing energy into your space in a personal and stylish way.You can repurpose what you already own, giving it a free-spirited update with layers of colour and neutral textures.
Bohemian style often reflects an inspiration for travel, includes items not as traditionally expected in an outdoor environment such as mirrors, wall art and floor cushions.Mosaic tiles, ceramic pots, lanterns and rugs lend itself to this style.
The key is unique comfort and good vibes.
8. Bringing the inside out!
Never before have we relished our outdoor spaces more than we have in 2020 and 2021. We creatively found ways to take our normal day-to-day indoor activities, such as visiting with friends over a cup of coffee all the way to hosting a birthday party, outside.
"More and more people are creating outdoor spaces that extend the traditional summer season and serve as an additional room that can be used when it's windy or raining. We want to create cozy living spaces outdoors as well." Says Marie Berggvist, Product Manager at Brafab.
Use rattan or Synthetic Wicker for versatility.
Woven rattan for covered areas or sunrooms creates a coastal aesthetic. While synthetic wicker offers great durability for the outdoors and the elements. However, these airy styles can create more than just one look.
For a casual or bohemian look, opt for rattan stools or poufs placed on a colourful outdoor rug with lots of organic accessories.
For elegance, pair wicker chairs with a wooden dining table.
For modern entertaining, consider armless lounge chairs (link to Sandkorn) to combine comfort with an airy style.
 An added bonus, these pieces look good inside and out making them very versatile as the seasons change.
9. Elevated Outdoor Furniture. 
Make it right for you! Whether you are updating, renovating or creating a new outdoor space, the most important trend to take into consideration is to make it right for you?
At the end of the day everyone uses their outdoor spaces differently, we have our own personal ways to relax, entertain and even sit - taking the time to understand yours is key. Even knowing how much versatility you require should be factored in.
Think of how you intend to use your outdoor space, this will make it easier to choose the outdoor furniture that will best facilitate this. Once you have a vision of the needs your furniture must fulfill, you can address style, peppering in some of the new style trends or adding touches of your own to add the finishing touch to your space.
Make your outdoor space your own. In doing this you will be sure to end up with an outdoor oasis to relax and enjoy that is as unique as you!