10 Must-Have Furniture Pieces for Outdoor Living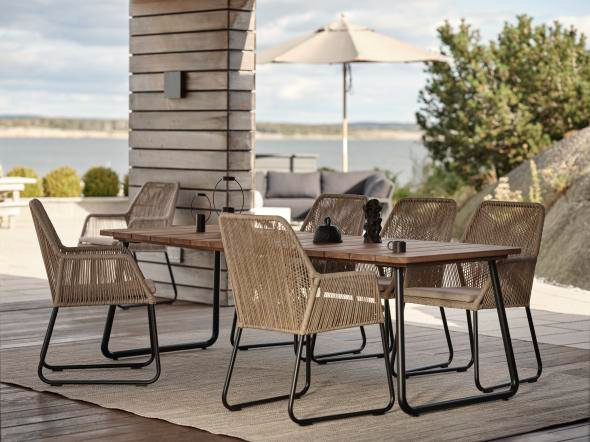 Outdoor spaces are becoming increasingly important parts of our homes and with our fleeting summer months Canadians' use their outdoor spaces as much as possible while they can. Entertaining/socializing, watching TV, cooking, eating and relaxing are all done outside in the summer months. Comfort and aesthetics have become just as important when choosing our outdoor furniture as they are when furnishing our homes and now with the high quality of outdoor furniture many choose to use the furniture indoors as well as outdoors.
When it comes to creating an inviting and comfortable outdoor living space, here are 10 must-have furniture pieces:
Outdoor sofa or sectional: A durable and weather-resistant outdoor sofa or sectional provides ample seating space for lounging and entertaining guests. As this is one of the "big investment items" we have put together some more information to help you choose an outdoor sofa or sectional further on in our blog.

Dining Sets: A sturdy outdoor dining set, consisting of a table and chairs, allows you to enjoy meals and gatherings in your outdoor space. The outdoor dining table and chairs are the other "big investment items" so again we put together some more information to help you choose the perfect outdoor dining set for you and included it in this blog a little later.

Lounge Chairs: Comfortable lounge chairs or chaise lounges are perfect for relaxing by the pool or soaking up the sun in your backyard. Lounge chairs come in many different varieties, low-seating, high-back seating, reclining, with or without cushions, the options are endless! It really comes down to your personal style and preference. Things to keep in mind when choosing an outdoor lounge chair for your space include:

Mobility issues: Do you or any frequent guests you may have over have mobility issues and find it hard getting in and out of chairs? There are supremely comfortable outdoor lounge chairs that have a higher seat and sturdy arms that make lounging outdoors worry free for those with mobility issues. Our favourite is the Samvaro.

Maintenance: Some lounge chairs tend to have thicker cushioned seating, be prepared to take them in out of the rainy weather. Textiline or mesh seating on lounge chairs is virtually maintenance free and dries quickly.

​Outdoor coffee table: A coffee table adds functionality and style to your outdoor seating area, providing a convenient surface for drinks, snacks and decorative items. This furniture item often does not receive the credit it deserves. The coffee table is a must have place to set down your drink, book, snack, remote, sunscreen or whatever else you need to set down. It also adds personality and style to an outdoor living space. You can make your outdoor coffee table pop and be the centerpiece of your outdoor living space or have it add texture and blend effortlessly with your outdoor surroundings.

Outdoor Bar Cart: An outdoor bar cart or serving trolley is a versatile addition for hosting outdoor parties, allowing you to easily serve drinks and refreshments to your guests.

Hammock: A hammock offers a cozy and relaxing spot for reading, napping, or simply enjoying the gentle sway of the outdoors. There are many different options for outdoor hammocks including ones you can hang from your favourite tree limbs and hammocks that come with their own frame to hang from.

Outdoor Bench: A classic outdoor bench provides additional seating options and can be placed in various areas of your outdoor space, such as near a garden to take in the view of all your hard work or underneath a tree to take advantage of the cool shade. A well purposed outdoor bench quickly becomes extra seating at the dining table for that unexpected guest or an extra coffee table to lay out some snacks pooside.

Outdoor Ottoman: An ottoman serves as a versatile piece of outdoor furniture, functioning as a footrest, extra seating, or even a small side table when needed. Our personal favourite is the Kotte ottoman, which consists of a porous foam covered in a water-resistant fabric that is mold, mildew and UV resistant. The bottom of the Kotte stool is a durable mesh that allows drainage and airflow. The Kotte outdoor ottoman is available in a variety of colours and sizes.

Outdoor Daybed: For the ultimate relaxation, consider adding an outdoor daybed. This luxurious piece allows you to lounge comfortably outdoors, perfect for lazy afternoons.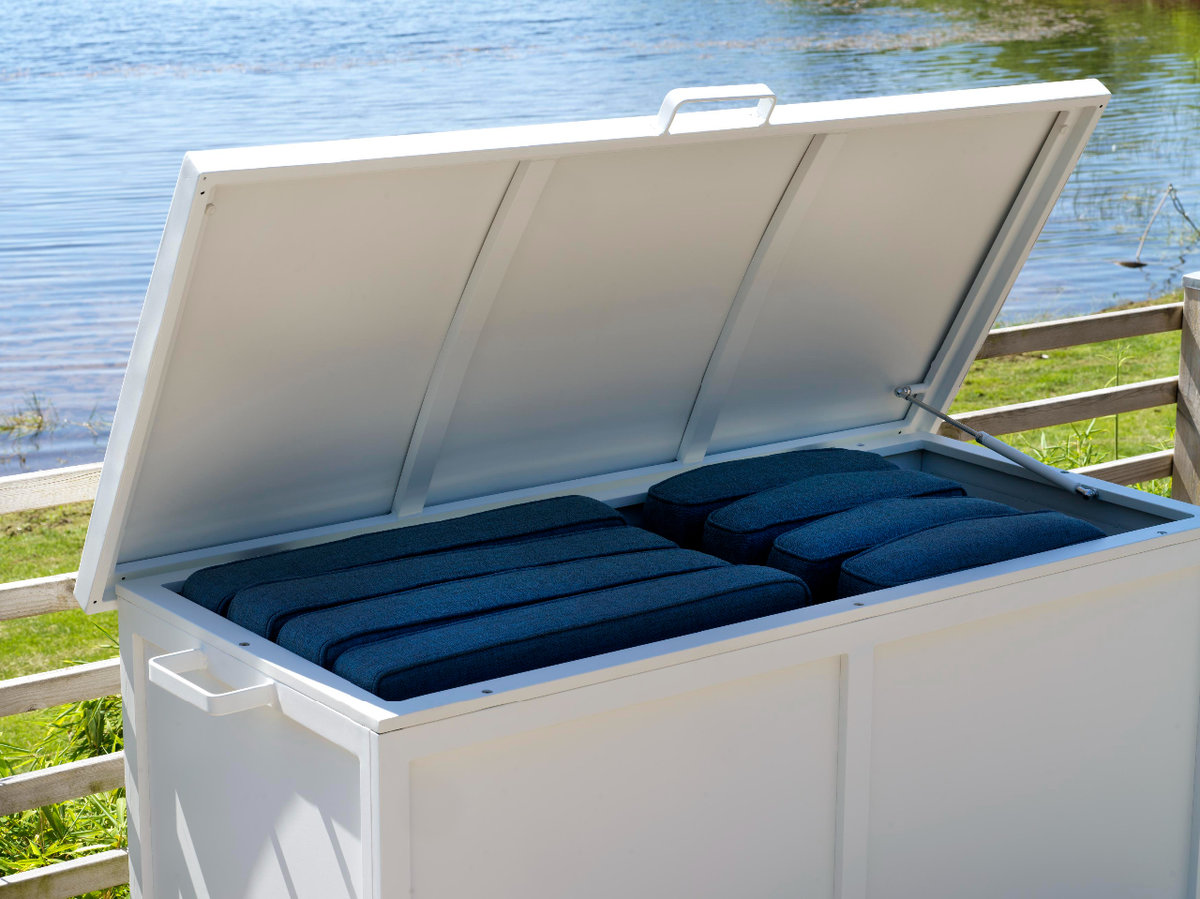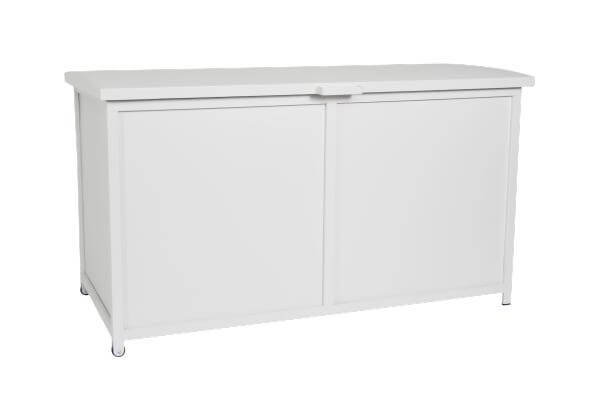 10. Outdoor Storage: Don't forget about practicality! Outdoor storage solutions, such as deck boxes or storage benches, provide a place to store cushions, pillows, and other outdoor accessories when not in use. Aluminum storage boxes are the most durable and rust resistant. Outdoor storage boxes come in a variety of sizes. You may want to consider one with a flat lid to serve as an extra serving area for food or drinks. Some outdoor storage boxes such as the Grasse Storage Box come with a durable mesh bottom, so putting away anything wet is not an issue and the added airflow from the mesh bottom will prolong the lifetime of your stored cushions.
The selection of outdoor furniture is so large and varied that we have put together a list of some things to consider when you are looking to purchase the bigger ticket items such as outdoor sofas and dining sets.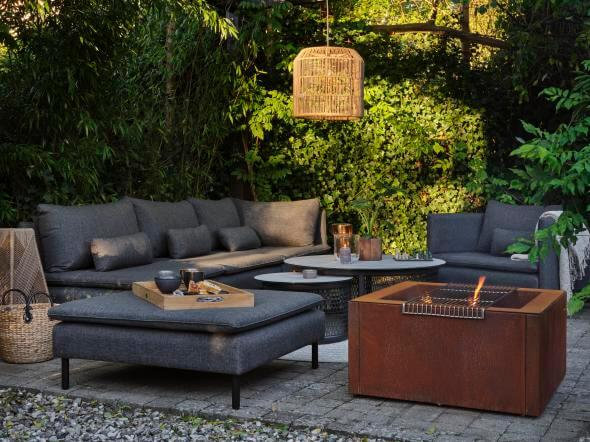 When looking for an outdoor sofa, there are several key factors to consider to ensure you make the right choice. Here are some important things to look for:
Weather-resistant materials: Since the sofa will be exposed to the elements, it's crucial to choose materials that can withstand outdoor conditions. Look for options made from weather-resistant materials such as aluminum, teak, wrought iron, or synthetic wicker. These materials are typically durable and resistant to moisture, fading and mold.
Cushion quality: Comfort is essential for an outdoor sofa, so pay attention to the quality of the cushions. Look for cushions made from outdoor-grade foam, which is designed to resist moisture and mildew. The covers should be made from durable, water-resistant fabric that is easy to clean. Removable and washable covers are a plus.
Frame construction: A sturdy frame is crucial for the longevity and stability of an outdoor sofa. Check for solid construction using materials like aluminum or stainless steel, as they are resistant to rust and corrosion. Welded joints or sturdy connectors are preferable over weak or flimsy connections.
Size and scale: Consider the available space in your outdoor area and choose a sofa that fits well. Measure the area where you plan to  place the sofa and ensure there is enough room for people to move around comfortably. Additionally, take into account the scale of other furniture and elements in the space to maintain a visually balanced outdoor setting.
Style and design: Outdoor sofas come in various styles, from modern and minimalist to traditional and rustic. Select a design that complements your outdoor aesthetic and personal taste. It's also helpful to choose a versatile style that can adapt to different décor themes over time.
Maintenance and care: Outdoor furniture requires regular maintenance to prolong its lifespan. Consider the level of care needed for the sofa you are interested in. Some materials may require periodic cleaning, treatments, or protective covers. Ensure that you are willing to invest the time and effort necessary to keep the sofa in good condition.
Price and warranty: Set a budget for your outdoor sofa purchase and compare prices across different brands and retailers. Remember that higher quality materials and construction usually come at a higher cost. Additionally, check if the sofa comes with a warranty, as this can provide you with added peace of mind.
By considering these factors, you can find an outdoor sofa that not only looks appealing but also withstands the outdoor elements and proves lasting comfort for your outdoor living space.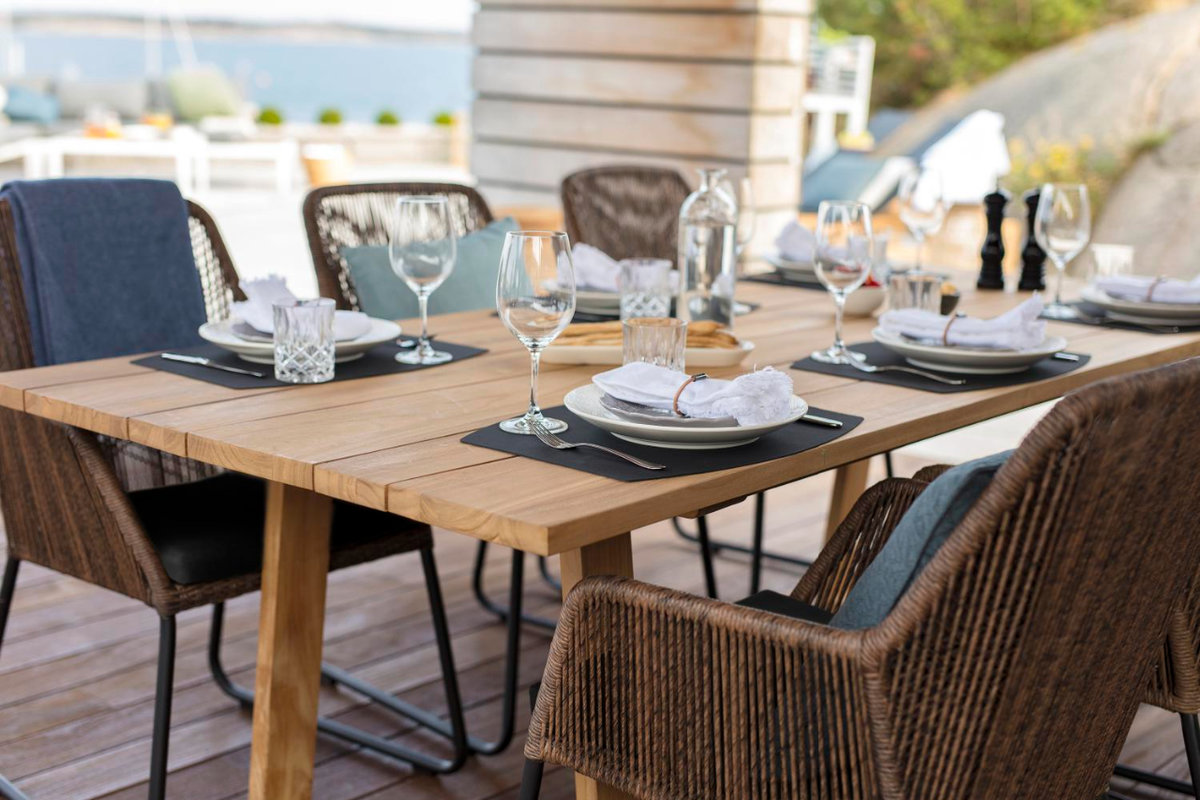 Choosing an outdoor dining set involves considering several factors to ensure you make a wise and suitable choice. For a more in-depth look into outdoor dining sets check out our blogs "How to choose the perfect outdoor patio table" and "How to choose the perfect chair." Here are some quick steps to guide you in selecting the right outdoor dining set for you:
Assess your space: Measure the available area where you plan to place the dining set. Consider the size and shape of the space to determine the dimensions of the table and the number of chairs you can accommodate comfortably.

Determine your requirements: Think about your specific needs and preferences. How many people do you typically host for outdoor meals? Do you prefer a round, rectangular, or square table? Would you like an expandable table for versatility? Knowing your requirements will help you narrow down your options.

Material selection: Outdoor dining sets come in various materials, each with its own advantages and considerations. Common options include:

Wood: Teak and cedar are popular choices due to their natural beauty and durability. They require regular maintenance to preserve their appearance.

Metal: Aluminum and wrought iron are lightweight and resistant to rust. Look for powder-coated finishes for added protection against the elements.

Wicker/Rattan: Synthetic wicker or rattan is weather-resistant and requires minimal maintenance. It offers a classic look and is lightweight.

Plastic/Resin: These materials are affordable, lightweight, and easy to clean. They can withstand various weather conditions but may fade over time.

Comfort and Style: Consider the comfort and style of the chairs. Look for chairs with ergonomic designs and adequate back support. Cushions can enhance comfort but may require storage or replacement over time. Choose a style that complements your outdoor aesthetic, whether it's modern, traditional, or eclectic.

Durability and maintenance: Evaluate the durability and maintenance requirements of the outdoor dining set. Consider factors like weather-resistance, UV protection, and ease of cleaning. Look for materials that can withstand your local climate conditions and require minimal upkeep.

Budget: Set a budget for your outdoor dining set. Prices can vary significantly based on material, brand, and quality. Determine a reasonable spending range to help you narrow down your options without compromising quality.

Visit showrooms or try in-person: If possible, visit local stores or showrooms to see and test the outdoor dining sets in person. This allows you to assess the quality, comfort, and aesthetic appeal firsthand. Sit on the chairs and check the stability and sturdiness of the table.
By following these steps and considering your specific requirements, you'll be well-equipped to choose an outdoor dining set that fits your space, style, and budget, ensuring enjoyable outdoor dining experiences for years to come.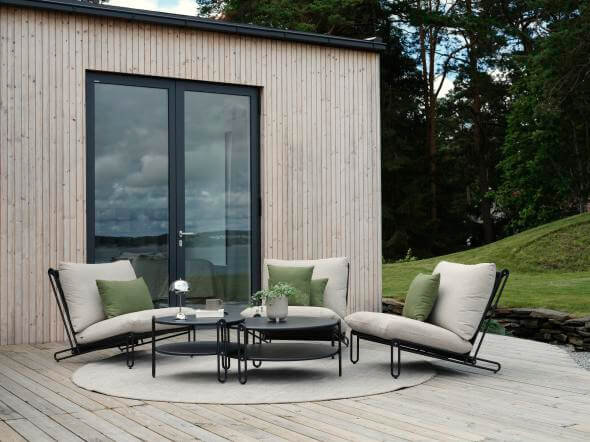 When it's all said and done the main take away is to remember to choose well-made furniture consisting of weather-resistant materials designed specifically for outdoor use to ensure durability and longevity. An outdoor living space is an investment adding value to your home. Don't worry though an outdoor living space is easy to build up over time, don't feel you have to purchase all of these items right away. Think of how you use the space now and what you would like to use the space for in the future and start from there. Another helpful read to make your outdoor living space uniquely yours is our blog "5 Tips for Choosing the Best Patio Furniture For You." Additionally, consider 
adding cushions, pillows, and outdoor rugs to enhance comfort and style in your outdoor living space.
If you are still feeling overwhelmed or have questions the staff at Cottage Culture is here to help, offering free styling advise and layouts of the furniture in your outdoor space. Visit our showroom in Hensall, Ont. to sit in and get a feel for your new patio furniture before you make your purchase. With free delivery (within an hour distance from Hensall) and installation our goal is to make it as easy as possible for you to enjoy your personal outdoor oasis!
Looking for more outdoor living inspiration follow us on Facebook, Instagram and Pinterest!