Gardening can be a rewarding and relaxing activity that serves as a quiet retreat or a fun, family-friendly activity at home. Gardening also enhances any outdoor living space by adding colour, privacy, shade, and even edible plants. Adding a garden to your deck can also be incredibly helpful for pollinators, especially if you live in an urban area.
For many people, there is tremendous joy in tending to a fragile seedling or plant and watching it grow throughout the season. However, getting started as a beginner can be intimidating, and many people worry they do not have enough space to have a thriving garden.
The good news is that deck gardens are possible even if you have a small space, an awkward layout, or minimal sunlight throughout the day. There are unlimited options for flowers, plants, fruits, and vegetables that will do well in different growing conditions. You will also find an abundance of stylish pots and planters to accommodate your style, budget, and growing needs.
Below, we provide some deck gardening tips for beginners so you can start thinking through the steps for planning, planting, maintaining, and enjoying your container garden on your deck this year.
Remember to contact Cottage Culture if you need help choosing the right patio furniture to compliment your deck space and tie your design into your garden.
Evaluate Your Space 
Every outdoor living space is unique in terms of size, layout, and hours of direct or indirect sunlight, so your gardening options will be based on those criteria. Regardless of which conditions you have available to you, there are many ways to start a garden on your deck.
The amount of space available and the hours of sunlight and shade your space receives will impact how much you can grow and what you can grow. However, with a little bit of creativity, you can easily achieve a thriving garden on a deck, patio, or balcony.
If you have a small space, consider using your vertical space or opting for planters that can hang on your deck railing. Window boxes and hanging baskets can also be incorporated into tighter areas without limiting your living space.
For shady decks that do not receive a lot of direct or indirect sunlight throughout the day, plan to select shade-loving plants and vegetables for your space. Typically, plants grown for their leaves will do fine in partial shade, while plants grown for their fruit, root, or flowers will require more consistent sunlight.
As you can see, the realities of your space and daily growing conditions are critical factors in the decisions you will make next!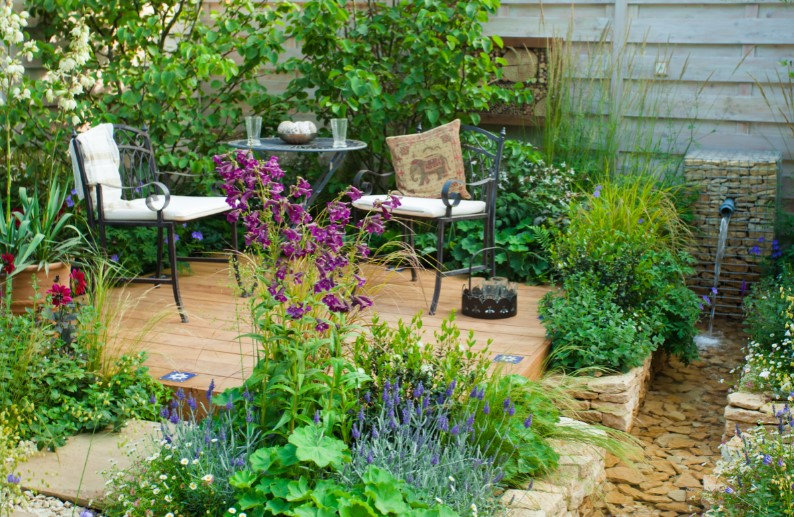 Decide What to Plant 
Once you have evaluated your deck's size, layout, and conditions, you can consider which types of flowers, fruits, vegetables, and other plants you would like to grow.
What you choose will be a personal decision, but you may consider deck garden ideas such as:
deck flower gardens for pollinators
 
growing vegetables in containers and planters
 
adding shade to your space with tall shrubs
 
increasing privacy with climbing flowers and vegetables
 
repelling pests with aromatic plants
 
and anything else you can dream of!
All of these options are possible even in a small space – some may just require you to get creative and invest time in planning. Remember to consider how much light each area of your deck will receive each day and choose your plants accordingly.
We love the Haya Outdoor Planter Baskets (set of 3) for an airy, natural, and neutral aesthetic or Tamma Outdoor Planters (set of 2) for a modern, sleek, and sophisticated space!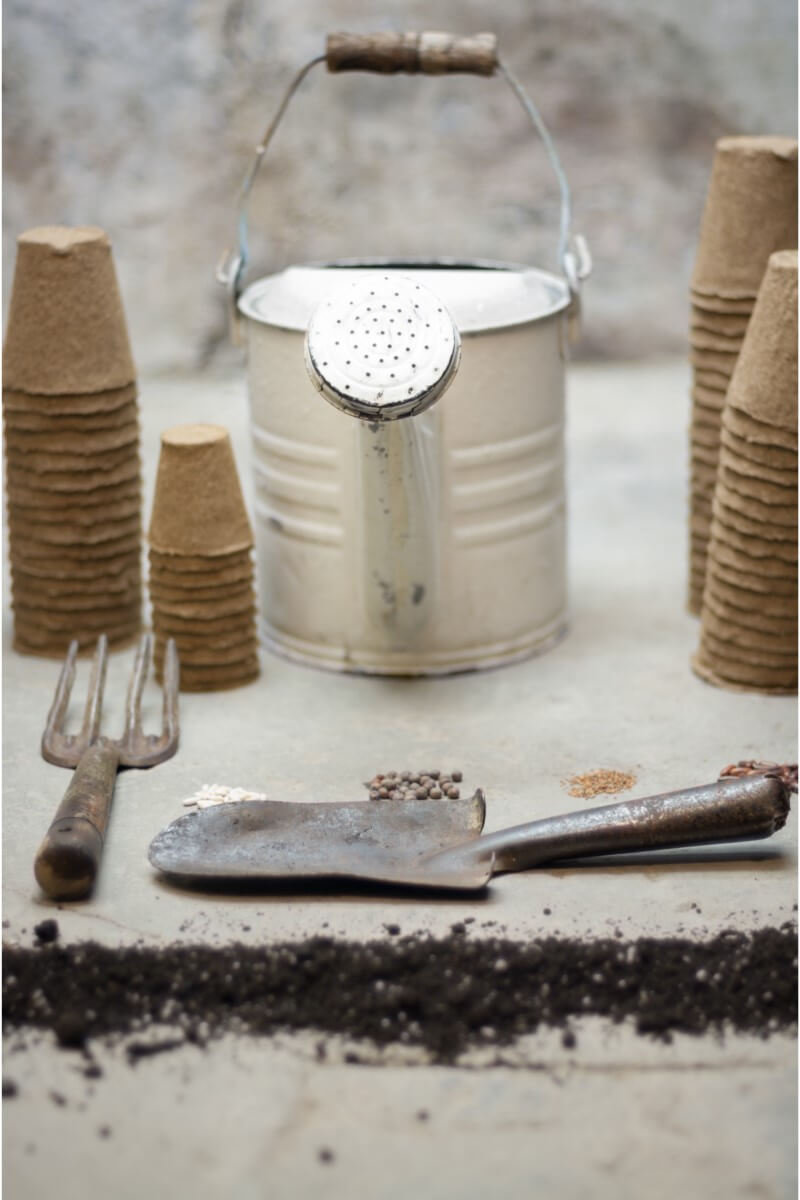 Purchase Your Garden Supplies 
Of course, you will also need to purchase garden supplies so you can start your deck garden in your new pots and planters. Potting soil, a trowel, and a hose or watering can 
are the essentials for a deck garden, but you can build up your tools and gardening supplies over time.
Depending on what you are growing in planters and pots on your deck garden, you may also choose to purchase gardening shears, a bucket for clippings and weeds, gloves, a foam kneeling mat, and other tools that will help you keep your deck garden healthy. 
What you ultimately need will be a matter of the types of plants you choose and whether you purchase your plants from a nursery or start seeds indoors at home. However, soil, a hand trowel, and a water source are an absolute must!
Plant Your Flowers and Vegetables in Your Containers 
While some of your new flowers, fruit bushes, and vegetable plants may be able to stay in the container you brought them home from the nursery in, most will likely benefit from being moved to your planters or a larger pot. Be sure to pay attention to what type of conditions each plant prefers before deciding where or how to plant them.
Pre-made urn planters, window boxes, herb bundles, and hanging baskets are typically intended to stay in their original container, while younger vegetable plants and flowers need more space to reach their maturity.
A knowledgeable employee at your local nursery or garden centre will be able to help answer any questions you have about repotting and maintaining your new plants.

Maintain Your Container Garden 
Planning and planting your deck garden are exciting parts of the process, but it is important to remember that your flowers, shrubs, vegetables, and fruit plants will require ongoing maintenance in order to produce for you.
Ensure you have the time to take care of regular watering, weeding, deadheading, harvesting, and treating pests. You can also expect garden cleanup and maintenance at the end of the season. 
It is also important to note that container gardens tend to dry out more quickly than in-ground gardens, so neglecting them for even a week can wreak havoc on your plants. Consider asking a neighbour, friend, or family member to check on your deck garden if you will be away on vacation over the summer, particularly if there isn't any rain in the forecast while you are away.

Add High-Quality Patio Furniture and Accessories 
A perfect deck garden is not complete without incorporating furniture and accessories that allow you to relax, dine, and entertain. Consider adding a dining table and chairs, patio sofas or sectionals, lounge chairs, and accessories like rugs, outdoor pillows, and baskets to elevate your deck garden.
You may also want to find a stylish storage box to tuck away your gardening tools and extra pots. We love the Grasse Storage Box for keeping our deck spaces tidy.
Conclusion 
Starting a garden on your deck is a great way to learn a new hobby, grow your own food, beautify your space, help the pollinators, and add privacy or shade to outdoor living spaces.
Everyone can learn how to garden on their deck regardless of their space, deck layout, and sunlight considerations – including you! With a bit of planning and creativity, you will find plants that can thrive on your deck.
You'll love the variety of options available for pots and planter styles, and you are sure to find one that aligns with your planting needs, deck aesthetic, and budget.
Remember that building a deck garden can be a lot of work throughout the growing season, but you are likely to get back more from the gardening process than you put in – especially when you incorporate high-end patio furniture and accessories that add comfort and elegance to your deck garden.

Shop With Cottage Culture 
If you are ready to put your deck garden plan into action, Cottage Culture is here to help! We offer a wide variety of high-quality patio furniture and accessories that will complement the aesthetic of your patio, balcony, or deck.
Browse our online collection or visit our showroom in beautiful Hensall, Ontario to see what we have available. Our passionate professionals will provide expert guidance on outdoor furniture and accessories and ensure you find what you are seeking. We also offer delivery and installation services and are proud to be a family-owned business offering a fun and personalized shopping experience.  
Are you looking for inspiration for your deck garden furniture and decor? Follow us on Facebook and Instagram!