Guide To Buying
Rattan Outdoor Furniture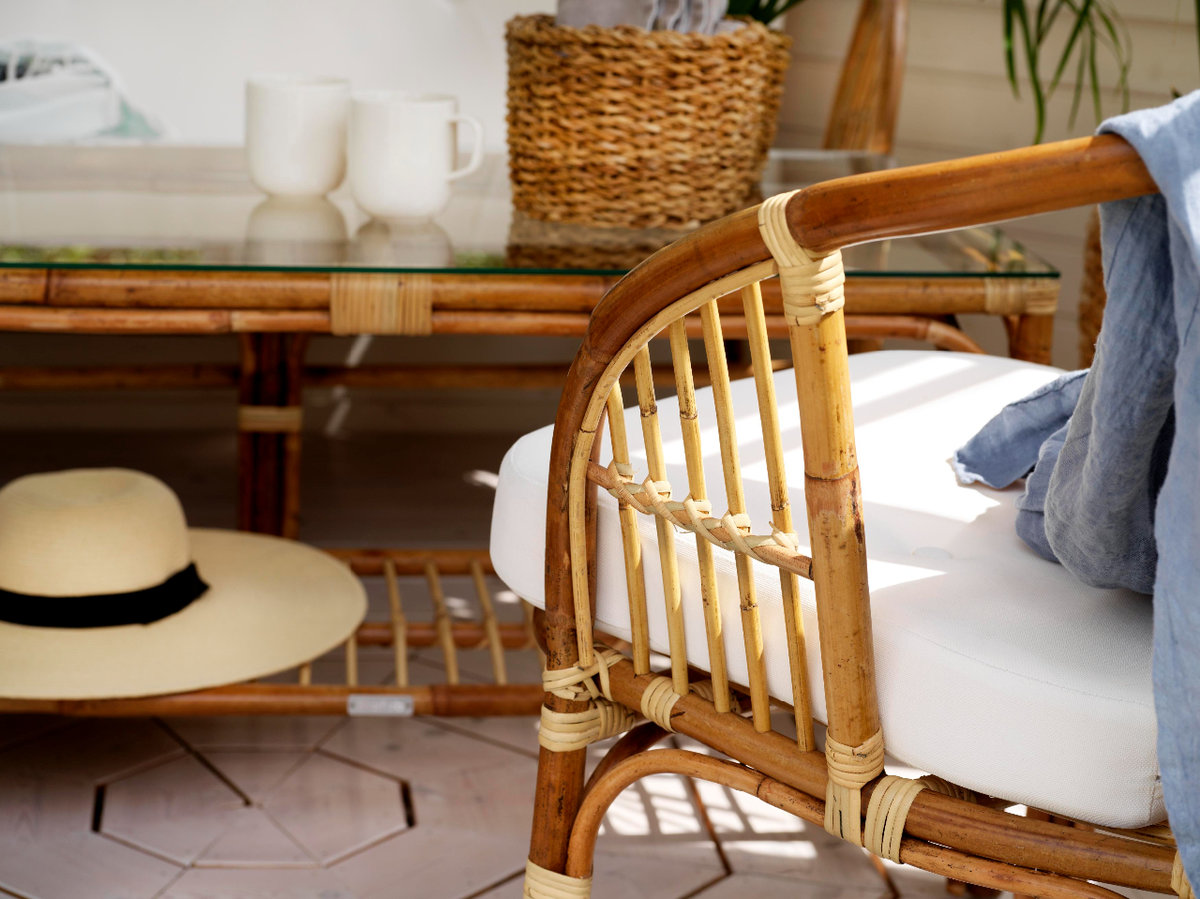 Incorporating earthy colours and natural materials into indoor and outdoor living spaces is one of the hottest trends for the 2023 patio season. For this reason, many homeowners are already excited to start dreaming up their vision and shopping for rattan outdoor furniture that helps their plan come to life! 
Rattan patio furniture is a top pick this year because it is very stylish and fits in easily with many different aesthetics. Whether you are aiming for a minimalist look that is bright, airy, and modern or you love a more eclectic vibe, there is a style of rattan outdoor furniture to match your taste!
Pair any rattan furniture with white cushions to instantly elevate your space, or use accessories to incorporate pops of colour and show off your personality. The options are unlimited!
We have prepared a guide to buying rattan near you to help you find the best high-quality rattan outdoor furniture. Continue reading to learn more about the benefits of rattan, the differences between natural and synthetic rattan, types of rattan styles, rattan furniture frames, and more! We tell you everything you need to know before purchasing rattan furniture for your outdoor living oasis.
What is Rattan? 
Rattan is a type of wood that comes from a vine-like species that is native to Asia, Africa, and Australia. It is a strong and fibrous plant that is often considered to be similar to bamboo. However, it is actually part of the palm family. It is incredibly fast-growing and there are over 600 species of rattan worldwide. Some plants grow up to 100 feet!
Typically, the skin of the rattan vine is stripped for use in weaving projects. The core of each vine is also used to construct furniture and décor. It is prized for it flexibility, strength, beauty, and versatility.
It is important to note that rattan is not the same as wicker. While the terms "rattan" and "wicker" are often used interchangeably, rattan is a material and wicker is a style of weaving.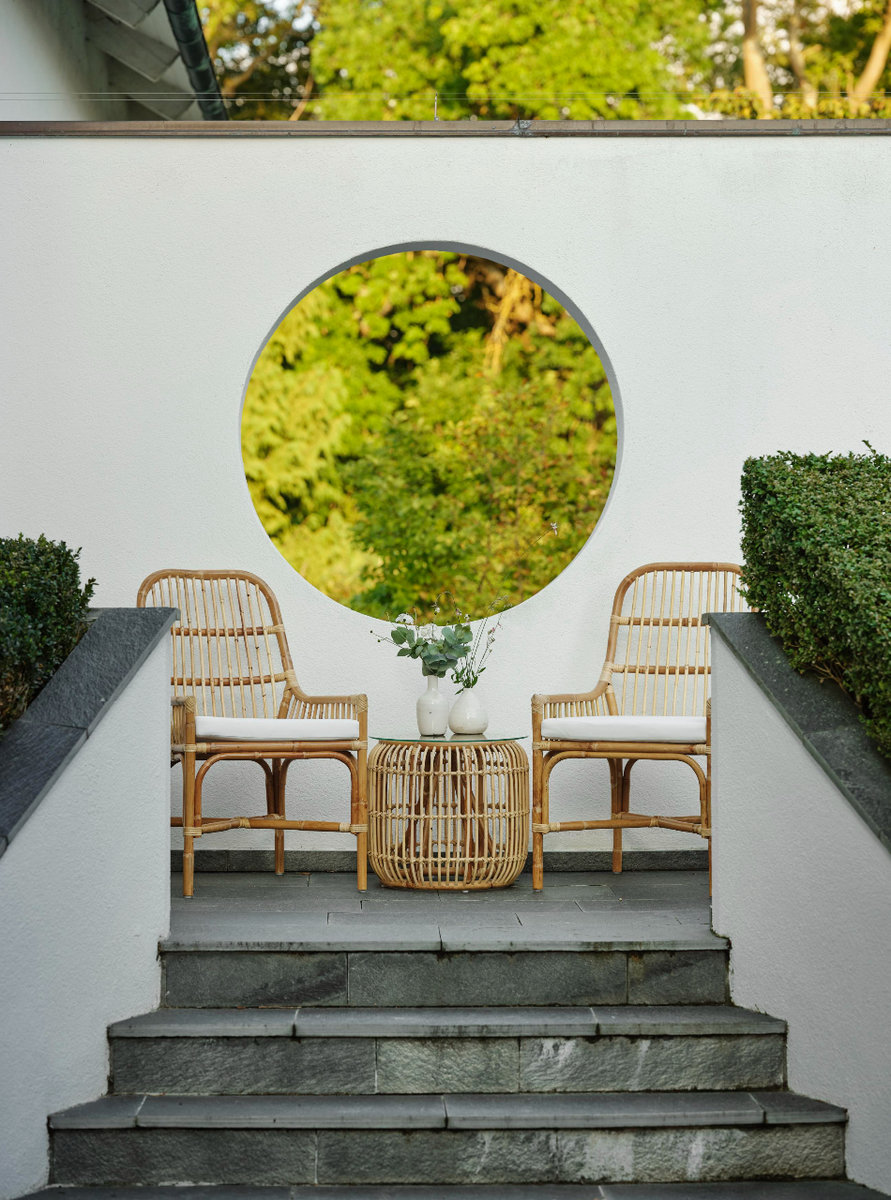 Benefits of Rattan for Furniture 
Rattan is popular for furniture because it is lightweight, versatile, elegant, strong, stylish, low-maintenance, and stain resistant. There is something very charming and nostalgic about the traditional – yet timeless – craft of rattan furniture.
Whether you like vintage rattan or you are seeking the most current rattan furniture designs, rattan never goes out of style. We are confident that it will continue to be a hot trend for many years to come.
Choosing the Best Rattan Furniture for You
Due to rattan's popularity and versatility, there are unlimited rattan outdoor furniture sets and décor available on the market. However, not all rattan is created equally, and not all rattan options will work best for you. Continue reading below to learn more about what to consider before purchasing rattan items.
Evaluate Your Space 
First and foremost, it is important for you to consider your outdoor living space before you purchase rattan patio furniture. Natural rattan will not last for generations if left outdoors. This is because the tightly woven wooden material can trap moisture and lead to mold and rot over time. Natural rattan can also bleach or fade over time when overly exposed to the sun.
As a rule, natural rattan furniture and décor is most suitable for highly-sheltered, dry, outdoor living areas. If you do not have a sheltered space, opt for synthetic rattan or only bring out your natural rattan patio furniture when you are planning to use it.
We recommend that you purchase covers or tuck your natural rattan set back into your garden shed or garage when you are done with it for the day. This will help ensure that your investment remains protected. However, your best bet is to opt for all-weather resin wicker options instead!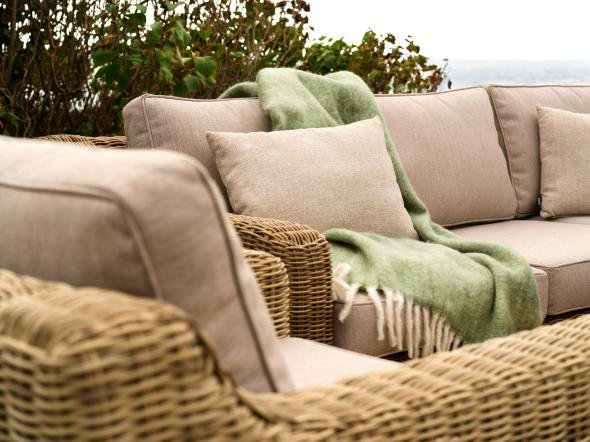 Synthetic Vs. Natural Rattan 
While natural rattan comes from plant fibres from a fast-growing vine, synthetic rattan (often called resin wicker or plastic rattan) is produced using polyethylene (PE). PE is an ideal material for artificial rattan production because it non-toxic, highly versatile, durable, low maintenance, and weather resistant.
As natural rattan furniture is prone to fading, rotting, or growing mold when exposed to the elements, it is a high-maintenance option for outdoor furniture. It will also become dry and brittle and can crack or unravel in time, particularly when exposed to unideal conditions. For these reasons, most people choose to use natural rattan furniture and décor indoors only.
On the other hand, synthetic rattan is very low maintenance and looks just as nice as natural rattan. Synthetic rattan still features the classic and sophisticated weaving of timeless rattan pieces and can be equally as comfortable as natural alternatives. It is also available in unlimited colours and styles, offering you a more comprehensive range of 
options. In addition, synthetic rattan be left outdoors uncovered regardless of your climate.  
Types of Rattan Weave Styles 
If you are a fan of rattan, you already know that the rattan and wicker furniture is characterized by stunning weaved patterns. But did you know that the type of weave impacts the durability, weight, comfort, and price of your rattan outdoor furniture?
There are three main rattan weave styles including flat weave, half round weave, and full rod weave. We explain each below.
Flat weave is one of the most popular styles for all types of rattan furniture because it is the most budget-friendly option. This style features flat strips of synthetic rattan instead of fully rounded or partially rounded rattan rods or canes.
While flat weaves can easily shine on their own as a modern and sophisticated chair or sofa, they are also often incorporated alongside half round and full rod weaves to increase texture and expand style options in rattan patio sets.
Flat weaves create lightweight, durable, and comfortable pieces that require little maintenance and will look great for up to five years with minimum attention. 
Half round weave is another top choice for rattan furniture as it is comfortable and luxurious. While half weave techniques result in heavier outdoor furniture, this option is stronger and often more durable than flat weave. In addition, half round weaves are typically more diverse in terms of styles. They are also durable and low maintenance, lasting up to seven years with minimal care.
Full rod weave is a very elegant and timeless option for high-quality rattan furniture. This weave style mimics natural rattan styles that weave rods and canes together to maximize strength, character, and visual interest.
This style can stand alone for a classic, elegant, and cozy look, but it is often used to accent the legs and arms of rattan chairs and sofas alongside flat weaves and half round weaves. Pairing full rod weave with lighter weight weaves helps make outdoor rattan patio sets easier to move, without sacrificing style or comfort.
The type of weave style you choose is a matter of personal preference, so be sure to shop for rattan furniture carefully and pay attention to the finer details that will make a difference in weight, price, style, and comfort.
Best Frames for Rattan Furniture 
Once you have decided on natural versus synthetic rattan and identified which styles of rattan weaves appeal most to you, your next consideration will be the best type of frame for rattan outdoor furniture.
Since rattan furniture is intended to be lightweight, the most common frames for high-quality resin wicker sets is aluminum. Aluminum frames offer strength and stability and create a sturdy structure for the rattan weaves. Aluminum is also prized for being versatile, weather-resistant, inexpensive, and low maintenance, making it a top choice for rattan furniture designers.
As frames for rattan outdoor furniture can be difficult to clean due to the tightly woven all-weather wicker, ensure that you do not purchase rattan sofas or chairs with a frame that will rust. Many cheaply made rattan sets will use steel frames, despite the material being prone to rust, so checking that key detail before you make a purchase is critical.
Top Picks For Rattan Furniture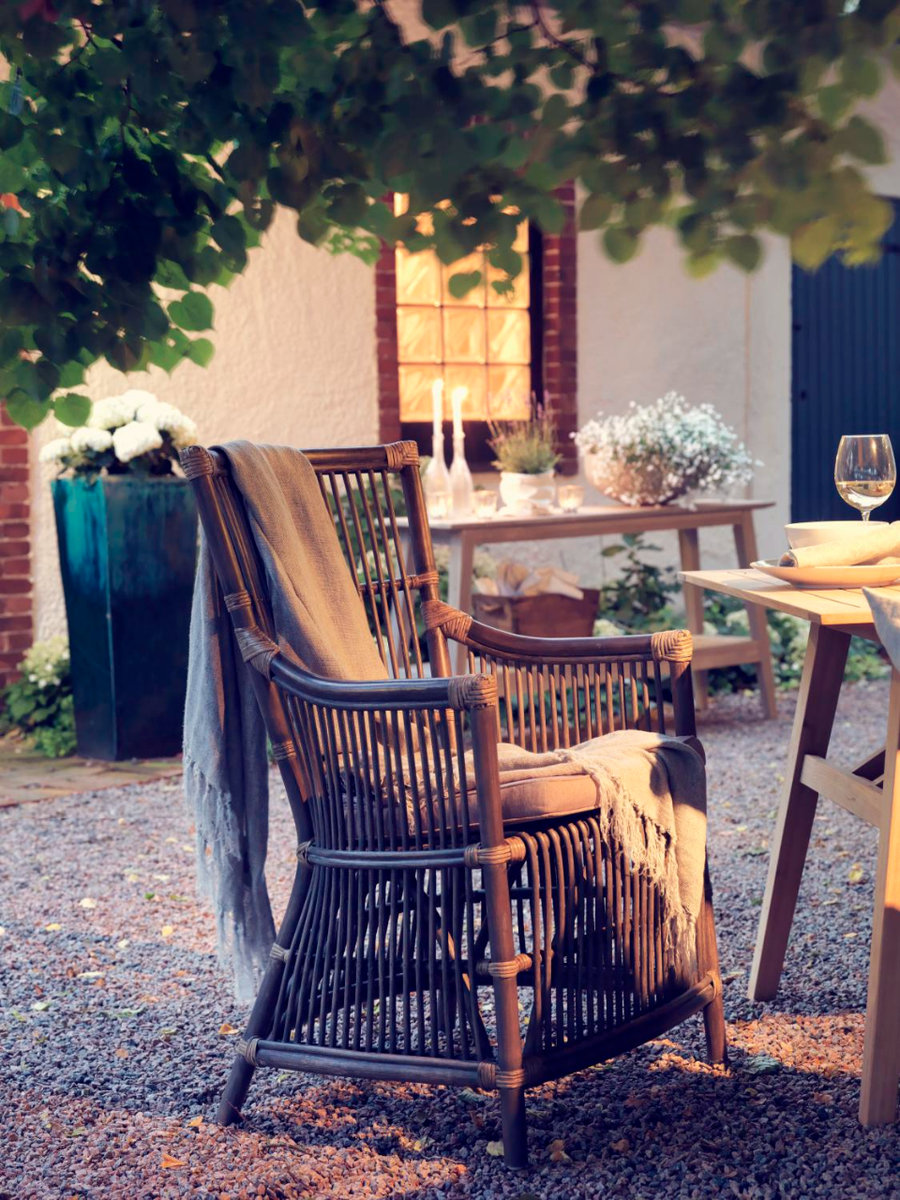 1. The Bonete Dining Chair
The Bonete dining chair is a stunning piece of craftmanship. The stand out quality design of this rattan dining chair allows it to work on its own as an occasional chair yet it looks equally as beautiful grouped around a dining table. The unique blue/grey colouring of the rattan pairs elegantly with a white cottage vibe or teak dining table.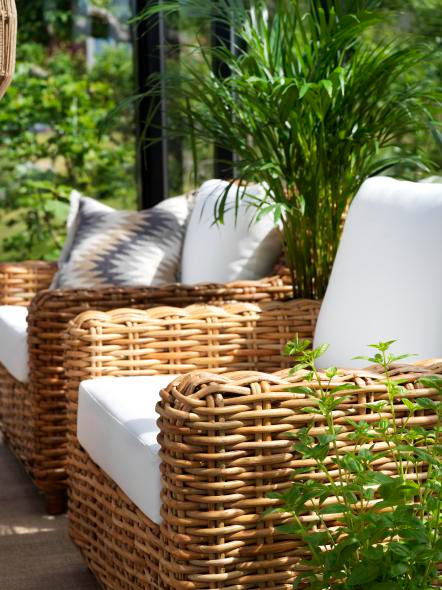 2. The Rossvik Club Chair
Generous is the word best used to describe the Rossvik Club Chair, generous in size, comfort and style! The half round weave of natural rattan and crsip white olefin cushions elevate this piece to a class of its own. The deep, comfortable seating urges you to sit down, relax and enjoy!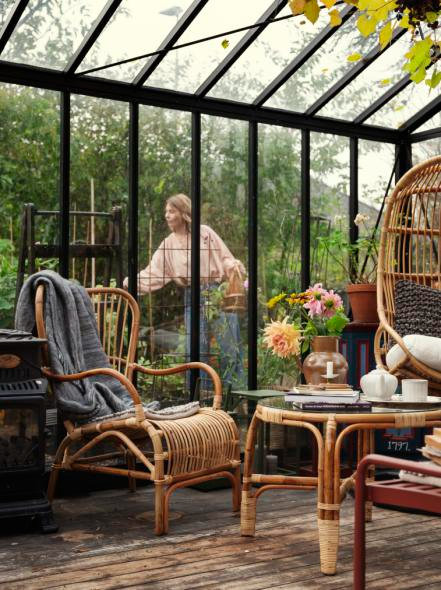 3. The Vallda Armchair
Traditional yet casual and costal best describe the Vallda Armchair. This armchair consists of natural rattan in a woven rattan in which the outer layer has been retained, offering natural irregularities and a more natural colour. The eyecatching design and detail of the Vallda Armchair make it everything we love in a stand alone rattan piece of furniture.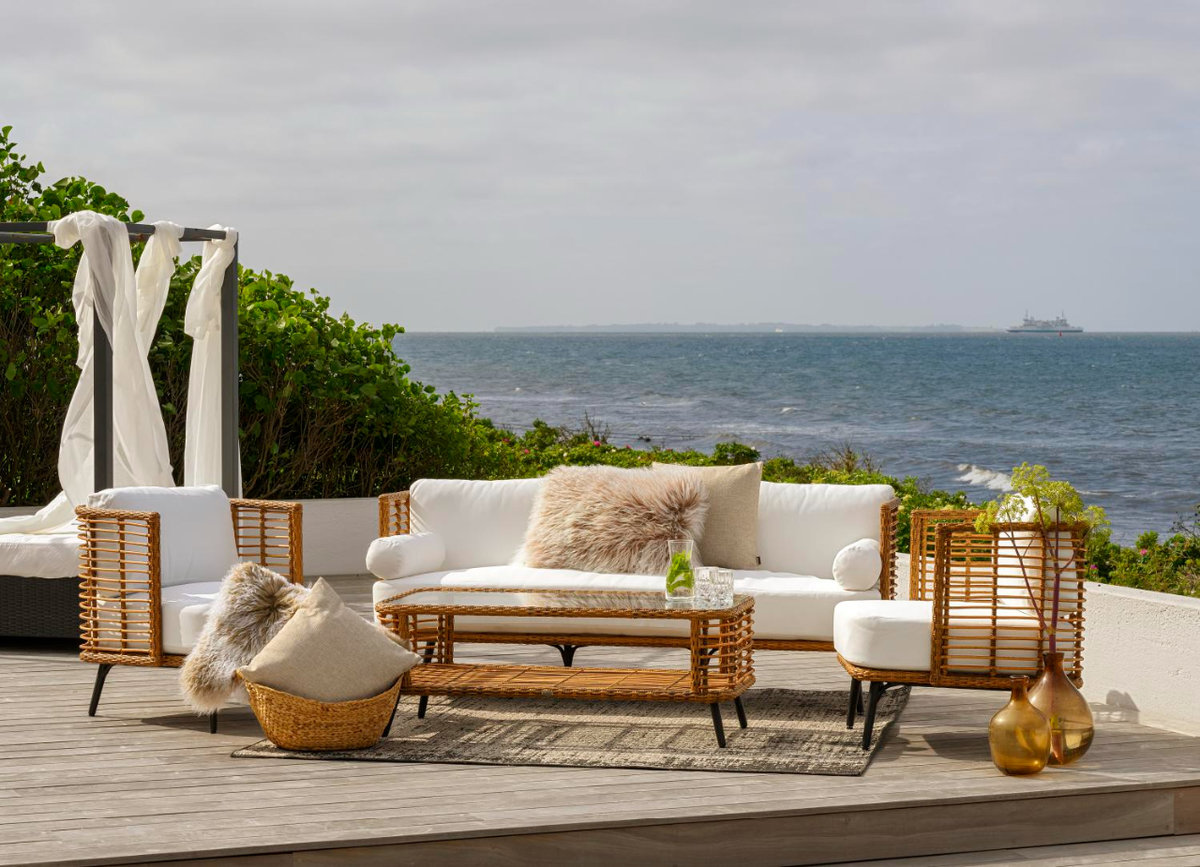 Best Rattan Effect Garden Furniture 
Our top pick for the best rattan outdoor furniture in 2023 is the Covelo line of artificial rattan sofas and armchairs. The Covello 3-seater Sofa is perfect for adding an airy and elegant aesthetic to your outdoor living space. The Covello 3-seater sofa is made with synthetic rattan but offers the natural look and cozy charm of wooden wicker.
The frame is constructed of durable, weather-resistant, and lightweight aluminum that is sure to last for years to come with minimal maintenance. The natural-looking synthetic rattan sofa pairs perfectly with the Covelo Armchair.
You'll love the thick cushions and high arms on both the Covello 3-seater Sofa and Armchair! This design feature will give you and your guests a snug yet luxurious feeling as you lounge on your upscale deck or patio.
Shop High-Quality Rattan Furniture at Cottage Culture
Are you looking for where to buy rattan outdoor furniture in Huron County? Then
Cottage Culture in beautiful Hensall, Ontario is here to help! Our team of furniture experts can assist you in finding your perfect  true rattan piece of furniture or synthetic rattan sofas and chairs. With free styling and layout consultations and white glove delivery service we are here to help you create your personal backyard oasis! 
Reach out to us or pop by our showroom! Looking for patio inspiration? Follow us on Facebook, Instagram, or Pinterest!